A Keeney
Family
Genealogy
Online
---
Some folks are still finding it hard to figure out my email address this is an image of it

in order to use this you need to type out the letters from the image into the To: line of you email program. Clicking on the

graphic on the left of the pages on this site will either open your default email program or your web based email such as gmail with the To: line already filled in. On the 28th of January 2015 I added yet a third way, there in now a form that will send me an email direct from the site it is located on the contact information page
to get there just click here
.
The second issue of the new newsletter The Keeney Researcher has been posted. And we are currently working on the third issue, so why not send in something for it. It takes more then just one or two people for this to work, you may have found out something that doesn't mean much to you, but may boost another researcher over a brick wall. In fact on the 20th of October I found out from Fred Keeney that there was and still is a Keeney Mill in Elko, MD now at this time that doesn't mean much for my research but it maybe a gold mine for someone else.
A word of note all of the graphics on the left side of the pages are links some of which are not at the bottom of the page.
I've added a couple of items;
Keeney's Ramblings this is a page of my disjointed thoughts, and questions that my have been asked by email.

Mixed items a collection of items that have been sent in or found online over the years.

Reunion pictures from Colorado 1986 and from Washington 1998 have been put back up.
The directories can be accessed from the "Site Map" link at the left or the bottom of each page.
All of Keeney UpDates published by Roscoe C. Keeney, Jr. that I have are on the site as PDF's. Some of them are a bit hard to read but they are what I have. These were posted with his permission before his passing. I have had a volunteer to help do text versions of the updates in addition to the PDF copies, (Thank You Mary), so now there are the original PDF's, a new text versions and a PDF of each issue that Mary has sent in so far.
To date

25

issues of the


have been redone into an easier to read and copy word format thanks to Mary Winner who has taken on the task of redoing the Keeney UpDates into a more readable rendition while trying to keep close to Roscoe's original format the first issue she sent in is the June 1985 issue and is available in two formats a word format and a PDF these can be accessed from the Keeney Update pages located here. There are now 20 issues that have been typed up into the word format. She plans on completing an issue each week. The latest of which are:
v 7 n 2 June 1990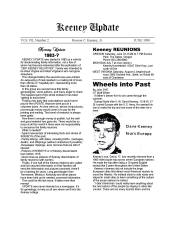 The Site Map link will take you to a page from which you will be able to access everything on the site.