---
Note if you click on the picture you will get a much larger version of it.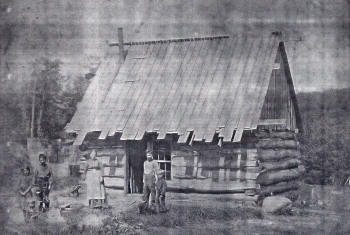 This is the cabin my great grandfather, Phillip Adelbert Keeney b 1848 built in Osceola, Lewis, NY around 1900. The best I can figure is from left to right are Viola (b 1890), Hattie (b 1900), George (b 1886), Hattie Abbey Keeney (b 1858), Justus (b 1884) and Adelbert, Jr. (b 1894). I was told that Justus was nearest the door (my grandfather) and Hattie is the baby on the blanket. From there it is an educated guess.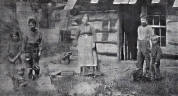 Click on image for an enlargement of the folks in the above photo. See id's in the text above.
---
Mary has taken on the task of redoing the Keeney Updates into a more readable rendition while trying to keep close to Roscoe's original format the first issue she has sent in is the June 1985 issue and is available in two formats a word format and a PDF these can be accessed from the Keeney Update pages located here.
Mary has now sent in the December 1983 issue.
Mary is sending in the reformatted Keeney UpDates on an average of one a week, see them from the Keeney Update page (links on the top or at the bottom of the page).
Mary is no longer able to do the Keeney Updates so we're looking for volunteers.