Wagon
Ruts
West
JOHN KEENEY, JR. FAMILY
By Ralph Ray Keeney
Published in 1983
---
The following selection is taken from "Wagon Ruts West" written & published by Ralph Ray Keeney in 1983. The book is currently out of print. This section is published with the kind permission of Ralph Ray Keeney. The book this selection is drawn from is under copyright and permission has been granted for educational purposes and it is not to be used in any way for any profit or commercial venture.
Click here to read letter of permission.
---
Ralph Ray Keeney
12 January 1923 - 22 November 2004
In 1997 I learned about the book Wagon Ruts West that was written by Ralph Ray Keeney. I couldn't find a copy of it so I wrote to him and asked if there was any way to get one & he sent me photocopies of his original manuscript of the book. It was suggested that I try to obtain permission to serialize the book for inclusion with the KFG newsletter, so I sent a letter to Mr. Ralph Ray Keeney asking for permission to do so.
---
My letter to him.
Mr. Daniell Lee Keeney
website: www keeney.net (No longer valid) current k-f-g-online.info
e-mail dan@keeney net (No longer valid) current cianaigh (at) gmail (dot) com
09 January 2001
To: Mr. Ralph R. Keeney,
A couple of years ago I wrote to you and asked about getting a copy of the book you wrote on the John Keeney Jr. family "Wagon Ruts West" of which you sent me a photocopy of your manuscript.
I own the Website keeney.net and have been putting a monthly newsletter online since December 1998 with the exception of the months of May & July 1999. This site is a non-profit non-commercial hobby site pertaining to the genealogies of the various Keeney family lines, about a month ago it was suggested that I ask you for permission to serialize your book "Wagon Ruts West" for inclusion in the newsletter. Roscoe C. Keeney is allowing me to post his Keeney Update back issues on the site so that researchers can have wider access to that resource.
If this idea of serializing the book is all right with you I'm willing to include any statement that you would like to make regarding the use of your book. Of course the choice of weather I do this or not is entirely yours.
I am including an SASE for your reply.
Thank you for your time.

Daniell Lee Keeney
PO Box 208
Sunland California 91041-0208
And his reply: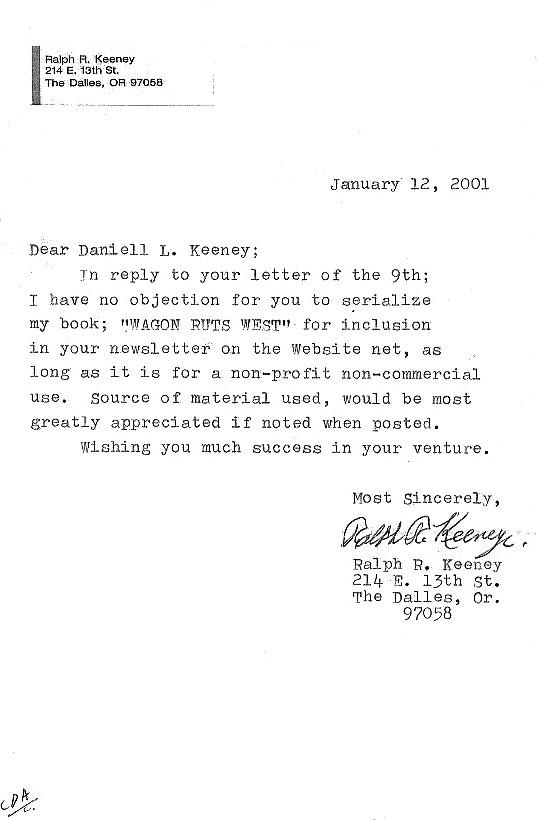 To fulfill his requirement for source of material used, the Acknowledgment above is included with each section posted.
Originally the only links for this book were through the newsletter to this page from here you just click on the section that is posted that you want to read. As time progressed an entire section was created for the book.
Thursday, 22 January 2015 20:29:38 -0800