Wagon Ruts West
JOHN KEENEY, JR. FAMILY
By Ralph Ray Keeney
Published in 1983
---
The following selection is taken from "Wagon Ruts West" written & published by Ralph Ray Keeney in 1983. The book is currently out of print. This section is published with the kind permission of Ralph Ray Keeney. The book this selection is drawn from is under copyright and permission has been granted for educational purposes and it is not to be used in any way for any profit or commercial venture.
Click here to read letter of permission.
---
---
The following is Section 23
SECTION 23

Jonathan Keeney ←

KEENEY FAMILY TREE

Contains: JOURNAL OF ROGUE RIVER WAR, 1855
___John, Sr. (1750? - 1845?) Married Martha -
|
Jonathan Anthony (1778 - 1850)
|
___
John Jr. (1780 - 1845) Married Mary Ramsey Buckhalter, 1805
|
|
Mary (1806 - 1850-)
|
|
Thomas (1808 - 1842)
|
|
Isley (1811 - 1842)
|
|
Jonathan (1813 - 1878)

←

|

|

James (1816 - 1885)
|
|
Abraham (1818 - 1843)
|
|
____Andrew Jackson (1819 - 1898) Married Elizabeth Mulholland, 1841
|
|
|
Frances Ann - drowned with Mother in the Missouri Riv.
|
|
|
2.
Married Hannah Daniels Cooper (daughter, Anna Cooper)
|
|
|
Elias P. (1852 - 1857)
|
|
|
James Madison ( 1853 - 1913)
|
|
|
George R. (1856 - 1859)
|
|
|
William Daniel (1857 - 1930)
|

|

|
____John Blanden (1859 - 1942) Married Ella Hurt, 1881
|
|
|
|
Maude (1882 - 1958)
|
|
|
|
Rhoda C. (1884 - 1884)
|
|
|
|
Ira Marvin (1885 - 1945)
|

|

|
|
___ Willard Warren (1888 - 1958) Married Alice L. Crall, 1920
|

|

|
|
|
Jack LeRoy, 1921
|
|
|
|
|
Ralph Ray, 1923
|
|
|
|
|
Harold Blanding, (1925 - 1925)
|
|
|
|
|
Loa May, 1926
|
|
|
|
|
Ida Dee, 1929
|

|

|
|
|
Billie Fae, 1932
|
|
|
|
|
William Warren, 1933
|
|
|
|
|____Bessie Jo, 1935
|
|
|
|______Glenn (1894 - 1954)
|
|
|
3
Married Amanda Jane Morse Matthews, 1861 (daughter, Rebecca)
|

|

|
Martha Ellen "Matty" (1862 - 1911)
|
|
|
Benjamin Franklin (1865 - 1935)
|
|
|
Andrew Alva (1866 - 1954)
|
|
|________Thomas Paine (1869 - 1947)
|
|
Rebecca (1821 - 1895)
|
|
Eli (twin) (1828 - 1878)
|
|___________ Elias (twin) (1828 - 1910)
|
Thomas (1782 - 1846)
|
Nancy ( 1786 - -- )
|
James (- - - )
|
Hiram (-- - )
|_________Others -
---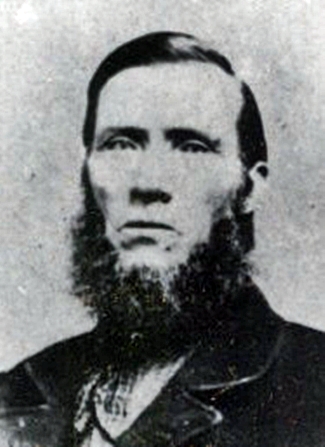 JONATHAN KEENEY
(April 27, 1813 - Aug. 15, 1878)
Son of John Jr. and Mary Ramsey Buckhalter Keeney
CAPTAIN JONATHAN KEENEY: Mountain Man With Jim Bridger, Wagon Scout, Pioneer of Oregon Trail and Barlow Road, Settler, Miner, Soldier, Inn and Ferry Proprietor.
Jonathan Keeney was born in Indiana on April 27, 1813, the son of John Jr. and Mary Ramsey Buckhalter Keeney. The family immigrated to Ray County, Missouri where Jonathan grew into early manhood.
The following article was published in The Idaho Statesman May 13, 1876 - and was the accounting of a personal Life Interview conducted with Captain Keeney; by Editor Milton Kelly.
KEENEY'S FERRY
May 5, 1876
---
It is a thought replete with interest to stand upon the banks of one of the grandest rivers of the Continent, and view with retrospective memory of it's earliest land marks of Civilization. The still, majestic river, full half a mile in width, rolling it's vast body of water with hurried pace towards the great ocean of waters a thousand miles in the distance, is a magnificent sight, and the vast plains and even surface of the ground, which forms it's banks on either side, adds grandeur as well as romance to it's earliest history. Such is the picture of the spot where we now stand and undertake a pen sketch of the history of Idaho fifty years ago.
This remarkable place, although mouldered away until only slight traces of it's moments can now be marked, will ever be known as "Old Fort Boise." A French name given to the post by it's founder, M. Payette, which was also given to the river, Boise, or Boise river, for it's timber or woody appearence, and which empties into Snake river only a quarter of a mile above.
Captain J. Keeney, whose romantic and eventful life is repleted with the history of Oregon and Idaho, much of which will be given in this letter, is now the owner of a large tract of land embracing the ancient grounds, and has his residence within a stone's throw, and his ferry landing on the north or Idaho side of Snake river, known as Keeney's Ferry. It is within ten feet of the old fort. The slight mound which marks the boundaries of the old buildings, and corral adjoining occasional by the falling of the doby walls and mouldering away of the dobies, is now matted over with a heavy sod of grass. Within the past week the Captain excavated about two feet of earth from what once was the inside of the old building and uncovered a lot of rusty gun barrels, locks, kettles, stew pans, etc., these must have been buried or cached in this place over thirty years ago. The Old Fort fell down about 1847 or 48, on account of the dissolving of the dobies in the foundation. from the moisture in the ground, and was rebuilt a hundred yards north, on the identical spot where the Captain's barn now stands. The later fort continued to be occupied by The Hudson Bay Company until The English surrendered the country to The United States by the treaty of 1846 which fixed the boundry line between the two countries on the forty-ninth parallel of north latitude, providing for a joint occupancy of sixteen years, which terminated in 1861. Although the last fort has been leveled off and cleared away by Captain Keeney, he has a chimney in his residence erected 1865 out of the dobies taken from the fort.
Captain Keeney's romantic and adventurous life commenced in 1831, then as a young man of nineteen years, raised in Independence, Missouri, and having a roving disposition, he procured ponies and started on his own hook, with Captain William Sublett's Company of thirty-two men to visit the Rocky Mountains. Captain Sublett raised his company and started a large pack train loaded with supplies which he intended to trade or sell to the American Fur Company for furs. On reaching the place where Fort Laramie is now located, on the North Platte, Sublett cached a quantity of the goods and proceeded in with Jim Bridger, who belonged to the American Fur Company, and had about thirty white men, and as many Indians, engaged in hunting and trapping. Sublett sold out his goods to Captain Bridger and returned to the Platte where he had cached his goods, and built Fort Laramie, where he wintered in 1834 and '35.
Captain Keeney joined the American Fur Company under Bridger. Captain Keeney says; that after he joined Bridger, and while they were camped on the Sweet Water, Doctor Whitman's little party of emigrants visited their camp, on their first trip across the plains to the Columbia river. Captain Bridger had the points of two arrows shot into his back by Indians, two years previous, which had broken off deep in, and made ugly running sores all this time. Dr. Whitman's visit was the first opportunity he had for a surgical operation and the removal of the arrow points. Captain Keeney says he well now remembers how the operation was performed and related it as follows: Captain Bridger laid down on the ground flat on his belly. The Doctor cut deep into the sores and around the arrow points with a sharp knife and inserted some instrument like a pair of pincers. Each point had struck a bone, one came out tolerably easy, but the other had partly clinched around a rib and required the strength of two men to pull it out, and Bridger had to be held down. He bore the operation with only a slight groan or two, and the point actually straightened out when it gave way. Whitman's company started on after a few days rest. Bridger's wounds healed up very fast, and soon he was able to travel, they were over to the head of the Yellow Stone, then down the Yellow Stone until they were opposite the Three Forks, to-wit; the Madison, Jefferson and Gallatin; crossing these three forks, they came to a little river called Twenty-five-yard river, then followed up Twenty-five yard river to it's head and passed over the divide or summit of the Rocky Mountains to the head waters of Salmon river, trapping and hunting all the way, and from here they passed over to the waters of the Snake River,, and followed the Snake and went into camp for winter-quarters about eighty miles above the site of Old Fort Hall. The Indians with Bridger comprised about thirty warriors - Nez Perces and Flatheads -with quite a number of squaws and pappooses. They had their own ponies, and hunted and trapped on their own account. Bridger furnished them traps, and bought their furs with supplies and Indian trinkets, guns and some ammunition. Bridger had about the same number of white men in his company. Their mules and horses were very much laden down, and while they intended to turn out their stock and let them recruit during the winter, and hunt and trap what they could, the snow fell early, and Captain Keeney with a few white men, took all their stock, the Indian ponies as well as their own, and struck out down the Snake river for better grass and milder weather. On coming as far as the present site of Fort Hall, they found plenty of grass and no snow. Here they found Captain Wyeth, of Boston, who had came around the Cape Horn with a lot of goods, and with a company of Kanakas. He ascended the Columbia, and finally with an outfit of ponies, he had packed his goods to this place and erected Fort Hall and got fixed permanently for a trading post and winter quarters when Captain Keeney arrived. Wyeth had made this expedition on his own hook. He neither belonged to the Hudson Bay Company or the American Fur Company.
The original design of Mr. Wyeth was to establish a salmon fishery at the mouth of the Columbia, but changing his mind he made this expedition which we have already related, and established Fort Hall, the first location ever made by a white man above Fort Boise.
The Hudson Bay Company claimed all the hunting grounds west of the Rocky Mountains, and to prevent the interference of Captain Wyeth, they bought him out the subsequent year. From this time on they held undisputed dominion over all the waters of the great Columbia, and ruled the Indians and utilized their hunting qualities with remarkable sagacity. Messengers and small parties of Hudson Bay men and Indians, or both, often traveled during the summer months from Fort Walla Walla, in the Columbia, now Wallula, to Fort Boise and then up to Fort Hall, and once or twice furing the year large trains came up with supplies and returned laden with furs. This condition of affairs lasted several years after the emigration began to pour into Oregon, and until the English finally relinquished their claim on the country to the United States, when these posts were abandoned by the Hudson Bay Co.
Captain Keeney returned in 1835 to Missouri, and in 1837 married Miss Mary Shoemaker, an estimable lady, who has followed his fortunes ever since. He has led for many years what may be truthfully called a roving life, making occasional trading trips to the frontier settlements, and once or twice to Santa Fe, then known as the Spanish Country.
But, as we intend only to give the history and first settlements of Idaho with which he is familiarly identified, we will give a brief account of his travels through this country thirty years ago, and his subsequent emigration with the first gold hunters to this territory, and his first settlement where he now resides.
The adventurous and roving disposition of Captain Keeney led him to procure an outfit and start with the emigration across the plains in 1846 with his family for the far off shores of the Pacific coast. Knowing the country all the way from Missouri to this great valley, where they would strike the waters of the Columbia, he acted as chief guide and led the emigration. Passing Fort Hall, where he had been twelve years previous, he proceeded down and forded Snake river, a little below Salmon Falls, and then struck over to Boise river nearly opposite Boise City. He then kept down the Boise two days and forded over to the north side just below the canyon, and arrived at Old Fort Boise about the middle of August. His train then consisted of six wagons with their families, was ahead of the other emigrants, but they marked the route so plainly the others followed without any difficulty. Captain Craigy, then stopping at Fort Boise, rendered his great assistance in directing him how and where to ford Snake river, which spot is only a little ways below his present residence. By keeping on a bar in the river at the head of some islands, as directed by Craigy, they passed through with perfect safety. They journeyed on down to and over the Blue Mountains, along the present Meacham route, struck the Columbia river valley and arrived at The Dalles in advance of the rest of the emigrants.
At this time, no wagons had ever been over the Cascade Mountains. Captain Keeney and a man named Finley (Findlay) with their families started out immediately to work their way over with their teams and wagons, and they succeeded in reaching the Willamette Falls, where Oregon City is located, in the month of September. Other trains soon followed them, but Captain Keeney and Finley were the first emigrants who pioneered the route over the Cascades with wagons. The Captain settled on the Kalapooya, now near the present site of Brownsville, Lynn County, Oregon.
In the fall of 1848, when the news of gold having been discovered in California reached him, he saddled his pony and started for the mines. He mined on the south fork of the American river and made $2,000 in eight days. He remained only a short time and returned home in January, 1849, with $3,000; thinking he had money enough, or at any rate he could go back and get plenty more when he wanted it. He returned home to Missouri across the plains on horseback with a party of seven men in 1850, and in 1851 drove back a band of 200 head of two year old heifers. From that time, on up to 1857, he was engaged in driving cattle to California and the Walla Walla country, supplying, or marketing his cattle mostly at the Government post. He made a farm on Dry creek, Walla Walla county, and gave it to his son. In the winter of 1861-62, when the Florence gold excitement reached Oregon, he made arrangements to come to that part of this Territory with a large band of cattle, but on reaching the Walla Walla valley, the Florence emigration was returning, and the Auburn mines in Baker county, Oregon were attracting the most attention. The Captain turned his head this way and drove his stock into Powder river valley. He visited Auburn, and while herding his cattle in Powder river valley, he prospected and struck the first gold at Pochahontas. The Boise mines were discovered that fall and Captain Keeney started his cattle immediately for Boise Basin and butchered them and used the beef to supply the miners in the winter of 1862-63 and the following summer. He also brought up a stock of goods and had the first trading establishment in Placerville. He went to Qwhee and invested over $20,000 in quartz soon after the discovery of the quartz mines. He is now the owner of the famous Crooks & Jennings Lead. We say famous, because this lead has produced the most captivating and richest specimen's ever taken from a quartz lead, though it has never proved to be a true vein, and the Captain's money vanished, but his sanguine temperament makes him still hopeful that the Crooks & Jennings Lead will yet make him a pile of money.
Captain Keeney located his present ferry on Snake river in 1863. John Duval, and ex-sheriff of this county and Captain Settle of Rocky Bar, were his partners. He bought them out and moved his family here in 1865.
About this time, the Oregon Steam Navigation Company built the steamer Shoshone at the mouth of the Boise, not to exceed a quarter of a mile above the Captain's house, with the view of running it on Snake river between Farewell Bend and the Owyhee crossing, a distance of one hundred miles. On account of this enterprise the Captain had to take down his wire ferry rope to give free navigation to the river, and built a horse ferry boat which he ran with good success; but the O.S.N. Company gave up the idea of running the river with their steamboat and ran it down Snake river into the Columbia river in the spring of 1870. Captain Keeney changed his horse ferry back to-a wire rope ferry, because he can run it with less expense. Captain Keeney has 400 acres of land where he resides, on the Idaho side of the Snake river up the Boise, and has in about 150 acres of grain and a hundred acres of fine meadow. He owns a section of land on the opposite bank of the Snake river in Oregon, besides another section on Willow creek, the other side of the Malheur in Oregon. His farming is all on his home farm, and his crops are looking well. His fences, although not apparently substantial but answer every purpose, and which may have been adopted when timber was scarce, bear the rude character which marks the pioneer life. They are made of willow stakes, driven into the ground six or eight feet apart and left as high as necessary for a good fence, and then interwoven between the stakes after the fashion of a willow basket, with long willows an inch and larger in diameter. We are told that the stakes when cut in February will grow and become trees. The Captain has planted long rows of black willows in front of his home and around his yards, and they are now six and eight inches in diameter and make beautiful shades, and very much resemble the elm. They grow faster, make better wood and a far handsome; shade tree than any of the poplar or cotton wood trees in Boise City.
The Captain is six feet in height, and now in his sixty-third year, he stands as trim and stately as the majestic oak, and his every feature makes him a remarkable man fitted by nature for the venturous pioneer life which he has always lived, Mrs. Keeney, nearly his age, is more fleshy and not over an average height of women. Her temperament has well fitted her for his companionship, and while they have eleven children, seven of. whom are now living, they have, no doubt, with all their adventures and vicissitudes, in the pioneer life which they have lived, enjoyed as much true happiness, and been a great benefactors of their race as many whose names have become notable in the land. We tarried nearly two days and now must bid them fond adieu; and with the most pleasing recollections shall remember our social and interesting visit at Captain Keeney's.
---
FROM THE
IDAHO STATESMAN
Thursday Morning, Aug. 22, 1878

DIED:
KEENEY - At his residence on Willow creek, Baker County, Oregon. August 15th, 1878. Captain Jonathan Keeney, age about 65 years.
Deceased came to his death by accident, which appears occurred on Thursday the 15th. . The body was found on the Friday following in the creek which runs near his residence. An examination of the body showed a gunshot wound, the ball entering the thigh as if fired from the ground while he was in a standing position, as the missile ranged upwards and lodged in the body. A pistol which had been carried by deceased was found on the bank of the creek near, and the only way of accounting for the accident is to suppose that the pistol slipped from the belt or dropped from the hand, and striking the ground, exploded,, inflicting the wound and causing him to fall into the creek.
Captain Keeney was a man of Herculean fame and iron constitution, and of much more than average ability -- one of those men to whom the world is indebted for the work of subduing the wilderness and preparing it for homes of those who waite for the pioneers work to be well advanced before they venture to follow. His name was known far and wide upon the Pacific Coast, and among the early pioneers to whom this notice of his death will bring up the recollection of a brave man and true friend, who has passed away from the busy scenes he so much loved.
---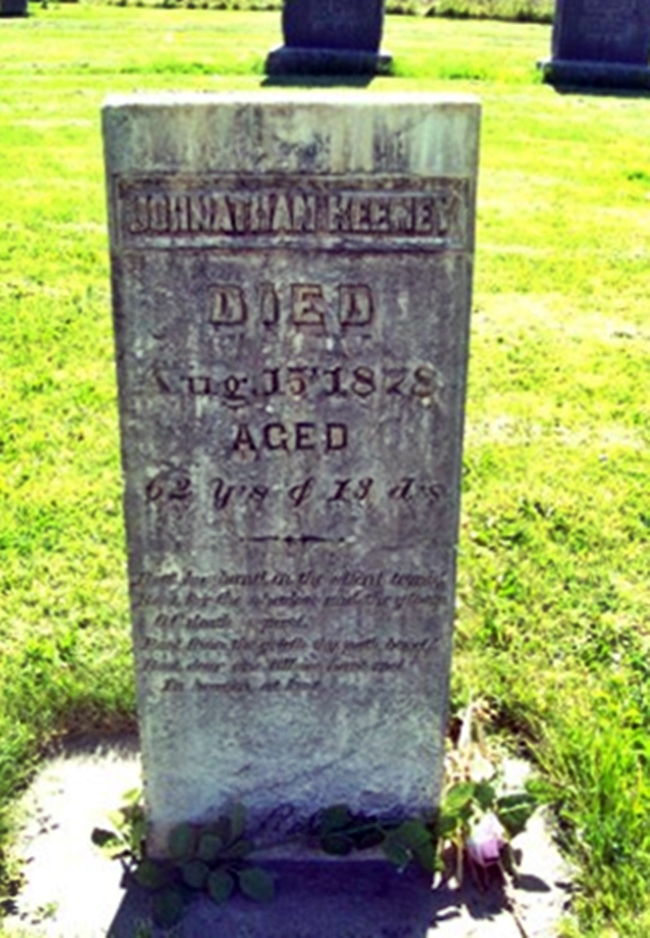 Captain Jonathan Keeney's Gravestone
Buried in "Dell Cemetery" Near Jamieson, Oregon.
No Keeney family diary or written record has been discovered giving an account of Jonathan and his younger brother, Elias' journey westward in the year of 1846, however in Dale Morgan's volumes; "Overland in '46, John R. McBride,. a young pioneer, whose family was headed West in that year, relates the following in regards to the forming of this train, and the events that followed:
"My father's party, consisting of about 22 wagons conveying a dozen or so families and employees, crossed the Missouri river at St. Joseph, intending to go forward some eighty miles into the Indian Territory to a point where we should strike the old wagon road made by the fur traders from Independence, Missouri to the West."
On reaching the common meeting ground, about April 20th, they found on hand about 100 wagons, including their own. "These were joined in a short time by a number of men who had passed the river at Iowa Point in Andrew County, Missouri, with numbers from Holt and Andrew counties, so that before we reached the Big Blue ...our train comprised one hundred and thirty wagons and teams, moved by oxen, with large herds of horned cattle and horses, and one small flock of sheep."
This train organized, McBride says, by choosing as its captain, "John Brown, a prominent citizen residing for many years in Platte County, Missouri." Several candidates were suggested for the command; among them, one Jonathan Keeney, who had once been a mountaineer in the employment of the American Fur Company. His experience with the Indians was thought to qualify him for the duties of the command, and he was strongly urged for the choice by his friends. William J. Martin, of Platte County, had made the entire trip to Oregon and California in 1843, and returned in 1844. His friends strongly gave their support to him. He declined, knowing full well that it entailed much more responsibility, than honor.

Later McBride relates; "We continued together along the valley of the Republican for several days, when the Martin-Blakely train again seceded from us, taking about thirty teams, and struck out ahead, continuing this relation to us for the entire distance to Oregon."

Jonathan had joined the Martin-Blakely and Brown train, and he acted as scout, leading the train passed Fort Hall, where he had been twelve years previous, he proceeded down and forded the Snake river, then struck over to Boise river, arriving at Old Fort Boise about the middle of August. They forded the river here by keeping on a bar in the river at the head of some islands, then on over the Blue Mountains by following the present Meacham route, and arrived at The Dalles ahead of the rest of the emigrants.

Hearing of Barlow's attempt to take wagons around the south side of Mt. Hood, but not succeeding in reaching the Willamette valley with them that season, the Martin-Blakely and Brown party chose the southern route in preference to the more treacherous river route. It is not certain if they arrived at Ft. Deposit in time to help Barlow's hired road builders bring his wagons into the valley or not, but it is recorded in Dale Morgan's volumes; that when McBrides' party did arrive at The Dalles they were told that the Martin-Blakely and Brown train was about forty miles in advance of their company. Keeney related the following in his interview at the ferry; "On our arriving at The Dalles, we found that no wagons had yet been through to the valley, so we immediately started to cut our way through." They led the first wagons over the route in 1846, arriving and then settling on the land in the foothills of the Calapooya, just southeast of the present city of Brownsville, about the 15th of September.

In 1850, with brother Elias and a party of seven men, Jonathan returned home to Missouri-on horseback. They claimed to have made the trip in 66 days, averaging 30 miles per day, and believed it to be a record for those days. The pending marriage of Elias to a hometown sweetheart, awaiting him in Missouri, could well have been a factor in the record breaking travel time.

In the spring of 1851, they purchased a herd of 300 head of two year old heifers to drive back to Oregon. This was to be the third time that Jonathan had crossed the plains on his way to Oregon, and this time they would come to stay.

They traveled by covered wagon, bringing Elias' new wife, their widowed mother, brother James and his family, their sister Rebecca and her husband, Elias' twin brother Eli, and his family, the wife and children of brother Isley, and the children and wife of Abraham and the orphaned children of Thomas and Sithy Allen Keeney, and a family or so of cousins.

Only one brother, Andrew Jackson Keeney, remained on in Missouri, until 1857, when he too followed the rest of the family to Oregon.

This caravan was called; "The Keeney Train" and along with the wagons they drove the 300 head or so of cattle that was purchased with the gold dust mined in California. This was recorded as one of the largest trains to traverse the Oregon Trail in that year. The loss in trailing the cattle across the uncharted prairies and wilderness was heavy, amounting to about 80 head or nearly one fourth of the entire herd. Because of inadequate help to manage them, the cattle would stray away in the abundant forage along the route, to be picked up by Indians or other emigrants who were to follow the herd. They were never recovered. Cattle were in demand in the Willamette Valley, and the residual herd of 300 head would still command a prodit fat in excess of the original investment. The Keeney men carried with them the fine rifles made by their father, John Jr. One of the rifles was later donated to the Oregon Historical Museum, and another is in the possession of Arthur L. Keeney of Corvallis, Oregon.

A young daughter of Eli's died on the trail and was buried a few miles east of The Dalles, Oregon. The grave was covered with large stones and marked on an oak slab. It was dug up by a highway construction crew about 60 years ago, showing her name to be; "Frances Keeney." After much hardship and weariness of the trail, they arrived in the Willamette Valley in the early fall of 1851. Accounts of this journey across the plains has been recorded under the title of; "Pioneer Diary" by J. L. Johnson, and published in The Woodburn Independent in 1964. It will be included in this publication on its later pages.

Jonathan Keeney first enlisted with the Oregon Volunteers for service in the Cayuse Indian War of 1848. The battalion in which he served, marched up the Columbia river to meet the Indians in the first battle of the Deschutes river some 20 miles southeast of The Dalles. The next engagement was near Fort Walla Walla on Butler Creek, and finally came the crucial Battle of Umatilla, and the turning point of the war, in which an estimated force of some 2,000 Indians were then decisively defeated by 800 volunteers. With the subjection of Cayuse Indian tribe, Jonathan received an honorable discharge from the Army and returned to his Brownsville farm.

About Oct. 10, 1855, the Indians went on the warpath again, small bands of Indians in the Rogue River and Umpqua Valleys, acting together simultaneously, killing sixteen people in different parts of the area.

The whites believed that all the Indians had entered into a secret pact to exterminate all white men.

The following pages are from a journal by Harvey Robbins, a private in Company C under Captain Jonathan Keeney's command during the Rogue River War:
---
JOURNAL OF ROGUE RIVER WAR, 1855
By Harvey Robbins
THE ROGUE River War of 1855 was I!he most sanguinary in the history of Oregon. During the summer there were numerous acts of mutual hostility. Attacks and counter attacks, reprisals and counter reprisals followed each other until the murderous outbreak of October 9. Small bands of Indians, . acting simultaneously in different parts of the settlements, killed 16 persons. The alarm in the Rogue River and Umpqua vallies spread to the Willamette Valley and throughout the territory. The only military protection in. the vicinity consisted of the troops at Fort Lane, numbering 90 dragoons. Formation of volunteer companies began immediately, and on October 1 S, Govtrnor Curry issued a proclamation calling for five companies of mounted volunteers to constitute a northern battalion and four companies to form a southern battalion. The northern battalion was composed of two companies from Lane County and one each from Linn, Douglas and Umpqua counties. It proceeded to Roseburg and on October 30, elected William J. i Martin as major. The temper of the campaign is shown by Major Martin's instructions that "in chastising the enemy you will use your own discretion provided you take no prisoners."
The journal here presented was kept by Harvey Robbins, a volunteer from Linn County, who had come to Oregon from Indiana in 1852 and settled on a donation land claim near Harrisburg. He served also in the Yakima War in 1856.
JOURNAL

OCTOBER 23, 1855, TUESDAY. Lynn County, O. T. The Indians of Rogue River Valley having broke the treaty of 1853, and commenced hostilities against the whites by breaking out about the loth of this month and killing a great many citizens and miners of that valley, and destroying a great deal of property by fire, and stealing such stock and property as they could take with them, killed a large amount of stock and burned the houses and grain, spreading death and desolation over the land, the citizens of that valley have become much alarmed and sent petitions to the Willamette praying for assistance, the Governor immediately issued a proclamation calling for 3 companies of mounted volunteers from Lynn and Lane counties to go and chastise the savage murderers, which call was readily responded to, the southern counties furnishing their quota also, the northern counties having already turned out their brave and noble hearted boys to quell the savage and indiscriminating murderers of the North, who have been for years past perpetrating their bloody deeds on the emigrants while passing through their country and there has been many bloody deeds committed by them on explorers, traders, and missionaries. Nothing but a severe drubbing will ever quell them. Today by order of our enrolling officer, Colonel Helms, we met at Harrisburg, elected our officers. For Captain we elected Jonathan Keeney, first lieutenant, Stanard,

1

second lieutenant, Joseph Yates. We then marched out of town a mile and encamped for the night.

OCTOBER 24, WEDNESDAY. This morning we were on the line of march by 8 o'clock. We arrived at Eugene City at 1 o'clock P. M. and were mustered into service and our animals and equipage appraised. We then camped near the town on the Willamet River.

OCTOBER 25, THURSDAY. This morning our officers are busily engaged in making necessary arrangements for our trip. At 1 o'clock we paraded with Captain Buoy's

2

company of Lane county, and Mr. Michel of Lane co. and Mr. I. N. Smith of Lynn Co. delivered us a very patriotic speech, each. We then traveled 10 miles and camped for the night on the coast fork of the Willamette River. A middling poor show for cooking, owing to the scarcity of cooking utensils, which we will get at Roseburg.

OCTOBER 26, FRIDAY. Today we traveled 25 miles and camped near the foot of the Calapooya mountains for the night.

OCTOBER 27, SATURDAY. Today we crossed over the Calapooya mountains, encamped for the night in the Umpqua valley after 12 miles march over very bad roads.

OCTOBER 28, SUNDAY. Traveled 12 miles and camped for the night on the Chamas Swaile [Camas swale].

OCTOBER 29, MONDAY. Last night at about 12 o'clock a messenger appeared at our camp with an order from Roseburg, which is headquarters, calling for a detachment of 30 men to go and quell some Indians on Cole's prairie, who had been making hostile threats towards the citizens of that place. The 30 men were detached immediately under Lieutenant Stanard, the remainder of the company marched to Roseburg, 18 miles, against 6 o'clock A. M. We camped near the town to remain until our detail of last night comes up. The citizens of this place seem to treat the volunteers with but very little respect. One man has even forbade our cutting wood on his claim. We just went to his wood that was already chopped and helped ourselves. At 3 o'clock in the evening our detachment arrived with 10 Indian prisoners, which were taken without the firing of a gun. They were delivered up to the authority of the place. About night there was a guard called for from our company to protect the Indians from the violence of the citizens, some threatening their lives, others threatening to release them. Captain told them that if they would bring them back to his camp he would guard them.

OCTOBER 30, TUESDAY. Rained all night. We have no tents yet. The citizens will not even let us sleep in their barns. A person may very easily imagine what kind of respect the volunteers begin to have for Umpquaians. Today have to elect a superior officer to command the whole battalion. We hope that we may make a wise choice, knowing that the glory of the war depends entirely on the superior officers. It seems that Captain William Martin is the choice of all. He was unanimously elected, having no opposer at all. He runs a very strong race. We left Roseburg at 4 o'clock, traveled S miles and camped for the night.

OCTOBER 1, THURSDAY. Last night an express arrived here who brought the news that Captain Bailey's

3

company and the Umpqua volunteers together with the southern battalion, and Capt. Smith

4

with his regulars had attacked the Indians. By daylight we were on the march through the canyon. We traveled 20 miles and arrived at the Six-bit house,

5

which is a house in the Grave Creek hills. It is now called Fort Bailey. When we arrived here we were informed that they were fighting the Indians about 15 miles from this place: They are in the mountains between Grave Creek and Cow Creek. Captain Keeney wanted to push a head to their assistance, but Major Martin would not permit him to go. At 4 o'clock P. M. some of the volunteers arrived from the field bringing the news that the whites were all retreating with 40 killed and wounded. They had fought two days without any provision, consequently they were obliged to leave the field to the Indians. It is not known how many Indians killed, neither is it known how many were engaged in the fight. There seems to be a diversity of opinion as to the number of Indians, some say from 200 to 300, others as high as 500. I guess them that was not there has about as good an idea of the number of Indians engaged as those that were there. They had taken a position on the top of a high mountain, which was covered with timber and a thick growth of chaparral and manzanita brush. The thickness of the brush would not admit of a charge and whenever attempted by the whites they were repulsed with a heavy loss. They kept themselves close concealed until an opportunity presented itself for them to make a sure shot, then the keen crack of the rifle would warn the white man that Mr. Indian was close at hand. And so was fought the battle of Hungry Hill,

6

as it has since been named. 40 of us went to assist in the wounded to this place, it being one of the nearest rendezvous to the battle field. They were carried in on litters by hand.

NOVEMBER 2, FRIDAY. This morning we are under orders to return back as far as Cow Creek, and guard the few citizens of that valley that have not been murdered by those treacherous villains. There are but 3 houses left standing in this valley, the rest have all been burnt by the Indians, the stock all killed and stolen and farms laid waste. 11 o'clock P. M. arrived at Smiths

7

on Cow Creek. 40 remain here and the rest proceed to the canyon.

NOVEMBER 3, SATURDAY. 20 of us escorted a pack train to the canyon. As soon as they return with ammunition we expect to give the Indians another round.

NOVEMBER 4, SUNDAY. This morning 20 of us went out on a scout. We went to the Summit of a high peak on the west side of the canyon. Returned in the evening without making any discovery.

NOVEMBER 5, MONDAY. Nothing to do but cook and eat and escort travelling parties from this place to Fort Bailey.

NOVEMBER 6, TUESDAY. A large pack train arrived' through the canyon loaded with provision.

NOVEMBER 7, WEDNESDAY. Cold rain. The most of us without tents. 30 of our men that were detailed to guard Roseburgh arrived this evening all safe and sound.

NOVEMBER 8, THURSDAY. We drove our horses off into the mountain about 3 miles to grass. The grasshoppers destroyed nearly all the grass out here last summer, and the Indians burnt all the grain so our feed has to be brought from the Willamet.

NOVEMBER 9, FRIDAY. Cold and raining. Some of the boys begin to shiver and wish themselves back home.

NOVEMBER 10, SATURDAY. Snow fell last night to the depth of 3 inches in the valley and much deeper in the hills.

NOVEMBER 11, SUNDAY. Marched to Fort Bailey and camped.

NOVEMBER 12, MONDAY. Making preparations for building a fort. It is expected that this will be our winter quarters.

NOVEMBER 13, TUESDAY. All hands at work, each mess building their own house to winter in.

NOVEMBER 14, WEDNESDAY. This morning every man seems to be stirring and making all the noise possible.

NOVEMBER 15, THURSDAY. Clear and pleasant.

NOVEMBER 16, FRIDAY. Rained all night. Quite a number of us are without tents yet, but there is no chance for dodging. Here we have to stand and take it or lay down to it as we choose.

NOVEMBER 17, SATURDAY. This morning the sky is clear and the sun is just peeping over the mountain in all his beauty. An express has just arrived at our camp bringing the news of the Indians burning houses on Jump-off Jo, and a request from Major Bruce

8

of the Southern Battalion to Capt. Keeney for his company to meet him there to try to take the rascals in. 4 o'clock P. M. We have two bears barbacued ready for the march, and the fighting too, if we get the chance. Capt. Keeney sent an express back to the Canyon for a pack train to follow on after us with provisions.

NOVEMBER 18, SUNDAY. This morning by 8 o'clock we were on the march. We traveled 9 miles and met some men that informed us that Capt. Bob Williams had attacked the Indians 30 or 40 in number, and had completely cleaned them out, having killed 5 of them and put the rest to flight. 1 man wounded. They think that the Indians have retreated down toward the mouth of Grave Creek. We went back 3 miles to Grave Creek, thence down this stream 4 miles and encamped for the night.

NOVEMBER 19, MONDAY. This morning Capt. Keeney having determined to proceed down Grave Creek to Rogue River on foot, we sent all our horses back to Fort Leland. Captain sent back 15 men to hurry up the muck-a-muck, our rations being already nearly exhausted. We traveled 12 miles down Grave Creek and camped. This is a rough and mountainous country. The creek winds its way through rocky canyons. There is some gold in these mountains. From the appearance of the labor that has been done along this stream I judge there has been several dimes taken out here.

NOVEMBER 20, TUESDAY. This morning all hands complain of being sore, after climbing mountains all day yesterday and lugging their knapsacks. Half rations for breakfast; a little dough wound on a stick and baked, and a small slice of beef constituted my meal. Having concluded to remain in camp today to wait for provision, Capt. ordered 40 men out on scout; 20 to proceed down the creek to its mouth to see if there have any Indians passed down that way on foot; the other 20 to go on to a high peak that lay to our north, to see if there could be any discovery made in that quarter. While on the summit of this peak we were startled by the firing of guns up Grave Creek, also the report of 3 guns some distance to the west. We supposed that the Indians had attacked our pack train. We went back to camp with all haste. We all gathered up and marched up the creek with the expectation of having to fight. We marched 4 miles and met 8 of our men with some of our horses packed with provisions. It was Capt. Buoy's company that we heard firing up the creek. We halted and cooked and eat our dinner. Send 10 men back to make another trip for pack animals, as all attempts had yet failed; thence up a mountain 2 miles. Camped with grass, plenty of water.

NOVEMBER 21, WEDNESDAY. Remained in camp today, except 30 men on scout. We went to the summit of the mountain that we were camped on 3 miles where we could see all over the whole country. Many of the snow capped peaks presented themselves to our view. Indians in this country have all advantage on the army. They have spies all over the mountain that see the army wherever they go. I think that it may safely be termed the Indian's home. Deer, bear and elk abound in these mountains.

NOVEMBER 22, THURSDAY. This morning we took up the line of march for Rogue River, down Grave Creek 4 miles, thence over a mountain 8 miles, which the boys named Mount Rubbing in honor of a young man [illegible). 15 of us volunteer to go down Grave Creek to the mouth, thence down Rogue River to where the pack trail strikes the river, which is 6 miles of a deep canyon, and entirely impassable for anything else but a foot man and so near impassable for them that I never want to try it again. Where the trail strikes the river there is an Indian ranch or village of about 25 huts, which we burnt. From appearance we supposed the Indians had been gone about 2 days. We think that they were probably frightened away by our first day's travel down Grave Creek. Had we not gone back when we heard Capt. Buoy's guns, we would I think have given them a close chase. There had some 30 or 40 Indians come down the river, supposed to be mostly squaws and children. They were undoubtedly badly frightened. Children and all had been running with all haste. We camped here this evening. Capt. Buoy's company arrived here and camped with us. We were out of meat. They had two beeves killed, one divided with us.

NOVEMBER 23, FRIDAY. Today lying still. Myself and 2 other men follow an Indian's track 4 miles where he had gone last night. Major Martin arrived this evening with about 150 volunteers, 10 days provisions and Capt. Juday

9

with 50 regulars, one canon.

NOVEMBER 24, SATURDAY. Today Major Martin with about 400 men marched 15 miles over a mountain. Snow 12 inches deep for 3 miles. Encamped on the meadows. Excellent grass. 3 o'clock in the evening the vanguard discovered an encampment about 4 miles distant in Rogue River Canyon, which after examining with a glass were thought to be Indians, though not positive; as Capt. Williams is expected down on that side of the mountain it may be he.

NOVEMBER 25, SUNDAY. 2 men started at 2 o'clock last night as spies to see whether it was Capt. Williams or Indians that we had seen on yesterday evening. 12 o'clock today spies of last night not returned yet. 1 o'clock Williams arrived, came down on the same side of the river on which we did, which confirmed us that it was Indians that we had supposed to be Williams. Capt. Judah and Major Bruce went on to a mountain to take another look with the glass. Returned, report that the Indians have burnt their village. Capt. Keeney with his footmen marched down a deep ravine 2 miles to the small creek, thence down the creek 1 mile to the river. On this creek a short distance from the river, John Rogers, a young man in our company discovered something under a large rock, which after examining, was found to be a cache either put here by Indians or miners; supposed to be miners. It consisted of flour, 50 lbs., coffee 40 Ibs., salt 10 lbs., 1 valise, 1 peck of chestnut acorns, several books many other articles too numerous to mention. Camped, 6 men in each, 50 yds apart for the purpose of cutting off any Indians that might attempt to pass down the river.

NOVEMBER 26, MONDAY. This morning the Southern battalion came down the river. The spy of yesterday morning arrived at camp, reported that the Indians were, he thought from all appearances, preparing to fight. He said that he could distinguish one amongst them that was Charco Boston. Capt. Keeney's company was ordered to cross the river with Southern battalion. While preparing rafts to cross the river we were attacked by the Indians from the opposite side of the river. Killed one man,

10

wounded 22 more, Capt. Keeney's company. The river runs here in a deep canyon. The side on which the Indians were is covered with fir timber and brush so thick that we could not see them. The side on which we were was open with the exception of a few scattering trees. As soon as the firing commenced Capt. Keeney ordered his men, every one to choose a position behind something to shelter us from their sight. 10 minutes before he advised us, all that were not at work, to get behind something and keep a close lookout for Indians, but the boys were disposed to laugh at him. The firing commenced at about 1 o'clock, continued till 8 o'clock at night,
when seeing that it was impossible to accomplish our object or even do any good in any way, we left the field, carrying our killed and wounded with us to our camp. Of the 25 it is not known whether any were killed or not, though some of the boys say they are certain they killed some.

11



NOVEMBER 27, TUESDAY. This morning a melancholy duty remained for us to do, that was the burying of our dead man, which we did with the honor due to him who had lost his life in defense of his country. Major Martin and Major Bruce, seeing that their forces were inadequate sent for reinforcement, also for supplies and provisions.

NOVEMBER 28, WEDNESDAY. Very cold, snowing and raining all day. This morning, seeing our 10 days' provisions were going to fall short, we were put on half rations.

NOVEMBER 29, THURSDAY. Continues blustery weather. Our company is out of flour, nothing but beans without salt, and coffee to eat.

NOVEMBER 30, FRIDAY. It still continues to rain and snow. The Indians still hold their position. They fire on every man that gets within 6 hundred of them.

DECEMBER 1, SATURDAY. Quite pleasant. Today we obtained from the Southern battalion a few bushels of wheat which we cooked and eat. This evening a small pack train arrived with provisions.

DECEMBER 2, SUNDAY. Snow fell last night to the depth of I inches. This morning Major Martin and Major Bruce seeing that we were in danger of being bound in here by snow, deeming it unwise to remain here longer, ordered their forces to march back for the settlement. By 8 o'clock we were on march carrying our wounded men on a litter, all but the ones who were able to ride horseback. We had a mountain of 16 miles to cross. Today beginning snow on the summit 18 inches deep. We camped within 2 miles of Whiskey Creek, having traveled 14 miles.

DECEMBER 3, MONDAY. Cold and snowing. This morning we started early. Traveled to Whiskey Creek 2 miles, thence over Mount Robin to Grave Creek, 8 miles, thence up the creek 4 miles and encamped for the night.

DECEMBER 4, TUESDAY. Raining today. We arrived at the Grave Creek House or Fort Leland with our wounded man, having carried him 40 miles in two days and a half over mountains and through snow and rain. Encamped at Fort Leland.

DECEMBER 5, WEDNESDAY. Continues to rain. Going to remain at this place until after the election of Colonel and Lieutenant-colonel which will come off on Thursday. The candidates have been shouting here today, telling us their views and what they would do if elected. If they make their words good, woe unto the Indians.

DECEMBER 6, THURSDAY. Cold and snowing. Capt. Keeney's company went mostly for Capt. Williams for Colonel and Major Martin for Lieutenant-colonel.

DECEMBER 7, FRIDAY. Continues to snow. Today received the returns of the election from the South. Williams elected Colonel.

DECEMBER 8, SATURDAY. Continues to snow. Today we were ordered to march back into the Umpqua to where we could obtain sustenance for ourselves and animals as we could not get either one here. Snow on the hills where we had been herding our horses is about 2-1/4 feet deep. We think that we made a lucky escape in getting out of the mountains before the storm.

DECEMBER 9, SUNDAY. This morning we started on the march for the Umpqua leaving our wounded man in the hospital with 3 men to take care of him. Rained all day. Snow melting very fast. The creeks all very full, some of them swimming our animals. Camped at the canyon for the night.

DECEMBER 10, MONDAY. Today we marched through the canyon, the roads very muddy. Encamped on Canyon Creek, 1 mile from the mouth of the canyon in Umpqua Valley.

DECEMBER 11, TUESDAY. Remain in camp today. Provision scarce. We have no flour, we are living now on rice and mcat. Capt. Buoy's Company is camped here with us. They have provisions plenty, but take care to eat it themselves.

DECEMBER 12. WEDNESDAY. This morning we had half rations of flour for our breakfast. We do not know when we will get any more. It seems as though the quartermasters and packmasters are trying to manage so as to starve us out.

12

There are several pack trains here idle and have, been 5 or 6 days and nothing to hinder them from going back.

DECEMBER 13, THURSDAY. A rainy and disagreeable day. This morning the pack animals that were laying here started north for supplies of provisions for ourselves and forage for our animals. I Remainder illegible.]

DECEMBER 14, FRIDAY. Continues to rain this morning. The mountains all around are covered with snow. General Barnum and Colonel Martin passed here today on their way to Deer Creek. This morning w e were out of meat, and the quartermaster would not? get any, so there being some very fine hogs running about the camp, we just killed one.

DECEMBER 15, SATURDAY. Continues to rain. Cold and disagreeable weather.

DECEMBER 16, SUNDAY. This morning we are out of meat, and having made several applications to the quartermaster for meat. and could not get it, Captain had discovered in the quartermasters house a keg of syrup which he called for, and the quartermaster swore that he should not have it. Captain swore that he would. He came to camp and took a few boys with him and just walked in, carried it out, and said, "Here boys, take it," 'and Mr. Quartermaster took care not to cheep.

DECEMBER 17, MONDAY. Cold and disagreeable this morning. Mr. Bolen sent out 4 men to hunt up what government cattle he had in his care, going to take to grass, as they had got so poor that the volunteers would not eat them. The cattle are about 4 miles distant. After they had gone a while they returned very much frightened with only a part of their cattle and said that they had heard a cap snap near them which they supposed to be an Indian. We think that they are afraid an' want us to hunt the cattle for them.

DECEMBER 18, TUESDAY. Today Captain Keeney received a letter from Lieutenant Yates at Grave Creek. He says he does not expect to get here for something like a week.

DECEMBER 19, WEDNESDAY. This morning Lieutenant McKiney started back to Fort Leland. This evening a pack train arrived with clothing.

DECEMBER 20, THURSDAY. Cold and snowing. The pack train that came here yesterday said that he would stay here a few days till after the storm, but Captain Keeney told them that they must go on to Fort Leland, for his men that were there were out of provision and destitute of clothing and consequently in a state of suffrance.

DECEMBER 21, FRIDAY. The weather very disagreeable. This morning Capt. Buoy's company left here, a part of them to go down toward Deer Creek to take some squaws that the citizens had become much alarmed about. The remainder of the company moved some 4 or 5 miles for the purpose of getting a better camp.

DECEMBER 22, SATURDAY. Snowing this morning. Today 2 of the men that were detached to go with the .pack train came back. One of the men was sick. They only went as far as Cow Creek in 2 days.

DECEMBER 23, SUNDAY. Continues to snow, but it melts pretty near as fast as it falls.

DECEMBER 24, MONDAY. Very cold, the ground frozen hard. Today there is considerable of murmuring in camp about the way we are getting treated here. We are very poorly clad, and in fact we have no suitable equipment for a winter campaign and it seems that there is no exertion used for our relief with the exception of Captain.

DECEMBER 25, TUESDAY. This morning the quartermaster of this place brought out a bucket full of brandy and treated our company.

DECEMBER 26, WEDNESDAY. Last night 9 of the men that went to escort the pack to Renoise arrived.

DECEMBER 27, THURSDAY. This morning we left the canyon.

13



DECEMBER 28, FRIDAY. Arrived at Roseburg.

DECEMBER 29, SATURDAY. Left Roseburg.

DECEMBER 30, SUNDAY. Crossed the Calapooya mountains.

DECEMBER 31, MONDAY. Arrived at Eugene.

JANUARY 10, 1856, THURSDAY. Met today at Calapooya, according to the orders of our Captain, made our monthly report, returned home with orders to meet at the same place the first day of February.

FEBRUARY 1. Met today at Calapooya and was discharged from the service by order of the Governor.

---


1. A. W. Stanard.
2. Laban Buoy, captain of company B, second regiment of 0regon mounted volunteers.
3. Joseph Bailey, captain of company A, first battalion.
4. Andrew Jackson Smith, (1815-97) commander of Fort Lane, Jackson County; graduated at West Point in 1838, served with distinction in the Mexican and Civil wars; in May, 1869, resigned from the army and was appointed postmaster at Saint Louis.
5. According to William Hanley the name was derived from the price of accommodation. A less pleasing origin is given by George W. Riddle, who says that an Indian boy was wantonly hung by some lawless whites, but just before the execution the tavern keeper demanded six bits from the victim in payment of a debt; Oregon Historical Quarterly, XXXIII, 126, note; Riddle, Early Days in Oregon, 57.
6. (For account of battle, with names of killed and wounded, see Walling, History of Lane County, 251-53 and Victor, Early Indian Wars, 353-54.
7. William Henry Smith.
8. James Bruce, captain of company D, second regiment of Oregon mounted volunteers.
9. Captain H. M. Judah, of the regular army. He used a 12-pound howitzer in the campaign.
10. William Lewis; Walling, 256.
11. At least one Indian bit the dust, for George Cherry killed a brave and carried his scalp tied to his horse's bridle;" Walling, 257.
12. The quartermaster and commissary departments were inefficiently administered throughout the war; Walling, 253.
13. Captain Keeney's company were dissatisfied and homesick. He asked for a furlough, and being denied, broke camp and left for Roseburg. Charges of disobedience were preferred against him and he was suspended by the governor. Later, however, he and his company were restored to all rights and privileges; walling, 261.
CAPTAIN JONATHAN KEENEY'S COMPANY

From Scrapbook by Everett Earle Standard:


Muster Roll of Company "C" Second Reg. of Oregon Mounted Volunteers (Col. Robt. L. Williams);
enlisted in Linn County; mustered in at Eugene, October 24th, 1855, and served in Rogue River Indian War:
Jonathan Keeney, Captain - ***
A. W. Standard, 1st Liet.
Joseph Yates, 2nd Liet. .
James A. Porter, 1st Serg't. .
G. W. Bunch, 2nd Serg't. .
H. C. Payne, 3rd Serg't.
H. R. Powell, 4th Serg't.
J. B. Sperry, lst Corporal.
Joseph Elkins, 2nd Corporal.
J. W. Rice, 3rd Corporal.
Joel T. Frakes, 4th Corporal. Armstrong, Wm. L.
Alford, Albert
Anderson, Wm.
Bundh, James W.
Bunch, Stokley B.
Brown, John
Bridgefarmer, Martin
Bridgefarmer, Martin
Brown, Stepehen
Blevins, Pendleton
Blevins, Alferd .
Goshow, 0. P.
Curtis, Wm.
Cary, David
Cochran, David
Clover, Wm. J.
Crabtree, Wm.
Crabtree, Job.
Cooksey, Geo.
Cotterell, James.
Curl, John
Duncan, J. H.
Eddleman, Lewis
Evans, Edward
Furman, John
Fox, Ephream
Fox, John
Fields, Reuben
Field, John
Fountain, H. C.
Gulliford, Jacob A.
Goe, Thomas
Gregg, S. B.
Glass, William
Hays, James
Hannah, T. J
Hall, E. M
Homes, William B
Hyde, Jesse
Hayworth, Geor. W.
Holloway, Wm. L
Hock, John
Hendry, David
Irving, Benj.
Kennedy, Robert
Louden, James
Lewis, Fielding
Lewis, William
Louden, Abraham
Louis, William N.
Lee, Hugh
Morrison, C.
McDaniel, Jacob
Miller, D. D.
Moore, S. W
Miller, S. R.
Mansfield, Samuel
McKinney, E. F.
McDaniel, Thomas
Morgan, Wm.
Malone, Frances
Mansfield, B. F.
Newton, David
Nicholas, John
Patterson, Wm. R.
Peterson, M. L.
Payne, J. Taylor
Paxton, Samuel B.
Payne, Alfred M.
Ray, John
Robbins, Harvey
Rodgers, J. W
Riggs, Greenberry
Robinett, Joseph
Rice, F. M
Simons, R. G
Sinnot, Edward
Swank, James W.
Schooling, James P.
Shearer, David
Smith, W. B.
Smith, J. L.
Scott, Wm.
Splawn, W. C.
Snoderly, G. W.
Smith, I. N.
Thomas, Perry
Thomas, Jasper
Templeton, S. R.
Tippet, Hesekiah
Turner, Thomas
Tabor, John D.
Willobaugh, Wm.
Willibaugh, James
Willibaugh, John H.
Wilcoxen, W. N.
Williams, Charles
Wilson, John A.
Whealdon, Nathan
York, Henry
Wright, J. D.
Corey, T. B.
Hurst Wm.
---
In 1856-57, Jonathan was engaged in driving cattle to California and The Walla Walla country, supplying or marketing his cattle, mostly at the Government Post. Fundamentally, Captain Keeney was not a farmer or cattle rancher, but full of the pioneer spirit, and enjoyed life most when he was on the move in the wide open spaces.

The gold fever was so virulent that visitors to mining towns in the early 1860's would not have known a war was in progress -- Civil War --- in the eastern part of the country. Jonathan made a farm on Dry Creek, Walla Walla County, and gave it to his son.

In 1863, Jonathan established a ferry on the Snake river, near the mouth of the Boise river, at the Old Fort Boise site. He had two partners in this venture; John Duval, ex-Sheriff of Ada County, Idaho, and Captain Settler of Rocky Bar. Captain Settler must have sold out to J. McLaughlin, according to a notice which appeared in 1864:

NOTICE.... "Boise Ferry, On Snake River, At Old Fort Boise" The traveling public are invited to take notice that the above ferry is now completed and furnished with good, new boats and careful attendants. This ferry is located at the most eligible crossing on the Snake River for travel from Humboldt County and Scott Valley, California; Umpqua and The Willamette Valleys, The Dalles and Umatilla, Oregon; and Walla Walla, W. T. to and from Boise City and Valley, South Boise City, I. T. of which all must be convinced who once try the route. Being furnished with Buoy Lines and the largest boats, it is believed to be the safest ferry on the Snake River.
Proprietors: J. Keeney, John Duval, J. McLaughlin
---
The Snake River had flooded in 1853, washing away Old Fort Boise, which the Hudson Bay Company attempted to rebuild, but gave up and abandoned the site in 1855, because of hostile Indians. Keeney moved his family to the ferry site in 1865. Captain Keeney built his barn on the exact spot where Old Fort Boise had been, but the main buildings were 100 yards north.

In the fall of 1863, Jonathan also established a Wayside Inn near the Hot Springs, present day Vale, Oregon, which he owned through Squatter's Rights. This is where his family first lived. The Inn had no rooms to rent, but was a place for travelers to stop and refresh. In 1868, Jonathan's son, James B., came to run the Wayside Inn, until it was sold to Louise B. Rinehart in 1870, who replaced the log cabin with a stone house, which is still standing in Vale, Oregon.

Sometime after his interview at the ferry site, by Editor Milton Kelly in 1876, Jonathan sold the Riverside Ferry to Samuel McDowell, and retired to his ranch on Willow Creek, east of Jamieson, Malheur County, Oregon. It was here on his ranch that he met his untimely death on August 15, 1878.

Jonathan is buried in Dell Cemetery, near Jamieson, Oregon. Two errors appear on his tombstone; the misspelling of his name, to read: "Jonathan, and his age; incorrectly recorded as 63 and 13 days.

His wife, Mary, inherited the Willow Creek property, but went to live with her children. She died on April 18th, 1896, at the home of her daughter, Betty, and is buried in Old Canyon Hill Cemetery in Caldwell, Idaho.

---
During the time Jonathan Keeney made his home on the Boise River and operated the ferry, the Indians became troublesome; stealing the settlers horses and burning their homes; so the pioneer settlers decided something had to be done. A party of settlers gathered at the Keeney ferry to track the troublesome Indians down; before the men left the Fort, Mrs. Keeney told Jonathan not to come back without bringing her a papoose.

The posse finally tracked down and cornered the Indians in the Owyhee Hills, and after the battle with the Indians, the posse returned to the ferry with two papooses; a boy and a girl for Mrs. Keeney. The little Indian girl had a string of beads tied around her neck with a buckskin string and Mrs. Keeney decided to give her a bath and clean her up; so, she asked her daughter to bring the scissors to remove the beads. The little Indian girl thought they were going to butcher her and she became so alarmed and frightened that she bit a good-sized mouthful of hide out of Mrs. Keeney's neck.

Mrs. Keeney cared for and raised the two children. When the boy became a young man, he left home and went to rejoin his own people. Several years later, on a hot summer day, the Indian boy came back all dressed in Indian fashion, with feathers around his head. He came to the ferry to see Mrs. Keeney and after a short visit, he left, never to return.

The Indian girl, Eliza, married a man by the name of Jim Holcomb, who settled and made his home in Eagle Valley, near Richland, Oregon. The Indian woman passed away, leaving a large family, which Mr. Holcomb raised and cared for until his death.

---

JONATHAN KEENEY IN BROWNSVILLE, OREGON -- 1850's

Brown and Blakely Store in Brownsville, Oregon, was founded in 1851 and was one of the first stores south of Oregon City. Located on the corner of Washburn and Blakely (where the Blakely Monument and park are now). Jonathan Keeney and Hugh Blakely were, at one time, partners in this store.

February 4th, 1857: One of the subscribers for a bridge across the Calapooya creek, where the Territorial Road crosses the same at Brownsville, was Jonathan Keeney who subscribed - $5.00. The bridge was built at the cost of $650, and one life.

Jonathan Keeney's land claim was situated on Courtney creek, about four miles southeast of Brownsville. His old house, which he built in the early 1850's, is still standing and in use. (Now owned by a Mr. Whitney).

An early settler wrote to Mr. Geo. O. Goodall, Eugene, Oregon in Sept., 1860, stating; "Dear Sir: I crossed the plains in 1846, stopping near Oregon City till the fall, when I settled in Bush Creek Valley; Bush Creek being on the south fork of the Calapooia. When I came here, I found Alexander Kirk, W. R. Kirk, James Blakely, Hugh L. Brown, and Jonathan Keeney, all living in the vicinity of where Brownsville now is, all having crossed the plains the same year.

The McKenzie Wagon Road Company proposed to build a "Wagon Road" from Eugene City, Lane County, Oregon by way of the valley of the McKenzie River and the most feasible pass over the Cascade Range near the Three Sisters Mountains to the Deschutes River, at the point known as the "Ford on the Wiley Pass Road. Articles of incorporation were dated and filed in Lane County records on December 18, 1863 by Henry C. Owens, Charles A. Williams, Norris Humphrey, Riley E. Stratton, Jonathan Keeney, Mathew W. Mitchell, Charles C. Croner and Eugene F. Skinner. There is no records of tolls collected and apparently the company ceased its activity after a year had passed.
---
DEDICATION OF CAPTAIN JONATHAN KEENEY PASS

During the Vale Bi-centennial Celebration, a historical exhibit was dedicated on July 3, 1976, by the Federal Bureau of Land Management with a 21-gun salute in honor of Captain Jonathan Keeney. Over one hundred Keeney descendants gathered about fourteen miles south of Vale, Oregon to see the plaque unveiled; to hear a speaker, Mr. Callahan of the BLM from Washington, D.C., and enjoy the music of the Vale Fife and Drum Corps.

A section of road, previously known as Cow Hollow, was officially designated "Captain Jonathan Keeney Pass." Old ruts, made by wagons of years past are still visible along this road, which runs between Vale and Jordan Valley.
---
One page from Old West Magazine - Fall Edition - 1968.

"Uncle Dan Drumheller Tells Thrills Of Western Trails in - 1854."
"Jonathan Keeney".



...were stationed to protect the emigrant trails. There were whitewashed log cabins with a little flag post in the center of the plaza, and a sutler who traded a little with the Indians, but there was no sign of a town.

Here the trail struck northward up the valley of the Blue River into Nebraska, and we met the Platte River near Fort Kearny and turned west. There we got into the buffaloes and we were in buffaloes until we got to Fort Cheyenne in Wyoming. The animals were in a continuous line of travel that stretched from the Canadian River in Texas far up through Montana clear into the Peace River country in Canada. I suppose that north and south they occupied a range of 2,000 miles, and twice during the year, in their spring and fall migrations, herds were in motion across the whole territory

It is impossible to give an idea of their numbers. On those level plains of western Nebraska and eastern Wyoming one can easily see twenty miles away to the horizon, and for days as we drove westward there were clusters of buffaloes in every direction just as far as the eye would carry. I don't mean to say that they were there in solid mass. Instead, they were stretched out in little bunches as close together as they would normally graze. Hour by hour they were working their way northward in advance of the summer sun.

Once, in camp on the bank of the Platte River, we found ourselves in a stampede of buffaloes. Something started them to running and the noise was frightful -- the roaring of the bulls, the bleating of the calves and the thunder of those thousands of hoofs. We were pretty badly scared, for if they had started in to cross our camp nothing could have saved us. By some good luck the herd split and passed on each side of our wagon, while they swept by for an hour and a half.

So far as I know, there has never been a trace of buffaloes found west of the main range of the Rockies, except one report that I got thirty or forty years ago from a pioneer named Jonathan Keeney. In 1843-4 he wintered near the sink of Lost River, in central Idaho, near where Mackay now stands. He told me a bunch of thirty or forty head perished there that winter. Montana and Alberta were probably their greatest headquarters. What are now known as the Wintering Hills east of Calgary were originally known as the buffalo wintering hills because the grass was so fine and the snow so light that it was a famous winter rendezvous for the herds.

The Indians from Walla Walla and the Spokane country, as I found out afterward, used to go on annual hunting trips for buffalo on the east slope of the Rockies, over Lolo Pass, or around Pend d'Oreille Lake or over the Indian trail that Lieutenant Mullan subsequently followed. After jerking the meat by drying it in the sun, they would load up their cayusea and come back home with their winter's provisions.

There were antelope on the prairies of Kansas and Nebraska -- pretty little fellows that would slip along beside our wagons just outside of gunshot, and follow us for hours. Their color changes while you look at them. I tried to shoot one, but was hit by buck ague. The meat is the finest game I ever ate, very dry, much like chicken rather than venison. Occasionally we would travel for a little while with other emigrants, but we seldom stayed together for any length of time, for everybody was anxious to get to California just as soon as possible. We were up at 4 o'clock in the morning to round up the cattle, and would strike out as soon as we could get the breakfast over and the cattle yoked and we would drive on till we got to a good camping place for the night. Usually we made about 15 miles a day, starting by 7 o'clock and keeping on until 4 or 5 in the afternoon, with maybe an hour at noon, making about two miles an hour.

On the whole trip to Sacramento Valley, 2,200 miles, which took just 152 days, we never laid up a day, and while the water was often bad, we never failed to find water for the night's camp except in our trip through the Nevada desert. We made two day camps in the sinks of the Humboldt. On the treeless plains we made our fires of buffalo chips, or maybe we found an abandoned emigrant wagon or a scrawny tree along the trail, and we picked up the wood and carried it in to the night's camping place.
---
MARY CATHERINE (KEENEY) HOCKENSMITH BOND -***

(B. Feb. 28, 1855 - Brownsville, Oregon) (D. Aug. 1937 - Halsey, Oregon)

Daughter of Jonathan and Mary Keeney

A MOUNTAIN MAN' S DAUGHTER
Her father was a mountain man, gold miner, wagon master, cattle rancher, Indian fighter and ferryman. His life was filled with movement, excitement, and raw adventure, and his family shared the life as hardworking pioneers.

To be a member of the Jonathan Keeney family, in the 1860's, was to live in a crude Wayside Inn built of willows and plastered with mud. It was to greet Oregon-bound emigrants taking the ferry across the Malheur river.

To be a Keeney was to see the miners from the Idaho gold fields, to weigh out gold dust and count coins for "feriage" and sell provisions from the little trading post which grew into the town of Vale, Oregon.

Mary Catherine - known as Kittie - was the daughter of Captain Jonathan Keeney, and met many interesting people as they passed through the Malheur ferry crossing. But it was a gentleman from Indiana, William Hockensmith, who captured the heart of the young girl. Kittie was only 15 or 16 years old when she met Hockensmith, a somewhat older man, who was much different from the Keeney men. He neither smoked nor drank; swore nor played cards. None of these virtues endeared him to Captain Keeney, who had spent his late teens trapping with the famous mountain men Jim Bridger and William Sublette.

Jonathan meant for Kittie to marry a cattleman, and the Captain disapproved of the growing romance between his daughter and the mannerly Hockensmith, who had been working about the trading post. Full of fury and noise, Captain Keeney and his boys ran Hockensmith off the place!

However, before Hockensmith was given his walking papers, he promised Kittie he would be back. He vowed that he would return for her, secretly, about sundown on a certain evening. "Watch for my boat," he said. "Leave everything and come just as you are."

Kittie was startled several days later, when she caught sight of his boat on the river as she was sitting by the cabin window rocking her baby sister. She had forgotten to count the days and had not expected to see Hockensmith so soon.

Warning her younger brother, Pete, not to tell anyone until she was safely away, Kittie put the baby on the bed and ran to meet Hockensmith. Pete was so frightened by his sister's daring flight that he hid under the bed, allowing the couple to escape to the nearest Justice of the Peace. Records show that they were married on Feb. 24, 1870 in Ada Co. Idaho. Only a handwritten "To Whom It May Concern" document provided by the Justice of the Peace, proved that Kittie Keeney was, now, Mrs, William Hockensmith.

The couple lived several years in Indiana before returning to Oregon, settling with their family on Irish Bend Road, north of the Richard Evans farm in eastern Oregon.

After Hockensmith's death, Kittie married William Owen Bond and moved to Halsey, Oregon. She had several children by that marriage, two of them still living in the vicinity; Balf M. Bond, longtime Halsey banker, and Mona Bond Moore, retired teacher.

Mrs. Moore's son, Don, and his family now occupy the large, attractive home in which Kittie Keeney Hockensmith Bond spent so many years in Halsey. Unlike her mountain man father, Jonathan Keeney, Kittie searched for roots and found them in this little community in Western Oregon.
---
60

HISTORY OF HOLT COUNTY

HISTORY OF HOLT COUNTY

61

The second instrument filed for record was a lease. It follows closely the legal forms of the present day, indicating that there must have been some pretty good lawyers in Holt County in those pioneer days:

This indenture made the 24th day of December, 1841, between Jonathan Keeney, of the County of Holt and State of Missouri, of the one part. and Lazarus Philips and Jeremiah Philips.of the same county and state, of the other part, witnesseth. that the said Jonathan Keeney, for the consideration hereinafter mentioned, hath devised, granted and leased unto the said L. and J.
Philips, the farm and improvements thereon, on which the said J.Keeney now resides. together with the distillery and all appurtenances attached thereto, two wagons and three yoke of oxen, two plows and three hoes, and fifty head of hogs. The said J. Keeney also agrees to aid and assist as a hand on the farm and to have the washing done for the said L. and J. Philips. The said Keenev has given possession of the above farm, improvements. distillery and appurtenances, wagons. &c., above shpecified, to the said L. and J. Philips, which they are to have the peaceable and quiet possession of, and all the profits and increase of the farm, distillery and stock. They are also to have and to hold until the first day of March, 1843. The said L. and J. Philips, for the above consideration, bind themselves, their heirs, executors and administrators, to pay on the first day of March, 1843, to the said Jonathan Keeney, his heirs, executors and administrators, the sum of three thousand dollars, good and lawful money of the State of Missouri. They also bind themselves to keep and hold in their possession, all of the above specified property, nor are they to part with any portion of it, without the consent of all the parties hereto bound. They are also bound to furnish for the maintenance of the said J. Keeney and his family, whatever is necessary for their support, out of the proceeds whatever is necnecessary from the farm and stock above described. The said L. and J. Philips bind themselves to make a good and substantial fence, commencing at the northeast corner of said Keeney's cornfield and running east with the bluff until it strikes the Tarkio. They are also to put up two tobacco houses, each eighteen by twenty feet square, and they are to make other necessary fencing, such as lots for the keeping of stock in, &'c. The said L. and J. Philips bind and obligate themselves to be faithful, diligent and attentive to the stock, farm and distillery, and to give due attention to preserve them from injury. It is further agreed and stipulated between the parties, that at the expiration of the above lease, to-wit: On the first day of March, 1843, if the above named L. and J. Philips shall well and truly pay unto the: said Jonathan Keeney the above named sum of three thousand dollars, then all of the above described property, together with the profits and increase that shall have arisen therefrom, are to become and be the property of them, the said L.. and J. Phillips.

But if the said L. and J. Philips should make default. and fail
to make the above payment at the time they therein bind themselves to do, then the farm, improvements, distillery and other appurtenances, and the other property above described. reverts and becomes the property of Jonathan Keeney, together with the one-half of all the profits and proceeds which may have arisen from it during the above period, and the other and remaining half of the profits and increase, shall become and be the property of L. and J. Philips. The said Jonathan Keeney has received and hereby acknowledges the receipt of eighteen dollars in hand, paid him, by the said L. and J.Philips, which is to be deducted out of the amount of the above three thousand dollars, when the same becomes due.
In witness whereof, the parties have hereunto set their hands and seals, the day and year first above written.

JONATHAN KEENEY,
LAZARUS PHILIPS,
JEREINIIAH PHILIPS.

Signed, sealed and acknowledged in the presence of us.

JOHN W. KELLEY.
ROBERT NOCHETT.

Filed the 5th day of January, 1842.

B. B. GRIGSBY, Clerk.
By H. LINVILLE, D. C.

Cupid seems to have become active soon after the early settlers took up their abode in Holt County. He may have accompanied the first pioneers here. Who knows? At any rate seven marriages were solemnized during the year 1841. Following are verbatim copies of some of the early marriages reported:

John A. Benson to Miss Kimsey --This is to certify that on the 18th day of April, 1841, the rites of matrimony were solemnized by the undersigned between John A. Benson and Kimsey of the County of Holt and State of Missouri. July 7, 1841. Certificate.

G. B. THORP.
An Ordained Minister.
State of Missouri, County of Holt, ss

I, Bayless B. Grigsby, Recorder of the County of Holt. aforesaid. do certify that the foregoing marriage was recorded by me on the 7th day of July, 1841.

BAYLESS B. GRIGSBY. Recorder

STONE HOUSE, VALE, OREGON
(Site of Original Wayside Inn)

PLAQUE BESIDE STONE HOUSE
(Original Inn was owned by Jonathan Keeney)

MARY (SHOEMAKER) KEENEY

Wife of Jonathan Keeney
(B. 1816 - D. April 18th 1896)
"Nannie" - Nancy Ann(B. Nov. 1856) on her mother's right.
"Kitty" - Mary Catherine(B. 1852) on her mother's left



Ralph R. Keeney standing beside Oregon Trail Memorial Marker - located along side of 15 Mile Creek a few miles east of The Dalles, Oregon- 1983. This is the site were Elli Keeney's daughter "Frances" was buried:

The Marker Reads; "Here Lie Many Pathfinders To The Oregon Country." Erected By The Wasco County Pioneer Association - 1935.


California - Oregon Trails 1846

(Click image for larger view)


Donation Land Grants

(Click image for larger view)

Captain Jonathan Keeney's rifle, now in the Oregon Historical Museum in Portland, Oregon
---