The following selection is taken from "Wagon Ruts West" written & published by Ralph Ray Keeney in 1983. The book is currently out of print. This section is published with the kind permission of Ralph Ray Keeney. The book this selection is drawn from is under copyright and permission has been granted for educational purposes and it is not to be used in any way for any profit or commercial venture.
JAMES M. KEENEY
James M. Keeney was the first manager of the newly erected Columbia Southern Hotel in Shaniko, Oregon in 1901. Keeney then purchased it from Joseph Batty in 1905 for $8,000 and continued to operate it until May 29, 1911, when he sold it to Archie Mason and left Shaniko to return to the Willamette Valley.
Author Helen Rees gave the following description of James M. Keeney; "James never married--was a salty old guy, if all the memories of him are any indication." His sweetheart was drowned in the Heppner flood -- June, 1903.
At this time there was another hotel in Shaniko, a wood frame structure called Shaniko Hotel, and it was operated by James J. McHargue and his wife Emma (Keeney) McHargue. They had a daughter "Lillie" who was working at the Columbia Southern Hotel as head-waitress for her Uncle James Keeney. She later married William Arthur Rees and they lived in Shaniko for the rest of their lives.
In these early days of the 1900's, another sister of James and Emma's, Ilena "Lena" Keeney, also lived in Shaniko and was employed there as an educator.
James, Emma, and Ilena were the children of Elias Keeney, who was the son of John Jr. Keeney.
After Elias and Jonathan first arrived in Oregon in 1846, it was Jonathan who helped the McHargue family during their first winter in the valley. James McHargue, Sr. settled south of the Calapooya river about halfway between Brownsville and Crawfordsville, in the late fall of 1847. He was particularly penniless, had no flour and no money to buy it with.
So McHargue went to Johathan and asked if he could borrow some flour until he could harvest his wheat. Keeney looked the young man over and decided that he was a poor risk, that he would never repay the loan. But even so, Keeney gave McHargue the badly needed flour, enabling the family to get through the winter.
McHargue did repay the loan, and the two men became good friends, and his brother Elias's daughter later married the son of James J. McHargue, and then the two families move to Wasco County and Shaniko.
Vital Statistic records show that James M. Keeney died Jan. 31, 1952, listing only Oregon as the place of death.
NOTE:
A Biography of James Maynard Keeney was published in Fred Lockley's "History of the Columbia River Valley from the Dalles To The Sea." -- 1928. In Volume II, it states that James M. Keeney did marry an Elizabeth Matlock, daughter of Thomas and Mary E. Matlock. It was Mary E. Matlock who lost her life in the Heppner Flood in 1903, not James' wife, Elizabeth.
---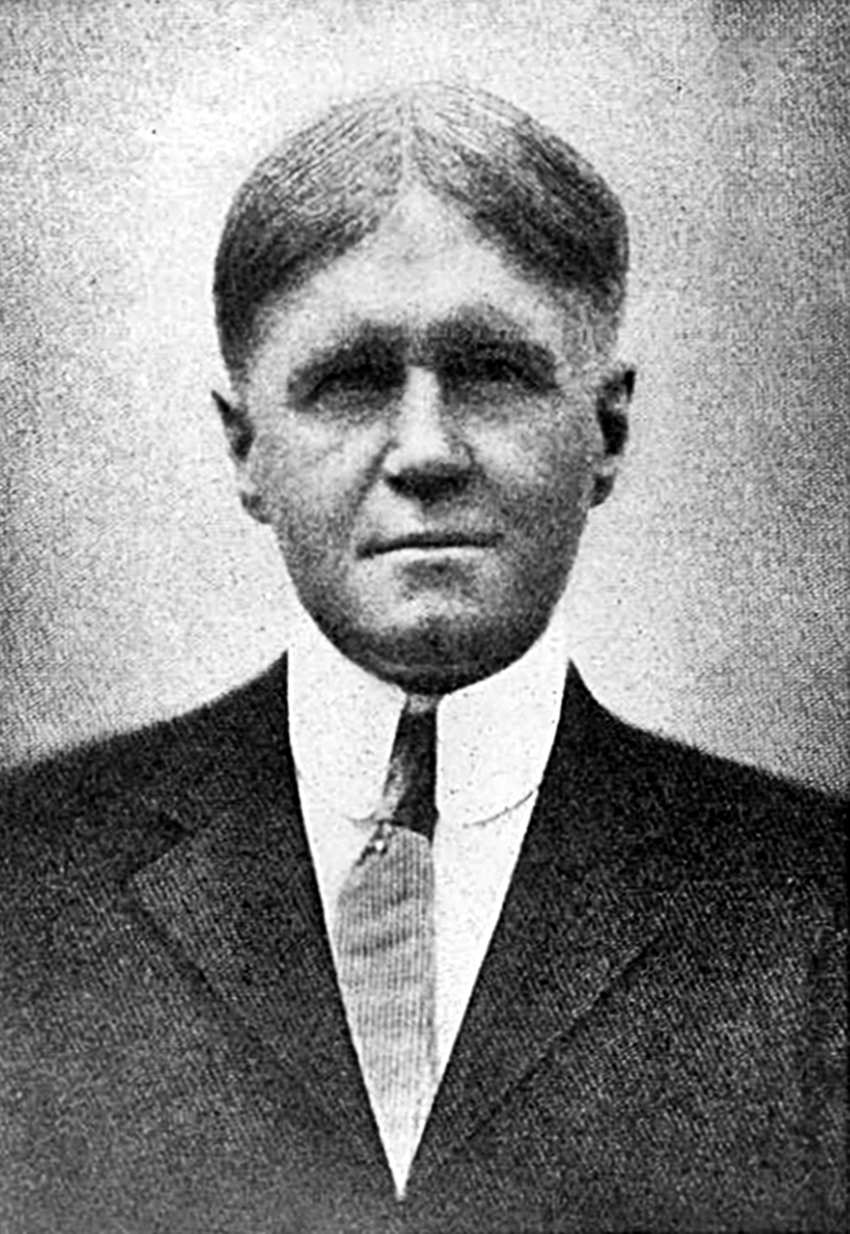 As a prosperous rancher and hotel owner James Maynard Keeney was widely and favorably known throughout Oregon and during the period of his residence in Portland he held a secure place in the esteem of his citizens. Of resolute purpose and marked strenth of character, he surmounted obstacles and difficulties which would have thoroughly discuraged the average man and pressed steadily onward to his goal of success. He was born in Brownsville, Oregon, October 15, 1865. His father, Elias Keeney, crossed the plains in an early day and settled on a donation land claim near Brownsville.
James M. Keeney was reared on the home farm where he remained until he reached the age of eighteen, experiencing many phases of pioneer life in western Oregon. For two years he was a student at the State University and next attended a business college in Portland. After the completion of his course he returned home and when he attained his majority was given one thousand dollars by his father. With this sum he purchased a flock of sheep in Arlington, Oregon, but list most of them during the ensuing winter, which was unusually severe. After his venture he opened a livery stable in Arlington and also served as postmaster of the town. Later he entered mercantile circles of Portland, conducting a cigar store at First and Yamhill streets, but through his partner lost the business. In addition he was burdened with a debt of eight thousand dollars, incurred through no fault of his, but by hard work and self-denial paid all of the creditors of the firm and started life anew.
From 1893 until 1895 Mr. Keeney was variouly employed. Soon after the Main was sunk in Havana harbor he saw an opportunity to make money and took advantage of it. Leasing a large ranch, he became a breeder of horses, which he sold to the United States government, and was thus engaged for four years. During that time he was offered and accepted the management of a hotel at Shaniko, Oregon, and was so successful that he purchased the property soon afterward. For several years he conducted the business, and then went to Vale, Oregon, where he owned another hotel, which he operated successfully for seven years. Meanwhile he had joined J. N. Burgess in purchasing the Cunningham ranch at Pilot Rock and for eighteen years he was active in cultivation and improvement of that tract. On disposing of his holdings in eastern Oregon, Mr. Keeney located in Portland and bought a cherry orchard of one hundred acres near Salem. In 1920 he sold his interest in the ranch. His death occurred September 19, 1923, when he was nearly fifty-eight years of age. For years he fought a loosing battle against disease but maintained his courageous spirit until the end, being a man of exceptional will power and determination.
Mr. Keeney was married July 20, 1904, to Miss Elizabeth Matlock, a daughter of Tom J. and Mary E. Matlock. In 1853, when a child of three, Mrs. Keeney's father crossed the plains with his parents, who settled near Eugene, Oregon. In 1875 he removed to Heppner, Oregon, and embarked in the sheep business. During the great flood at Heppner in June, 1903, he was seriously injured and his wife drowned. Their daughter Elizabeth fainted and thus narrowly escaped death by drowning.
Mr. Keeney joined the Elks lodge of Pendleton but had few outside interests, as he loved his home, finding therein his greatest happiness. In matters of citizenship he was loyal and public-spirited, and his innate courtesy and kindness of heart endeared him to all with whom he was associated. He was a man of straightforward, honest character, broad-minded, unselfish and helpful, winning his way on earth and going out of the world worthy of that eternal life beyond.
---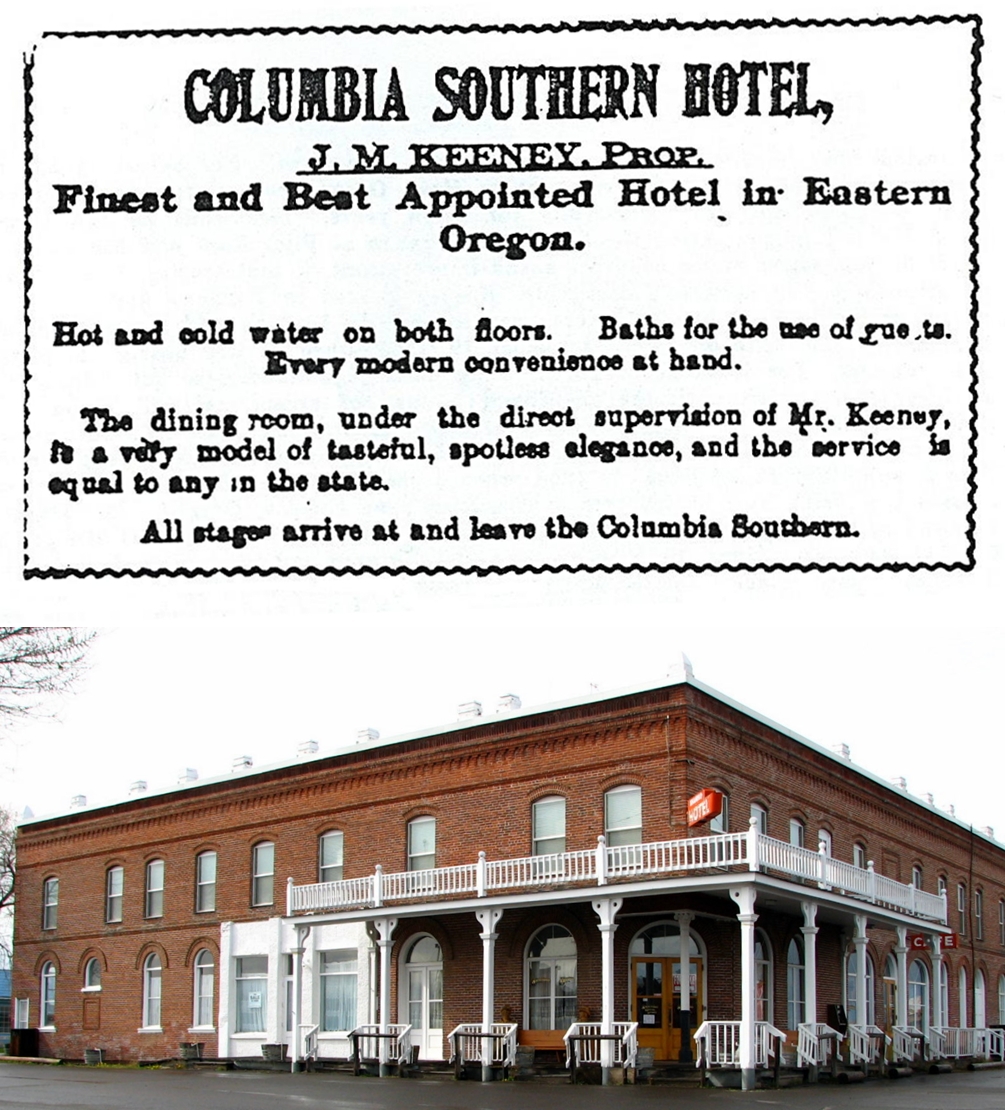 The Columbia Southern Hotel
The Townsite Company planned to build a fine hotel in Shaniko that would equal if not exceed the comforts by the Umatilla House in the Dalles, one of the finest ins in Centeral Oregon. The contractor hired for the work was Fredrick Schilling, who set up a kiln and made the bricks in the canyon below Kelsey Springs, several miles north of Shaniko. The first train to reach town carried these bricks and the lumber for the construction of the building.
The owner, Mr. Fen Batty, who had managed the Umatilla House in the Dalles, opened the establishment for service in December of 1901. J. M. Keeney was the first manager.
In 1904, Joseph Batty purchased the Columbia Southern Hotel from his brother, Ben, but the following year, 1905, he sold it to J. M. Keeney for $8,000. Keeney continued to operate it from 1905 until May 29, 1911, when he sold out to Archie Mason and left Shaniko. Thereafter, the property changed hands frequently. From Mason, it went to C.R. Creamer, to W.T. Krebs, then to J.O. Elrod, and after that to Mabel Hinkson. In 1920, E.H. and V.H. French took it over, then sold to Marco Investment Company, who in 1921 sold to W. Dorres.
---