The following selection is taken from "Wagon Ruts West" written & published by Ralph Ray Keeney in 1983. The book is currently out of print. This section is published with the kind permission of Ralph Ray Keeney. The book this selection is drawn from is under copyright and permission has been granted for educational purposes and it is not to be used in any way for any profit or commercial venture.
RALPH R. KEENEY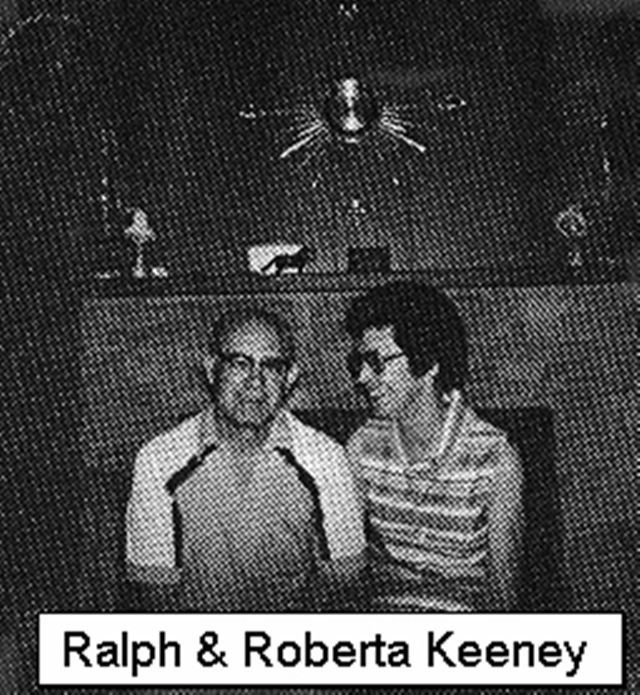 Ralph Ray Keeney was born in Walla Walla, Washington, on January 12th, 1923, the second son of Willard Warren and Alice Loa (Crall) Keeney, residents of Gilliam County, Oregon. Dad had taken Mother to Walla Walla to be under the care of my grandmother during childbirth. In the spring , we returned to Condon, Oregon, where Dad worked for ranchers around the area.
When I was five years old, Dad took Mother with us three kids, Jack, Me, and Loa -- to Hood River, where we stayed for a time with his cousin, George Flandeers and family. Dad worked on a farm in the Hood River Valley until fall, when he then took a job picking apples in the orchard above Mosier, Oregon. When the work was completed, we moved into The Dalles and rented an apaartment at the Old Flinn Apartment House on East Second Street. I can still remember going to the corner hews stand with Dad for the newspaper. I was especially glad when it contained the Sunday comics. I liked the Andy Gump comic strip, and at that time Chester Gump was on an exciting adventure to Australia.
My Brother and I were allowed to play in the back of the apartment building where a railroad spur ran down to the large concrete elevator that still stands between East 2nd and 3rd St. At the side of the tracks was the old body of a streetcar or bus, which Jack and I played "Train" in for hours at a time. But sometimes, Jack ran off down the tracks to the Iron Works to watch the men working. On rainy days, we played on the floor of the apartment, making trains out of Mother's clothespins, or Jack made a tracter out of an old rubber band, a spool and a matchstick.
Dad didn't find work while we were in The Dalles, but Mother worked at the cannery, down on 1st Street, which processed and canned pears. When the pear season was over, we left The Dalles and returned to Condon, where I grew up.
In September, 1929, I started the First Grade, and Jack entered the Third Grade in Condon Public School, and my little sister, Ida, was born. After a few months, Dad moved the family out into the country, about five miles, to Snipshone Canyon. There was an orchard on the place and we had a vegetable garden, a cow, some chickens, a horse and a dog. We had a hand pump in the house for water, but when it was broken or frozen, we carried water in a bucket from the spring.
A one-room schoolhouse was located on the flat, about a mile up the canyon above our farm. On the first day, Dad put us behind the saddle and took us up to the schoolhouse to get us started. His instructions to our teacher were:
If these kids don't mind their P's and Q's, give them a licking, and send a note home telling what they did and they will get a licking when they get home."
We never had to tote any notes home to Dad, but still got a few good lickings -- some truly earned. However, as long as we got our chores done and didn't sass Mother, we got along fairly well.
We were told to take the canyon road to school, walking in the middle of the road because the countryside was crawling with rattlesnakes. One could be coiled in the grass or rocks at the side of the road, and strike out to sink its fangs into anyone walking in the outer ruts of the road. But, it didn't take us long to figure out a shortcut. From the school, we went over a hill and through a farmer's field. We crawled through a fence and followed a cattle trail along the rimrocks and buch grass to a waterfall, which fell about 60 feet into a box canyon. Then, the trail traveled along the top of the bluffs and down through sagebrush and sand to the road, just beyond our farm house. It was really hard to climb the steep trail, so most of the time, we went to school by way of the road, and came home by the shortcut. The sooner we got home and did our chores, the sooner we could play! We would come running off that hill like a couple of wild savages, and any rattlesnakes along the way probably got their tails stepped on.
In the winter, when the snow was two or three feet deep, we got to ride the horse, "Old Nig" to school. Jack, being older, rode in the saddle and I hung on behind him. A neighbor boy lived up the side canyon from us and also rode a pony to school. Sometimes, when he caught up with us, we raced to see who got to the school grounds first.
We carried our lunch in a lard pail, or wrapped in a flour sack and tied to the saddle. I can still remember the fist time I carried my lunch in that pail. Jack and Due had a race on and my arm was swinging and we were bobbing around as "Old Nig" ran in a gallop up the road. When lunchtime came, I opened the lard pail to find a scrambled mess of bacon and egg sandwitches with apple pie mixed in. About all I had to eat that day was an apple that the teacher gave me.
One spring day, while we were at school, a hard wind started to blow. The fields had been plowed and the dust begin to blow until the sky turned completely brown and we couldn't see anything. Jack and I thought we had better be getting home, but the teacher didn't want us to leave. We were half scared to death, but Jack assured her that our horse would get us home. We tried hankerchiefs over our faces, and Jack grabbed Old Nigs' tail, and I hung on to Jack, and that good old horse took us on down the road to home. We were glad to get home, but it took a lot of scrubbing to get all that dirt off us and our clothes.
My sister, Billie, was born in February in 1932, and we moved back into Condon that summer. In the fall, Loa started First Grade. I was in the Fourth Grade and Jack was a Sixth Grader. Mother took us to school the first day to meet our teachers. My teacher said:
"My! He is a cute as a bug in a rug!" And I thought I was too! She like me so well that she kept me in the Fourth Grade for two years. It seemed that I had never learned the multiplication tables, or ho to spell either. Before I got to the Fith Grade, my little brother, William, was born.
My Fifth Grade teacher liked me just as well as my Fourth Grade teacher had, and kept me for two years also. During this time, my youngest sister, Bessie, was born.
In the Sixth Grade, my teacher discovered that I could not read the blackboard from the very front seat in her classroom. Off I went for an eye examination at old Doc Miller's office. I remember when I first go those horned-rim glasses and came down the stairs from the doctor's office and out onto the street. When I looked across the street, I was surprised to be able to read the signs on the stores and the posters at the Liberty Theater! At school, it was really something to be able to read the blackboard, while still sitting at my desk. But I hated those specs too, always pulling them off when I saw the rest of gang comming so they wouldn't call be "Four Eyes."
I never did become a good speller, but the teachers must not have liked young men who wore glasses, because after that, none of them ever requested that I spend more than one year in their classes.
I was a pretty average kid through my grade school years, with the usual after-school fights with the class bully, rubber gun wars between gands of the boys around town and many games of "Cowboys and Indians" involving the whole neighborhood. I also received my share of black eyes, bloody noses, cut fingers and linkings from Dad, for doing things that boys are told not to do, but doing anyway!
The days of the Great Depression were hard, adn families did whatever was necessary to survive. Dad had some special problems too, having been gassed while fighting in World War I. For a few years, as soon as school was out in the spring, we loaded up pots and pans, clothes and kids, and went off to pick fruit for the summer.
In Milton-Freewater, Oregon, we picked cherries and lived in a tent beside the Walla Walla River. One night, a big storm came up and lightening was striking all around, like it was a 4th of July celebration. One bolt of lightning struct so close that it knocked me down, flat on the ground, and Dad off a stool that was sitting on. When we got up, we could see that it had split a tree, right down the middle, over on the other back of the river. For some reason, or other, after that I was never afraid of being hit by lightening.
When we were at the Yakima Golden Hop Farm, for the hop harvest, I got a job in the evenings, selling popcorn at the outdoor boxing matches. My employer insisted that I have a Social Security card, so I gave him the information and he was to send for the card. I carried a try of fresh popped corn and peddled it by walking out through the crowd. I sold lots of popcorn, but there was one big kid, who always teased and bullied me every chance that he got. One night, I decided I had had about enough of it. Although he was quite a bit bigger than me, I put down my popcorn tray and the fight was on. It must have been a good one, because most of the crowd started watching us, instead of the boxers in the ring. Finally, the other boy ran off, saying he was going to get his big brother and really get me. The crowd passed the hat for me, but when they offered me the money gathered, I refused, saying,
"Where I come from, we don't accept payment for fighting such battles."
A few nights later, I saw some tall boys coming through the crowd toward me. I recognized one of them as the kid I had fought, and wondered just what I had gotten myself in to. The taller boythen said:
"You mean that little guy?" and he turned around with a disgusted look on his face and left. The other boy followed his brother and I went on selling popcorn without any more trouble from that kid.
We returned to Condon every year, just in time to start school, and that year, my Social Security card was waiting for me, in the mail when we got home.
Almost from the very first day of Grade School, when we came back in from the country, I was a confirmed addict to the game of football; playing games during recess periods and after school. In Elementary School, I was a member of the school football team, when in the 7th and 8th grades, playing against other school teams from Arlington and Fossil. In high school, I played on the football squad for four years as a halfback. I loved to carry the ball, but would have played any position just ot be able to be in the games.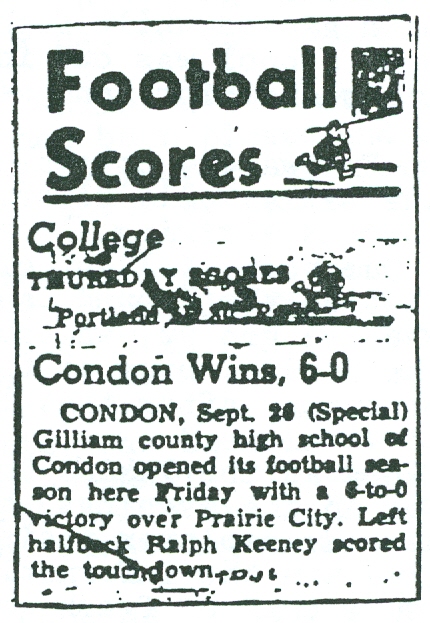 As a freshman in high school, I turned out to make my mark in baseball, but, foolishly, threw my arm away in the very first game that I tried to pitch, and I never had much of a throwing arm after that.
During the summertime, some of us boys spent a good deal of time swimming and fishing. We hitch-hiked or walked south about four miles on the John Day Highway to Thirty-Mile Creek, and to our favorite place, which is still called; "The Old Pot Hole." During the harvest time, we could always hitch a ride on a wheat truck, coming or going from Condon, as they hauled sacked grain into the elevators and storage houses. The City of Condon had a fine Natatorium, but it cost 15¢ for a swim ticket, and the Old Pot Hole was free; and a lot more fun.
The Liberty Theater had afternoon matinees on Saturday and Sundays, and admission was 10¢. Most kids had to hussle their own movie and candy money, and I was no exception. Beer bottles sold for 1¢, a whiskey flask was worth 5¢, or 10¢ for a small pocket flask. Gallon jugs were a gold mine and brought 20¢ each; if you were lucky enough to find one. It didn't take us kids long to find out who all the bootleggers were in town, and who their best-customers, were also!

The Second Hand Store in town purchased scrap metal from us; copper was worth 2¢ per pound, zinc paid ¢¢ a lb., and brass 4¢ a lb., aluminum 5o. Lead only brought a penny a pound, so we sold lots of babbit as lead to that fellow. Later, we learned that babbit was worth about 15¢ a lb.!
About every other Saturday morning, the beer truck came up to Condon from The Dalles or Portland, and unloaded at the Cold Storage Plant. The owner of the plant would always hire a bunch of boys to help roll the beer kegs off the truck and into the plant, then load the empties back on the truck. When the job was done, he would pull out his long, black purse and start paying off. Usually it was 15¢, the price of a movie and five cents worth of candy. If it was a hot day, there might be a.bonus of a cold sodapop from the cooler. What more could a young fellow ask for?!! Especially if the movie was Hoot Gibson or Tom Mix that afternoon---and generally, it was.
As I grew older, and gave up the "Cowboy and Indian" games, I started to go to the movies with the young ladies. It was then that I had to dig up twice as much for admission, as wall as the price of a couple of sodas after the movie. About this time, I gave up the 'bottle and junk' business ,and went into lawn mowing, garden spading, wood stacking and weed cutting. Then, also, I took a part-time job, sweeping up, in the local Red Cross Drug Store. This was my very first steady employment, and the first time a that I was to have a regular paycheck; but I ran such a tab at the soda fountain, that I didn't have much money left for a check on payday.
My grandfather, John Blanden Keeney, and my Uncle Marvin lived a few doors from us. In my Junior year in high school, I moved in to stay with my grandfather because Uncle Marvin had taken a job which required him to be away from home at night. Uncle Marvin was the caretaker of the City Park, janitor at the City Hall, and night watchman of sorts. Since the Fire Department was located in the City Hall, someone had to be there during the night hours in case of a fire call.

It was my job to keep Grandpa's house clean and things picked up, cut the wood and keep a good supply in the woodbox in the house, cook and do the dishes. I soon learned how to make an Irish Mulligan stew, to bake an apple pie, and to cook up a pot of chili beans with a ham hock. Each week, we gathered up our clothes and took them over to Mother to be washed, ironed and mended.

Grandfather had been an officer of the law, and had so many interesting stories to tell, I only wish that I had been a better listener and could remember them all. But I have written those that I do remember, and placed them into the section pertaining to my Grandfather's life.
In 1942, the United States went to War against Japan, and many of my buddies enlisted or were drafted into some branch of the Armed Services. I was called up twice and rejected both times, because of poor eyesight. Classified as 4-F!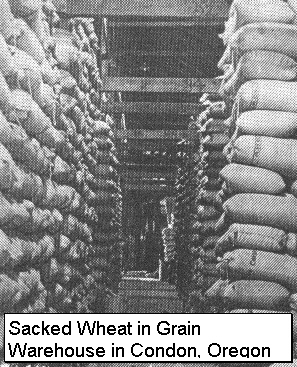 In the spring of 1943, the City did away with the 'night man' at the City Hall, so Uncle Marvin moved back in with Grandfather and I moved home. I graduated from high school that year and took a job in a local grain warehouse. I didn't weigh much more that a pea in a pod, so the truck drivers kidded me and said that I should put rocks in my pockets, so I would be able to handle the handtruck loaded with five or six sacks of grain. The grain had to be hand-trucked from the unloading platform to the scales, where it was weighed, then moved on into the warehouse, where each sack was placed on a conveyor belt to be lifted and stacked in large piles in the warehouse.

The manager of the warehouse, Oliver Guild, was a small man too, yet he had worked most of his adult life in this type of work. He had learned how to use his weight to the best advantage, and he took time to teach me a few tricks of the trade.

The Depot Agent, Joe Howke, would come down the tracks each day, checking cars, and nearly every day he would say, "Ralph, this work is too hard for a person your size. We need a man up at the Depot for freight handler, car checker and clerk, and that would be a lot easier work, steady and good pay; come on up and go to work for me."

I knew the Agent well, having just graduated from high school with his son. When harvest time was over, I went up to the Union Pacific Depot and took the job.

I worked the rest of the summer and fall, checking cars, handling freight and serving as a part-time clerk. About that time, I started courting a galfriend in Arlington, about 40 miles away. I didn't have a car, in fact, I have never learned to drive, so I hitched a ride in the evenings with Carl Pearson, who hauled mail and freight between the Condon Depot and the Arlington train depot. My girlfriend got off work about 7 P.M., from her waitress job, so we could spend the evenings together. Her parents had set an 11 PM. curfew on us, but the mail truck didn't leave for Condon until about 6 A.M. the next day. After having a couple of cups of coffee at the depot lunch counter, I went back to the truck and crawled up on the mail sacks and slept until it was time to make the return trip to Condon. When we arrived in Condon, I helped unload the mail and freight, then went home for breakfast and was back to start my regular shift at 8:30 A.M.

During the day, I helped the engineer of "The Goose" load mail and freight for his run to Kinzua, then helped load the truck for local deliveries around town. Then, I started my rounds to check cars, spotted on spurs of the yard. I came back to attend to my janitorial duties around the freight warehouse, the Agent's Office and the waiting room. We only had a 30 minute lunch break, so Orvine Tierney, the other clerk, and I carried our lunch and ate at our desk. The Agent, Joe Howke, had an hour for lunch and ate at home, since his living quarters were connected to the Depot. Orvine was well-qualified to watch the telegraph key while the Agent was gone.

This was my regular routine for about a year. Then Joe Howke transfered to a better position in Troutdale, and we got a new Agent, "Old Man Turner". He and I didn't 'hit it off' from the start. He was a vegetarian and thought everybody else should be also. He sure didn't approve of the roast beef sandwiches I ate for lunch. He refused to give me credit for any clerical work and demoted me to freight handler, which was a cut in pay. I was now making more frequent trips to Arlington to see Rosy, and we were thinking about getting married. My night life began to take its toll and I would drop off into an exhausted snooze at my desk in the afternoons. One day, Old Man Turner told me,
"Either marry the girl or transfer to Arlington!"

I did both. Rosy and I were married November 29th, 1944, in Condon, and I went to work as a section hand on the main line at Arlington. There were no job openings in the clerical or freight departments, but the pay on the section was better, even if the work was harder, and the main line was an interesting and active place during those war years. There was many trains passing; some with war materials headed for Russia; others, loaded with our troops, and occasionally, one transporting German War prisoners. With so much traffic on the railroad, there was a good many mishaps, derailments or wrecks, and it kept us busy working to keep the trains rolling.

In August of 1945, I received another notice for induction into the Military Service. I went to Portland for my pre-induction examination. During the eye exam, the officer told me to take off my glasses and walk forward until I could see the large numbers on the chart. When I stopped, he handed me back my glasses, and pointed to a white line, about 5 or 10 inches in front of me, and said; "If you had crossed that line, you would have failed." My papers were marked: "Accepted for Military Training-Limited Service."

On the next draft call, I received my "Greetings from the President" and orders to report to Fort Lewis, Washington. I could have gotten a deferment, most likely, because I was working in an essential war industry - the railroad, but I preferred to go. I was no longer - 4-F!

On September 22nd, 1945, I was sworn into the U.S. Army and sent to Fort Leonard Wood, Missouri for Basic Training. It was a cold, miserable time there at the training center that winter. We slushed around in rain, snow and the mud and crud of the Big Piney River. We were in the State of Misery (Missouri). Any previous illusions that I might have possessed about the glory of Military life were soon forgotten and I settled down to- the not so private life of a Rookie in the U.S. Army.

I completed Basic Training on February 6th, 1946, and was given an eighteen day 'delay in route', before reporting to Fort Jackson, South Carolina. I spent 10 days home in Oregon, and then boarded a train east on the 20th. I arrived at Fort Jackson the 25th, where I was scheduled to remain, because of my "Limited-Service" classification. I took one look around the Fort and didn't like what I saw. Most of my buddies were going to be sent over to Germany, to serve in the Occupation Forces, and I preferred to go with them, but it seemed that I would not have much choice but to remain at Fort Jackson.

When I was given my records and sent up to the Paymaster for payment of my 'delay in route' expenses, I lost my records in an open garbage can near a mess hall we passed, most conveniently! Of course, without records, I received no pay; but my name was still on the Company Roster. When orders came for my outfit to ship out, I answered the Roster Call and boarded the train with my buddies headed for Camp Kilmore, New Jersey. In route, I was called to the Officers' Car and told; "Private Keeney, we seem to have misplaced your records. You have a choice of returning to Fort Jackson for duty in Troop Training, until your records catch up, or continuing on to Germany and waiting there for your records to arrive." Of course I chose to go on to Germany!

We received a 12 hour pass in New York City, before we sailed on the U.S.S. Victory for Europe, on March 23, 1946. We landed in Le Harve, France, April 1st, after a very smooth crossing of the Atlantic. We traveled by train across France and Belgium to a place named Erlengen, Germany. Here, I took a typing test, and was re-classified as a Clerk-Typist. I arrived in Frankfurt A/M Germany on April 9th and was assigned Clerk-Typist duties for Headquarters Combat Group, Co. C. 1171, Engineers. We were stationed in the small village of Fechenhiem, a few miles from Frankfurt.

Until my Service Records caught up with me, which I knew was impossible, I could not receive any pay or promotions. The First Sergeant loaned me a pack of cigarettes and told me to go out on the street where there was a Black Marketeer. He would pay me five dollars in "Occupation Marks" for that one pack of cigarettes. Then, I could go to the PX and purchase my weekly rations. In each week's rations, there was a carton of cigarettes, so I could then repay the Sergeant, and sell whatever surplus I had to the Black Marketeer for additional funds.

About the 1st of May, I was transferred to the Cost & Accounting Department in Frankfurt, but remained billeted in Fechenhiem. The weather was rather pleasant in spring and summer and we took many journeys around the countryside. That summer, we were offered a furlough for a Swiss-Rome Tour, or for a visit to France or England. Since I hadn't received any pay, as yet, I couldn't afford to go, so I contented myself with visits to places near Frankfurt on weekend passes. I did want to visit Berlin, but never managed to make the right arrangements to get the special pass necessary.

About six months after I arrived in Germany, the Army made me a "Temporary Service Record", and promoted me to Private First Class. A month later, I received all my back pay and was promoted to Tech. 5th Grade. (Corporal)

The winter in Germany was very cold in 1946-47. Ice covered the cobblestone streets, and our vehicles were always skidding off the streets into ditches or smashing into stone walls. At one time, the only vehicle we had, that was operational, was a mail truck. Since we had to travel 4 miles, back and forth, from our billets in Fechenhiem to Frankfurt, for duty at headquarters, we had to take the German trolley to get there sometimes.

On August 8th, 1946, I received a "Dear John" letter from my wife, Rosy, telling me that she had found someone else and was sending divorce papers for my signature. My Warrant Officer had just been through a similar experience, so he took me aside and explained that the divorce could not be completed unless I signed a "Military Waiver". This "Waiver" was absolutely necessary when a divorce involved a member of the Armed Services. I did not sign the papers, --- but later, I learned that Rosy had gone to live with her sister and brother-in-law in Michigan, so she could be near his cousin -- whom she would, eventually, marry.

At the end of December, all the draftees were being called home. By this time, the military had started to tighten the rules and regulations governing the troops stationed in Germany and the formation of the "Peacetime Army" began. I had no desire to re-enlist. I was offered work as a Supervisor in "Cost & Accounting" as a civilian at $300 a month, but I had become quite homesick and possessed much desire to get back to "Dear Old Oregon". So much, in fact, that I was ready to start for home the very minute my name appeared on the shipping roster, that was posted from time to time on the Co. bulletin board.

We left Frankfurt on December 25, 1946, headed for Bremenhaven, where we boarded a Liberty transport ship on the 27th. We headed into the North Sea through the English Channel. The weather was stormy and cold, and we could see large chunks of ice floating around us in the ocean. One of our engines went dead, and we could barely hold our own against the stormy sea. The next day, two English tugs appeared on the horizon and were soon secured to our side. We took aboard some English Engineers, who inspected the engine, and declared that it could not be repaired while we were at sea. Each tug secured lines to us and towed us back into English Channel and up the River Thames. We found ourselves moored to the London dock on New Year's Eve. Our Commanding Officer applied for leave for every man, but his request was denied. The English Authorities stated that they had not, as yet, recovered from the Yanks who had been there on Christmas leave! We did get to disembark and were allowed free movement within the dock terminal area.

On New Year's Day, we boarded another troop transport, the U.S.S. Westerly Victory, and sailed down the Thames and into the English Channel. We now took a more southerly route across the Atlantic, towards the Azores Islands this time. Then, swung north for New York, but even then, it was a stormy crossing and took 20 days before we docked at New York Harbor. It was wonderful to be back on U.S. soil again! Soon, I was on a train bound for Fort Lewis and was discharged after a furlough home, on February 23, 1947.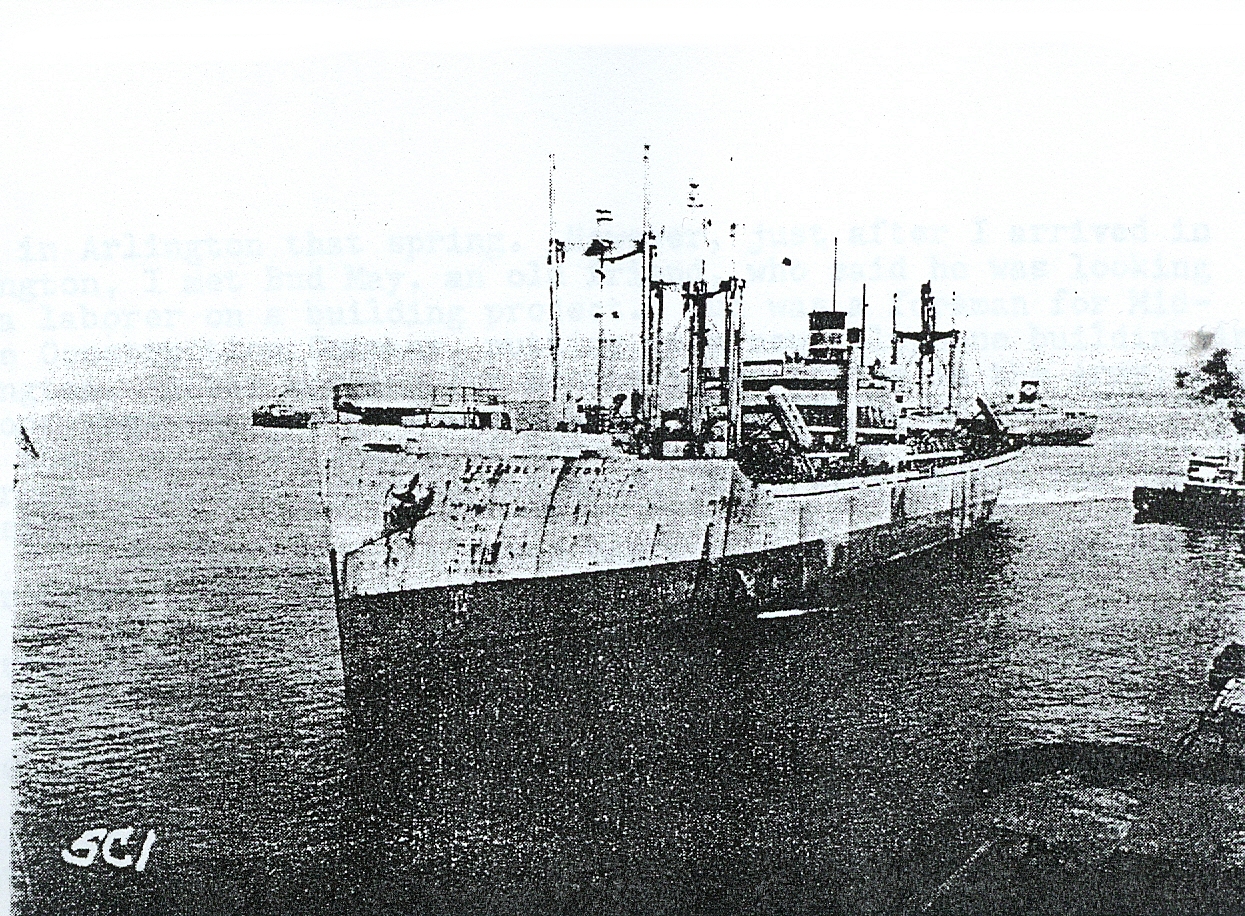 WESTERLY VICTORY - Arriving in New York Harbor- Jan. 20th 1947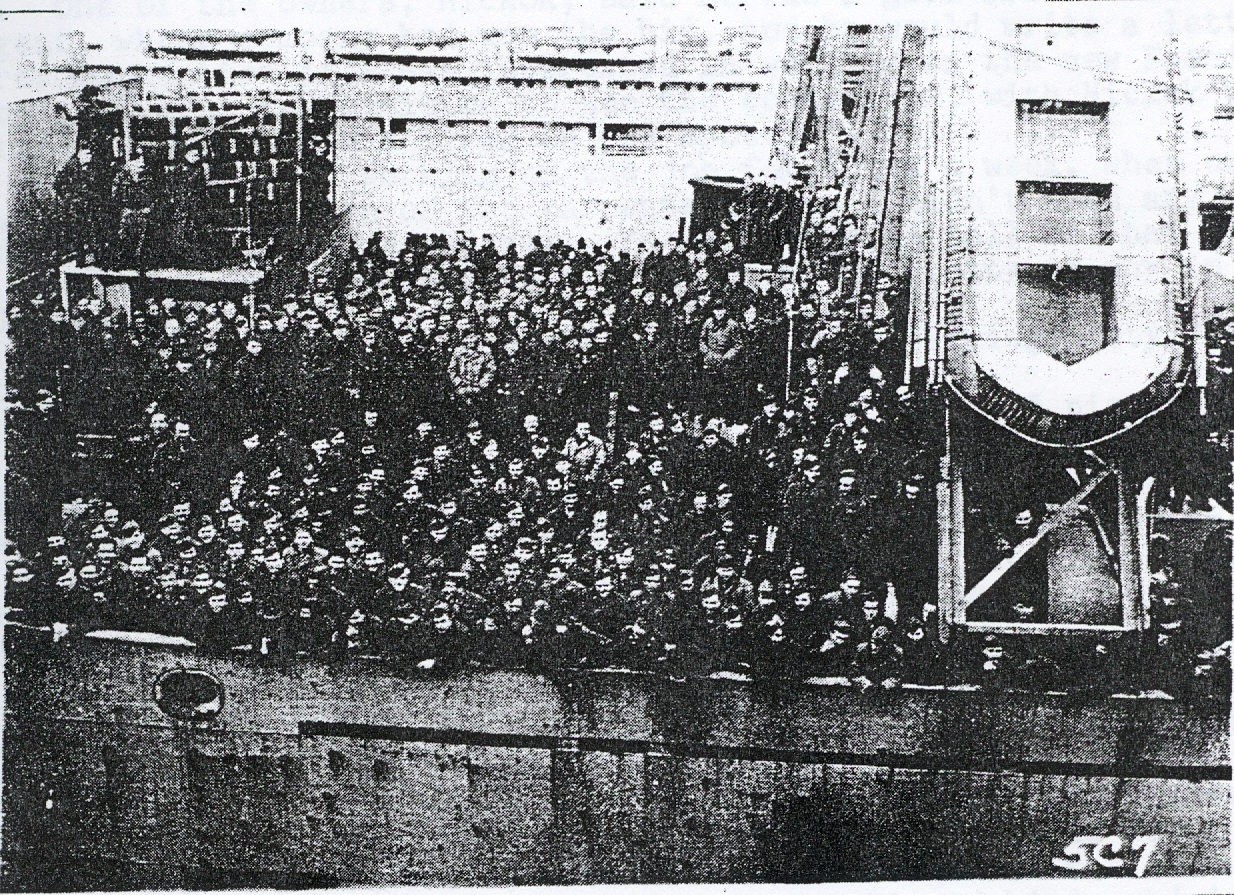 T/5 Keeney - standing with both hands raised - at left of life raft.
---
I spent the rest of that winter, home in Condon, with Dad and Mother. Having signed the "Military Waiver" before discharge from the service, I went to a local lawyer and had the divorce continued, so Rosy would receive the decree she had sought.
It was my intention to return to the Union Pacific Railroad in Arlington that spring. However, just after I arrived in Arlington, I met Bud May, an old friend, who said he was looking for a laborer on a building project. Bud was a foreman for Mid-State Construction Company, putting up a new telephone building in Arlington. After working for months in an office in the Army, the outdoor work and the good union wages appealed to me. I also figured there would be plenty of time to pick up my seniority with the railroad, when the building was done. When we finished the job, Bud said, "Ralph, you're a Union man now, and Mid-State has lots of other work in The Dalles. Come on down and work for us."
I had spent some weekends in The Dalles and liked it better than the smaller towns, so I became a construction worker and never did return to the railroad.
For the next two years, I worked for Mid-State Construction Company in The Dalles, on commercial and residential construction, and building and repairing grain elevators throughout Wasco, Gilliam and Morrow Counties. On some of these jobs, we lived on location during the week and returned to The Dalles on Friday, payday.
In the spring of 1949, Mid-State failed to win the bid on a new high school at Fossil, and it was a slack time for the Company. One of the owners, Hickok, said he was a good friend of Frank Sargent, whose company had won the bid, and he would write a letter of recommendation if I was interested in working on the new Fossil school. I went to Hermiston to see the contractor, with Hickok's letter in hand, and was hired on the spot.
I had been working on the job for about a week, when one day, I remarked to one of the carpenters that I hadn't seen any good-looking gals around Fossil. He proceeded to tell me that he had two daughters, who he thought were about as pretty as any in the whole County. "I'll come up and see for myself some evening, Doty," I said, and he replied; "You had better be careful, 'cause I got a 45 pistol."
A few nights later, I visited the Dotys and was introduced to the family members. During the next visit, I asked his daughter, Roberta, to go to the movie, and we got along well together and dated the rest of the summer. I never saw her Fathers' 45, and even got to sit at his table for a few fine meals prepared by Mom Doty and her daughters.
We finished the Fossil High School and I moved back in with my folks in Condon. It was 30 miles from Condon to Fossil, and I still hadn't learned to drive, but Roberta and I were still dating and I went over to Fossil every chance I got. I invited her to spend Christmas with my parents and me in Condon, and she arrived a day or so before the 25th. We were just getting settled for a very enjoyable Christmas Eve, when her Father banged on the door. He was overloaded with Christmas spirits, the liquid kind, and in a very aggressive and abusing mood. He ordered Roberta to get out of the Keeneys' house and into his car.
"I'm taking you home, where you belong."
My Father met him at the door and refused to let Doty into the house, and said;
"Your daughter is 18, and she can stay if she wants to. She can make up her own mind." Roberta said that when her Father was like this, he probably would beat her as soon as she got home, if not sooner. She and I had talked about getting married in the spring, so I said; "Stay, and we'll -get married right after Christmas." So, she told her Father that she wasn't going home with him. He stomped off, cursing, and went hunting for the Sheriff. Later, we learned that he did find the Sheriff, who listened to his complaint, and then advised him to stay away from the Keeney's and to go home and sober up, or he would have to put him in jail on Christmas Eve, and he didn't want to have to do that.
Roberta and I were married in Walla Walla, on December 29, 1949. We returned to Condon the following week, and a friend, Dick Snyder, drove us to Fossil to get my wife's clothing and things. We had phoned ahead and Mom Doty had assured us that Harold had calmed down, and she would be happy to see us. When we arrived, I gave Doty a cigar and a nip or two out of my jug. While Roberta was gathering up her things, I went out to the cabin where the boys slept, and was talking to Willis and Wayne. Willis, the oldest, said he had thought about leaving home too, but he was a little afraid to try it. So, big-mouth me, had to say, "Heck, man, all you have to do is load your stuff into your car and head on down the road. You're a good worker; you'll make out fine."
Then we discovered that their Father was standing in the doorway, taking all this in. "Steal my daughter, and now, trying to get my son to run off. I'm going to shoot you." He stomped into the house, with me right behind him, hollering, "I'll cram that damn thing down your throat!"
Harold Doty came out of the bedroom with his 45 leveled at my middle, and about that time, my good friend, Dick, stepped between us, took the gun from Doty, and hustled me out and into his car. Roberta had most of her things in the trunk, so we left for Condon. Thank God - that day, for Dick Snyder!
About a week later, the Sheriff found Doty, cruising around in his car in Condon, with his 45 laying on the seat beside him. He took the gun and held it at the Sheriffs' Office. When he told me about the incident, he offered the gun to me, but I said, "I have no use for any hand gun." Eventually, I think the Sheriff gave it to one of the Doty boys.
In the spring, 'Bert and I moved to Hermiston, Oregon, where I worked for Lloyd Gibbs, my old foreman from the Fossil High School job. We bought a small house trailer to live in, and I, signed up to work on the McNary Dam project on the Columbia River. I was quite far down on the Union Waiting List and decided that my chances of getting hired, were very slim. Spring had arrived and construction was now opening up, so I took a bus to The Dalles to see how Mid-State Const. Con. was faring. Happily, I found that they had several jobs opening up and could use me. One of the owners, Van Horn, told me,
"Don't move down until you see how things are going to be."
I went back to Hermiston and asked Lloyd Gibbs to hook his truck onto our trailer, and we moved to The Dalles; lock, stock and barrel.
'Bert and I have been residents of Wasco County and the City of The Dalles now for the past 33 years. I was employed by Mid-State Construction Co. until 1975, when I was forced to take a disability retirement from construction work. 'Bert and I have never had any children, but we were Foster Parents to Frances McDonald, a niece of my sister and brother-in-law, Loa and Sam Snyder. When Frances was finished with her Beauty School and took her 'Boards', Aunt 'Bert served as her model. Frances is married to Gary Schneider now, and they have three children, which we enjoy very much when they visit.
I have always been an avid fisherman, and since I retired, I have also become a book collector. I collect boys books, old comic strips, and old comic books. The first set I completed, was Horatio Alger titles, of which I now have 120 different titles. At one time, I had over 4,000 other Boys Series books.
During the past 33 years, I have built two houses for myself. The first, at 908 West 13th Street, located on Mill Creek. We lived in the basement while finishing the upstairs. The second, was built at 214 E. 13th St. Although it is small, it is more modern and on a larger lot. We are still living there, and probably always will.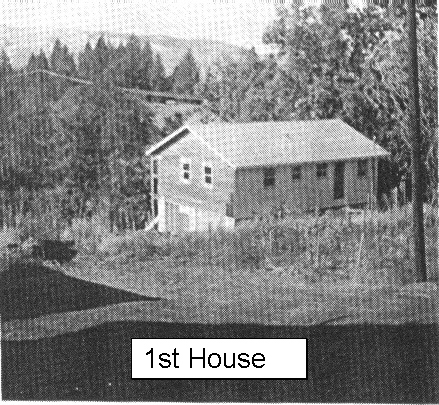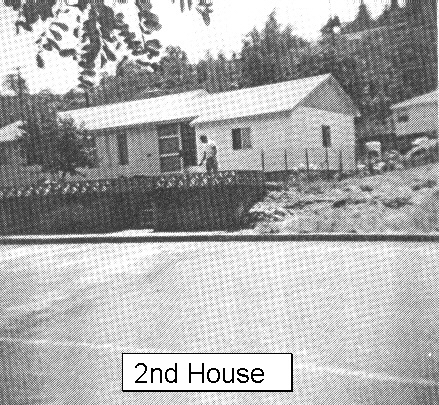 ---