Wagon Ruts West
JOHN KEENEY, JR. FAMILY
By Ralph Ray Keeney
Published in 1983
---
The following selection is taken from "Wagon Ruts West" written & published by Ralph Ray Keeney in 1983. The book is currently out of print. This section is published with the kind permission of Ralph Ray Keeney. The book this selection is drawn from is under copyright and permission has been granted for educational purposes and it is not to be used in any way for any profit or commercial venture.
Click here to read letter of permission.
---
The following is the Forward for Wagon Ruts West
---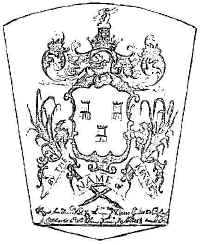 KEENEY FAMILY COAT OF ARMS
---
Wagon Ruts West
FORWORD
For the first time in the early 1800's, when John Keeney, Sr. hitched up his oxen to his wagons in Tennessee and struck out for the unknown country of Indiana, the Keeney family has been on the move, westward. Where no trails had ever been before, they blazed the way, and followed also in the deep ruts of those that had gone before them.

I am writing this account of my branch of the Keeney family, so that others who follow, may read and acknowledge the struggles of our ancestors, from this present day, back into time, from whence they came. I have compiled this six generation story of my family: John, Sr. (1750? -1845?), his son, John, Jr. (1780? - 1845), his son, Andrew Jackson (1819 -1898), his and my grandfather, John Blanding (1860 - 1942), his son and my father, Willard Warren (1888 - 1958), and his son, Ralph R. Keeney (born in 1923), a retired construction worker, now living at 214 E. 13th St, The Dalles, Oregon, in this Year-Of-Our-Lord, Nineteen-Hundred and Eighty-Two.

On the following pages of this book, I have gathered together, all the accounts of one line of the Keeney family, which is now available to me. The material is based on the genealogy records that belong to Mrs. Elsie Bennett Browning, which are documented to a great extent. I wish to extend my sincerest gratitude to her for sharing her abounding records with us. Without the use of those records, this publication would not have been possible.

I wish also to thank Mrs. Roy Snyder, who made up the genealogy charts and did considerable research necessary pertaining to the writing of this book.

This publication contains stories from a variety of sources; some published in books and newspapers, or penned onto the faded pages of letters and diaries, while others have been passed along by word of mouth from generation to generation. Although there may be some variances from the original stories, I believe that the basic facts still remain intact.
---
Wagon Ruts West John Keeney, Jr. Family History

SOURCES OF INFORMATION
History of Lane County, Oregon, By- A. G. Walling, 1884.

History of The Willamette Valley, Chapman Pub. Co., Chicago - 1903.

Newspaper Article in 'The Times' (Brownsville, Ore.) Thurs., June 7, 1971, Pg. 3 -Written by Elsie Bennett-Browning.

Articles from The IDAHO STATESMAN, Sat. Morn., May 13, 1876 - written by Editor Milton Kelly - Includes Jonathan Keeney's obituary.

The Story of Jonathan Keeney -(as told by Jonathan) - to Editor Milton Kelley, dated May 5, 1876, under the title of "Keeney's Ferry".

Profiles Of Progress, written by Roy A. Elliott, Copyright 1971, Story of Pioneer families of Linn County, Oregon.

Old Fort Boise, written by Annie Laurie Bird, Pub. by Old Fort Boise Historical Society, Parma, Idaho, 1971.

Jim Bridger's Hunting Companion, by Tom Nicholas, published in Star-Tribune (Casper, Wyoming on March 25, 1971.

Argus Observer, Ontario, Oregon - Published Oct- 31, 1975 manuscript.

Jonathan Keeney - prepared by Mrs. Stanley Hill of Nyssa, Oregon an wit the help of Mrs. Wallace Keeney, of LaCrosse, Wash.

Journal of The Rogue River War, 1855 - by Harvey Robbins (Member of Company C., whose Captain was Jonathan Keeney). Day by day diary.

Oregon Historical Quarterlys.

'Past Times' - a Brownsville, Oregon Publication - includes articles about "The Keeneys", - by Margaret Standish Carey and Patricia Hainline.

'The Woodburn Independent' - Publication in 1964 of PIONEER DIARY by J. L. Johnson.

Keeney Family Historical Records and Genealogy Charts, furnished from the extensive records of Mrs. Elsie Bennett Browning, of Lebanon, Ore.

"Life Among The Piutes", by Sarah Winnemucca Hopkins. Original Pub.1883 - (Reprint-1969). Pg. 166 Keeney's Ferry - Reinhard's Crossing and Stone House - Vale, Oregon.

"Shaniko" and "Shaniko People" - by Helen Guyton Rees, Pub. 1982-83.

"Scrap Book" - Rogue River War - 1855 - by Everett Earle Standard, Albany, Oregon Library - Complete Muster of Company C.

The Old West Magazine: Fall - 1968 Issue: Contains reprint of Story; "Thrills Of Western Trails in 1854," by Daniel Montgomery Drumheller.

"Overland In 1846" by Dale Morgan - Two Volumes.

"History Of Gilliam County, Oregon" - Pub. 1981.
Letters From:
Dr. Oscar K. Williams - Albany, Oregon
Mr. Claire Handsaker Keeney - Whittier, Calif.
Mrs. E. R. Browning - Lebanon, Oregon.
Mrs. Wallace Keeney - La Crosse, Wash.
Willard Nelson Handsaker - St. Paul, Minnesota.
Mrs. Stanley Hill - Nysaa, Oregon.

Stories Told By:
Thomas Paine Keeney
John Blanden Keeney
Ralph R. Keeney
Claire Keeney
Willard Nelson Handsaker
Alice Loa (Crall) Keeney
---