The following selection is taken from "Wagon Ruts West" written & published by Ralph Ray Keeney in 1983. The book is currently out of print. This section is published with the kind permission of Ralph Ray Keeney. The book this selection is drawn from is under copyright and permission has been granted for educational purposes and it is not to be used in any way for any profit or commercial venture.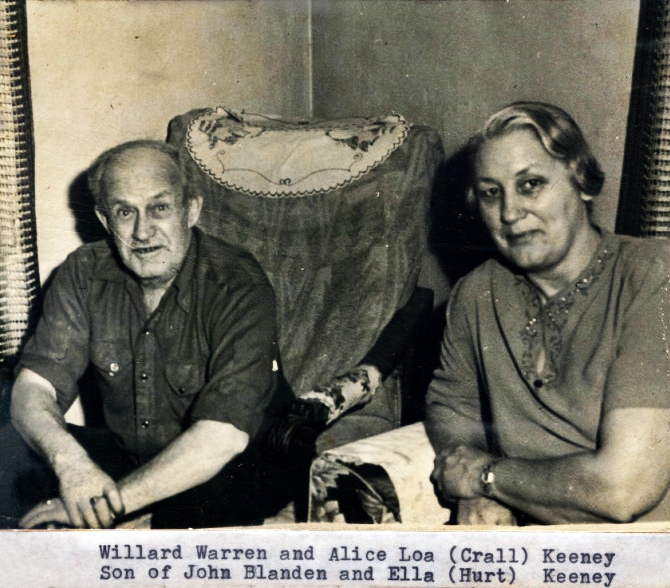 WILLARD WARREN KEENEY

1889 - 1958

Son of John Blanden and Ella Keeney
Husband of Alice Loa (Crall) Keeney
Willard Warren Keeney was born, Feb. 10, 1888, on his Fathers' farm, just north of Gwendolen, in Gilliam County, Oregon. He was the fourth child of John Blanden and Ella Keeney.
When he was 7 years old, his Father moved the family back to the Andrew Jackson Keeney farm near Goshen, Oregon. It was here that the boy Willard, with his cousin's, the Matlocks, learned to fish and swim in the waters of the Willamette River. He learned to make a bow and arrow from the willows that lined its, banks, and how to shoot a marble and peg a top. His life was not all play, since he did his share of cutting and carrying firewood, and toting buckets of water from the springhouse. When he was 12 years old, his Father moved the family back to Condon, Oregon.
Willard worked, in his youth, as a farmhand, and learned to drive horses and mules, sew grain sacks, and became a good farm hand. He loved to play baseball, and in his younger years, was a professional ballplayer, for a time, playing for the Blue Mountain League.
Willard worked for the Union Pacific Railroad and helped to bring the first track up the branch line from Arlington to London.
In 1917, he married Lara (Crawford). She was a Catholic, and he refused to join the Church, and they were soon divorced. They had no children.

America entered World War I, and Keeney was among the first to volunteer from his county, but he was sent home from Boot Camp with a medical discharge, when it was learned that he had a bad leg from an accident years before, when he had been hit by a girl on a sled, breaking his leg. It had never been set properly, so, at times it collapsed or gave way from under him. Willard went to the doctor, had the bone re broken, and a metal pin inserted into the bone, then he was back at the recruiting office again. This time, he made it, and in a few months was off for France and the Kaisers' scalp. He fought in France, Belgium and on into Germany. At the battle of The Meuse-Argonne, his division, the 91st, was on the line. The Germans, in a desperate effort, turned loose their poison gas. Before Willard could get his mask on, he received a good whiff of it, burning his throat and lungs. The battle went one, and so did Keeney. He did not receive any other wounds except once, when out in no mans' land, he did think he had. A German bullet came so close, that it took the button off the collar of his blouse! "I'm hit, I'm hit!" he cried, and ducked down into a shell hole with some other soldiers. They examined him for the wound, then laughed, and told him, "You're OK, Buddy. You only lost a button."
Willard did reach the rank of Corporal, but didn't care for the duties that went with the job, so was soon back to just plain private. He was the Company messenger, and when the Armistice was finally signed, he carried the cease-fire order up and down the lines to the troops.

In early 1919, he came home to Condon, after receiving his discharge April 27, 1919.

Willard married, a second time, to Alice Loa Crall, on August 23rd, 1920, at Walla Walla, Washington. They had 8 children.
1. Jack LeRoy (March 17, 1921)
2. Ralph Ray (Jan. 12th, 1923)
3. Harold Blanding (Died in infancy - 1925)
4. Loa May Keeney Snyder (Sept. 28, 1926)
5. Ida Dee (Keeney) Kelty (Se t. 16, 1929)
6. Billie Fae (Keeney) Lacey (Feb. 17, 1932)
*7. William Warren (Nov. 12, 1933)
8. Bessie Joe(Keeney) Lamereaux (Dec. 25, 1935)

Willard worked as a farm hand. During wheat harvest, he was a mule-skinner on the old combines, or a sack sewer. He also was a skilled turkey picker, and did this work each year before the holidays of Thanksgiving and Christmas. One of the rewards of this labor was the tradition that gave each picker his choice of the birds to take home. Even in the darkest days of the Great Depression, Keeneys' table never lacked the traditional turkey dinner.
Willard moved his family in 1929 out to a small farm about five miles from Condon. On the farm, he raised a few acres of alfalfa hay, had an orchard and a garden, one milk cow, and an old horse which was ridden with or without a saddle, or hitched to a plow or hay rake. During the wheat harvest, he worked for the rancher who owned the farm, and paid rent for the place with half of the hay crop he had raised. For meat to feed' his family, he received some pork from farmers when he helped them butcher, and he and his oldest son went hunting and trapping for birds, rabbits and porcupine that were of great abundance on the farm and surrounding hills. When his cow calved, if it was a young bull, he would fatten it and butcher it out for meat for the family, It if was a heifer, he Sold it to another farmer.
Willard did not own a car. He could only drive in a sort of reckless way, so each week, generally on Saturday morning, snow or sunshine, he would saddle up "Old Nig" and ride the five miles into Condon. He carried a large gunnysack, with a slit in its top to fit over the saddlehorn, and a pair of saddle bags that were tied to the back of the saddle. In these, he would bring home the groceries, the mail, if any, and books and newspapers, and especially for the kids, he never forgot the comic pages. Sometimes, he would tarry too long at the saloon, and it was always his faithful old horse "Nig" that brought him home safely. Although Willard was a drinking man, he never abused his wife or children; and even during the days of the Great Depression, no one ever left his table hungry. There was never too much variety in the meals, but most always a great quantity of food. His wife, Alice, would cook Mulligan Stew, meat and potatoes, and beans with homemade bread or biscuits.

To clothe his children, he made shoe soles out of old machinery belting. He clad them in old bib overalls with blue work shirts, purchased from Dune Brothers Store in Condon, and in winter they wore heavy "Long-John underwear." Alice would make them mittens from the blue denim of cast-off overalls, lining them with wool batting. Willard and the boys wore gunnysacks wrapped around their legs for leggings when the snows were deep in the winter.

About this time the Government W.P.A. work started across the country, and Willard signed up to work on a road crew. Each day, the crew left for work in the morning from Condon, so he had to get up early each day and saddle the horse, and then ride the five miles into town in time to catch the work crew.
His Father, John B., finally purchased a brand new two-door Model T Ford, and came rambling out to the ranch in it. John B. was, by far, a better driver of horses than he was of that auto. He came down the hill to the ranch with his feet on both the clutch and the brake. When he reached the ranch, he hollered, "Whoa!" and pulled back on the steering wheel. This did not stop the vehicle, but a tree by the woodshed did! Only the front fender was dented, and it was soon straightened out. It is not known if he had brought the Model T out as a gift to Willard, or if he just didn't think he could drive it back up the hill to town. Anyway, his son was the new owner.
Willard drove back and forth to Condon now, and took his oldest son, Jack, with him many times, teaching him to drive. The whole family rode to town on weekends for dinners at Grandma and Grandpa Keeney's, and to ball games on Sundays, and even, went on one trip all the way to Walla Walla, Washington, to visit with Alice's' family. Then, coming home from Condon late one night, the car skidded off the road on a curve, went over a small bank and turned over. Jack was OK, but Willard had broken a rib. The car was a complete wreck and beyond repair. Willard insisted that he had been driving.

After his recovery, Willard decided that it would be a little more convenient if his family lived back in town. In 1932, they moved back into the small house which belonged to his wife, and had been purchased with money from her Fathers' estate settlement. The house was too small for his growing family, and soon he rented a larger house. Willard worked as a cook in a local restaurant, and later was employed to cook in the kitchen of the C.C.C. camp which was established in Condon. About this time, Willard received his World War I Bonus, and purchased the first radio the family had ever owned.

In the early 1940'x, the whole family packed a camping outfit, loaded it into Jack's Chevrolet Coupe fixed up with a makeshift rumble seat for the kids to ride in, and pulling a two wheel trailer, headed out for Milton-Freewater, Oregon, or into the State of Washington to pick fruit for the summer. The whole family, working together, did make a little money, perhaps more than what Willard would have earned if he had stayed to seek work in the Condon area. Each older child did get a share of what they had earned, and used most of the money to purchase their own clothes and books when they returned home to start school in the fall. Jack was drafted into the Army about 1943, and without his transportation, these summer fruit picking excursions ended. Willard returned to work as a cook or dishwasher at the Oasis Cafe and Bus Depot in Arlington.

Willard had a stomach disorder from being gassed in the. War. His drinking and working around the grease of the cooking grills did him no good. He developed ulcers and went to the Veteran's Hospital in Portland from time to time for treatment. In August of 1958, he was scheduled for an ulcer operation, but died at the hospital on August 27th. Cause of death was given as hardening of the arteries, or heart attack. He is buried at the Condon cemetery.

Alice, his widow, is now living in Walla Walla, Washington, where she receives medical treatment, but still maintains the family home in Condon.
---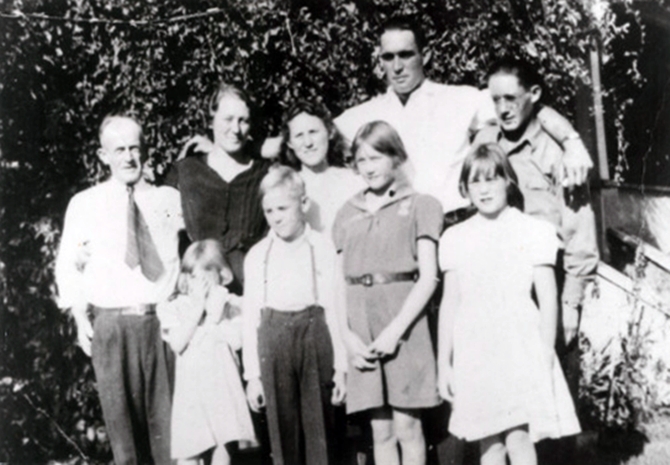 WILLARD WARREN KEENEY FAMILY
(about 1940)
Willard - Alice - Loa - Jack - Ralph
Bessie - William - Ida - Billie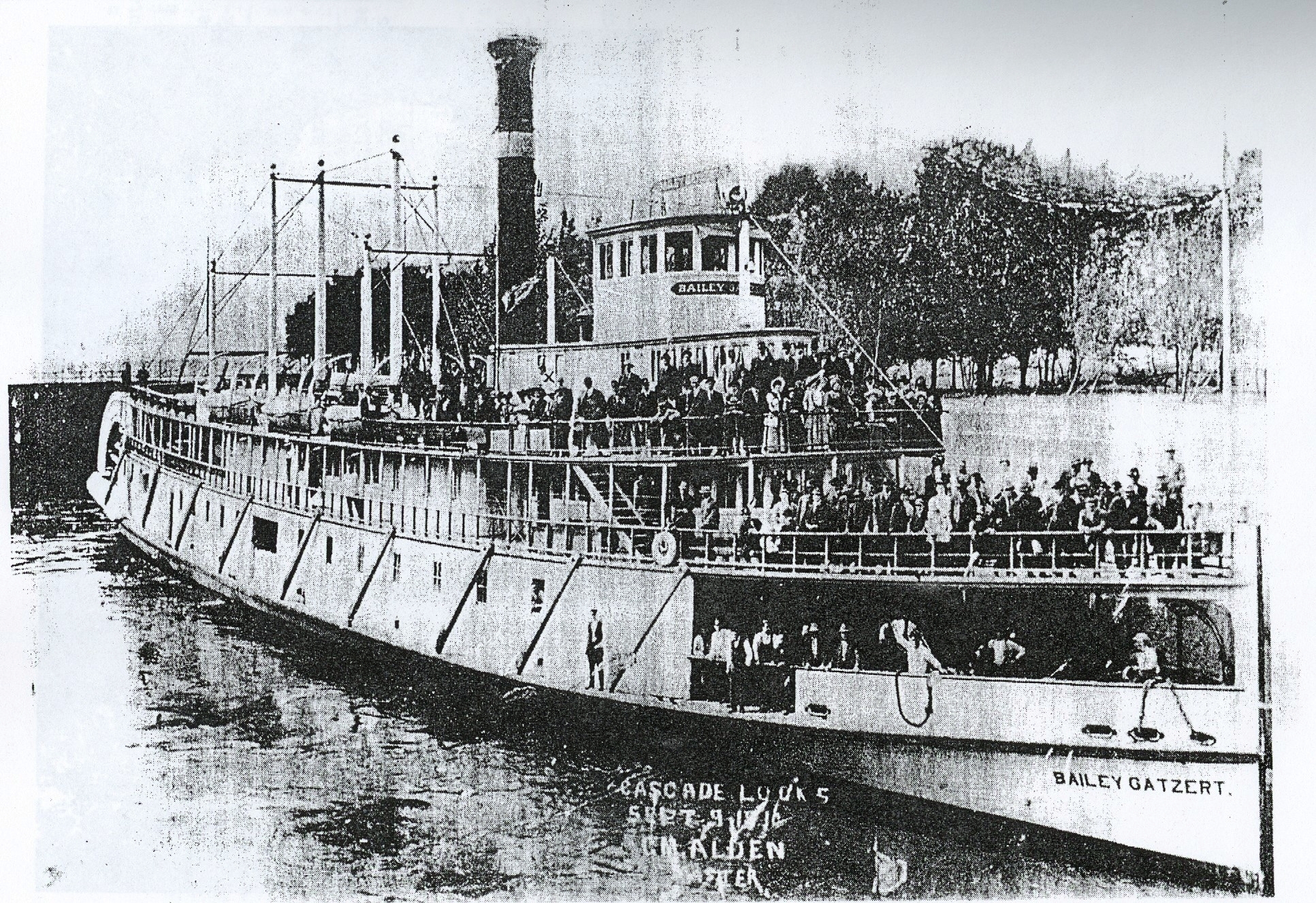 BAILEY GATZERT - Cascade Locks (1910)
Willard Keeney is aboard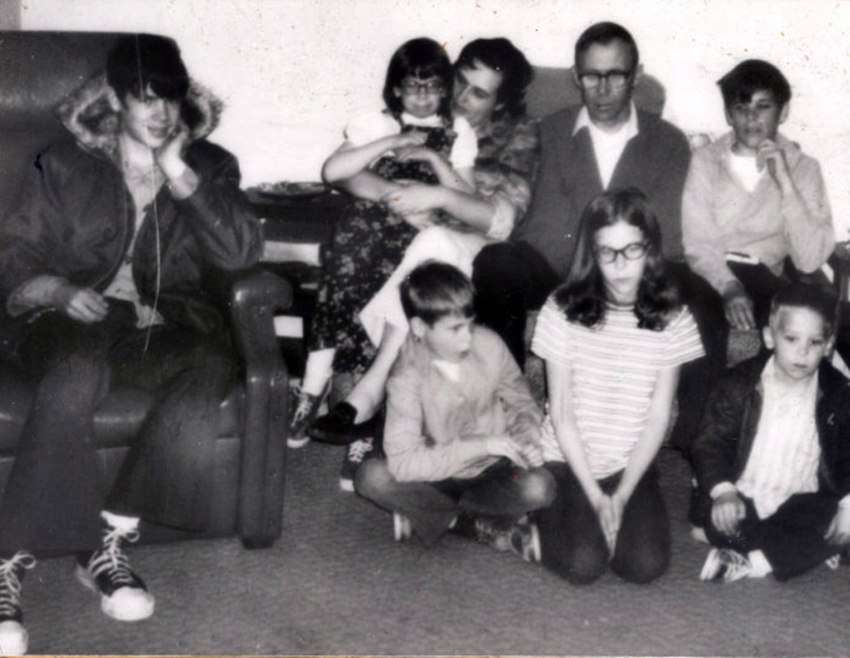 WILLARD WARREN KEENEY FAMILY
(about 1977)
Skip - Cindy - Gloria - William - Russell
Gordon - Tammy - Doug
| | |
| --- | --- |
| Larry and Edward Kelty | Billy Kelty - Son of Larry Kelty |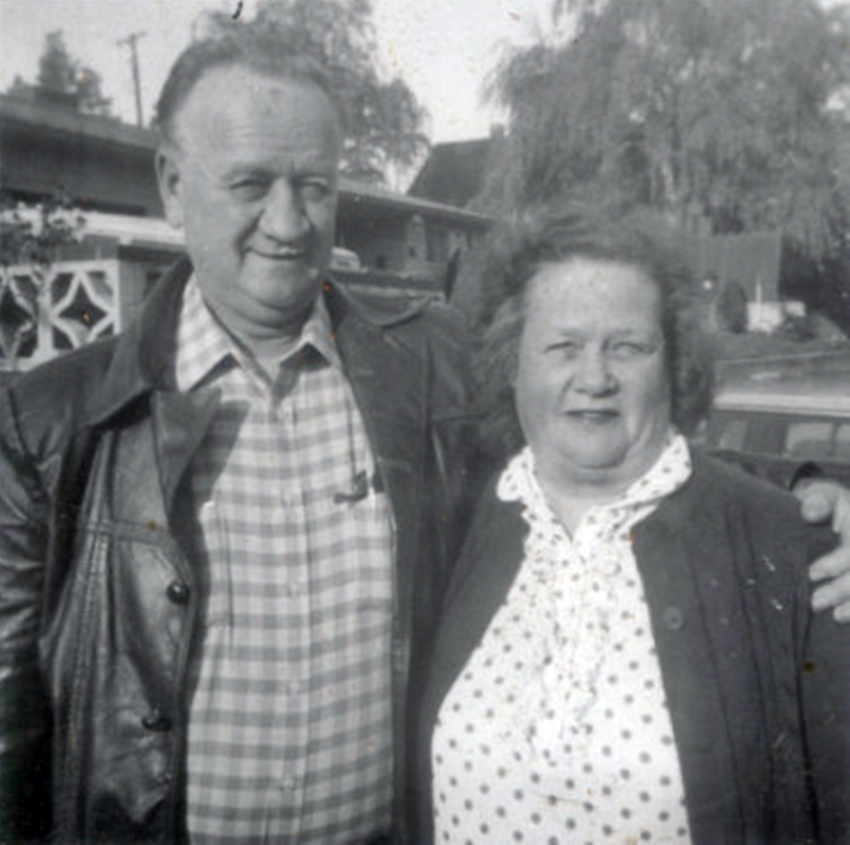 Edward and Ida (Keeney) Kelty
(Daughter of Willard W. Keeney)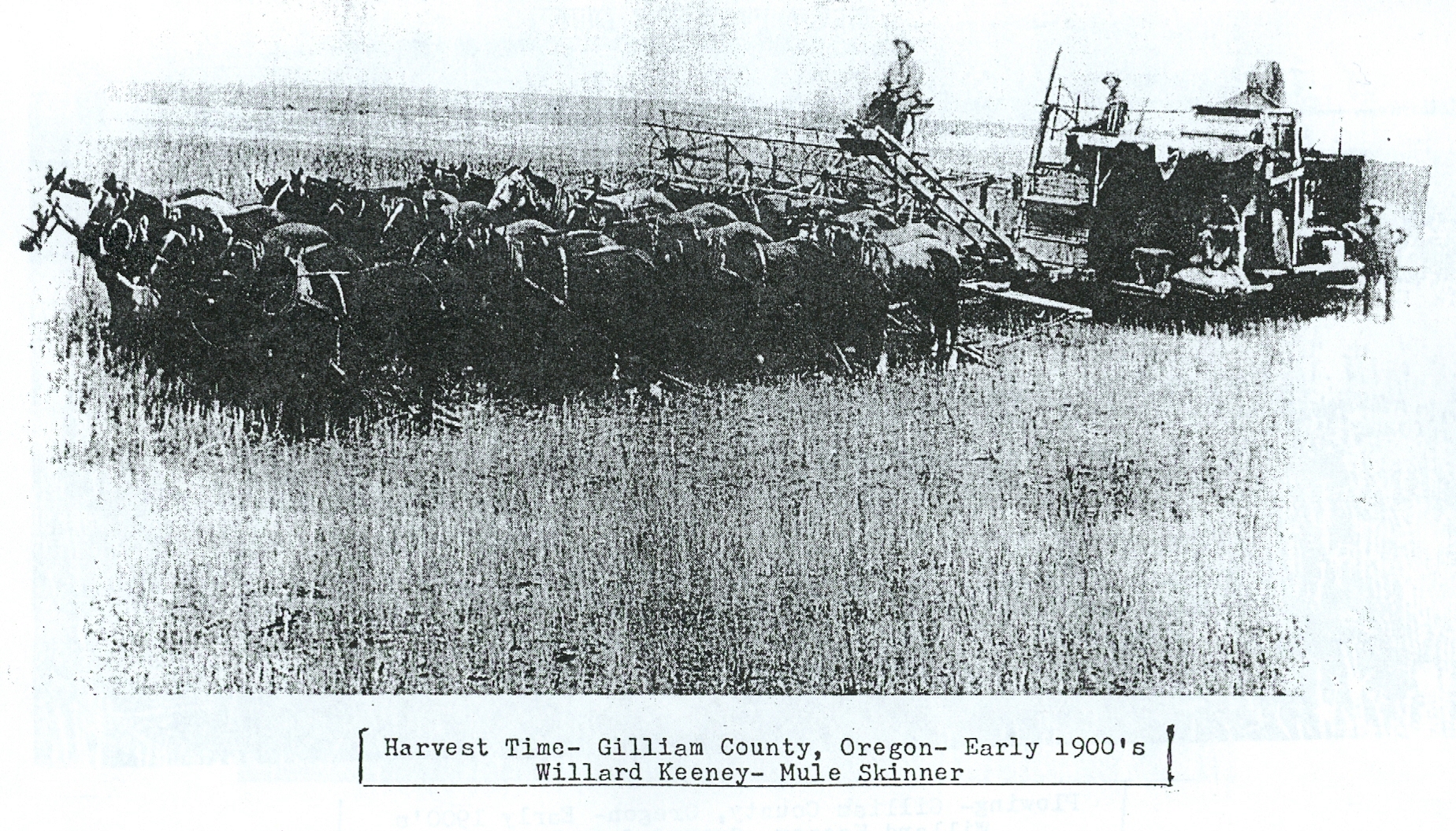 Harvest Time- Gilliam County, Oregon- Early 1900's
(Willard Keeney - Mule Skinner)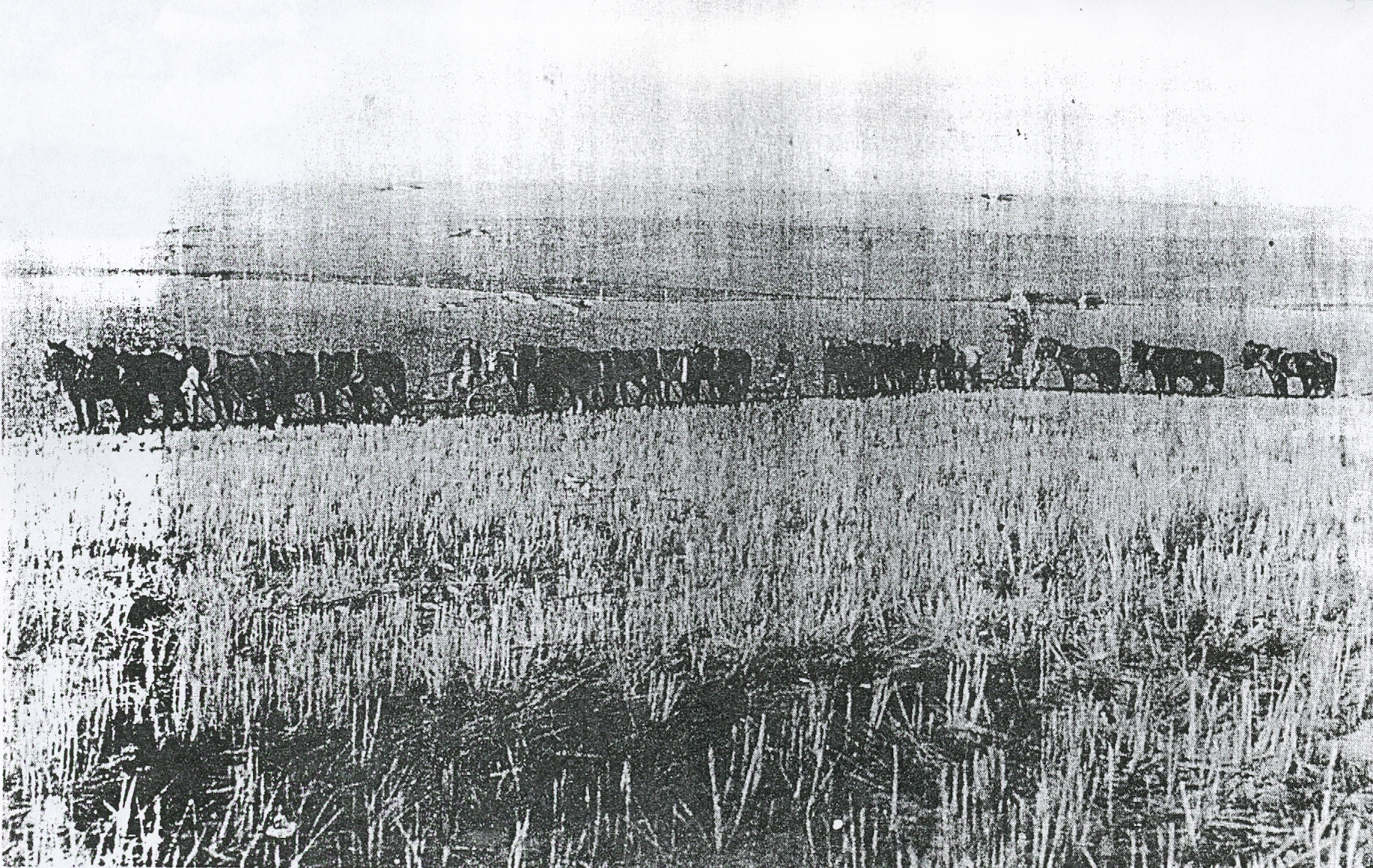 Plowing -Gilliam County, Oregon- Early 1900's
(Willard Keeney - Second from left)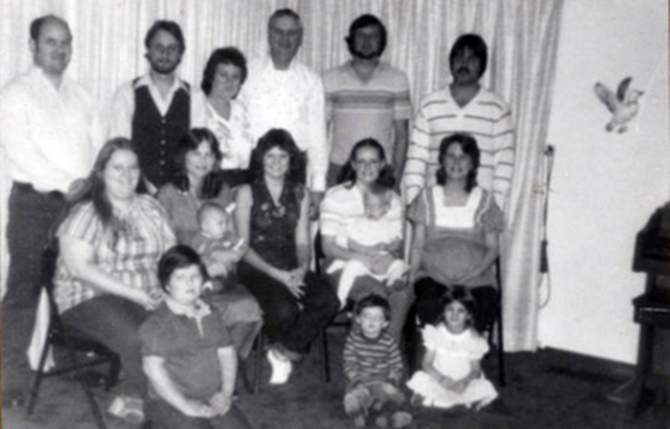 Ronald Lamoreaux Family
RONALD LAMOREAUX FAMILY
Art Bouvier
Delores
Eric
Frank Lamoreaux
Donna
Frank Brandon

Bessie (Keeney) Lamoreaux
Ron
Pamela

Patrick Anardi
Debbie
Malea
Hick

Gregory Crones
Valeta
Angella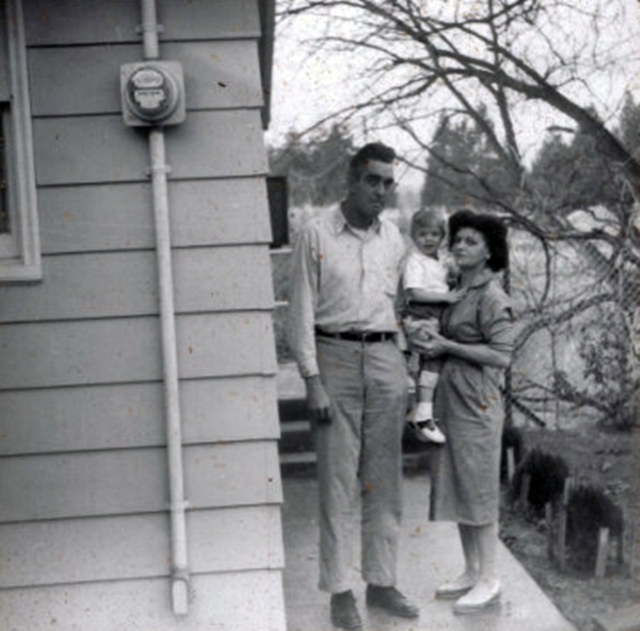 Jack and Emily Keeney
with daughter Jackie
(Son of Willard W. Keeney)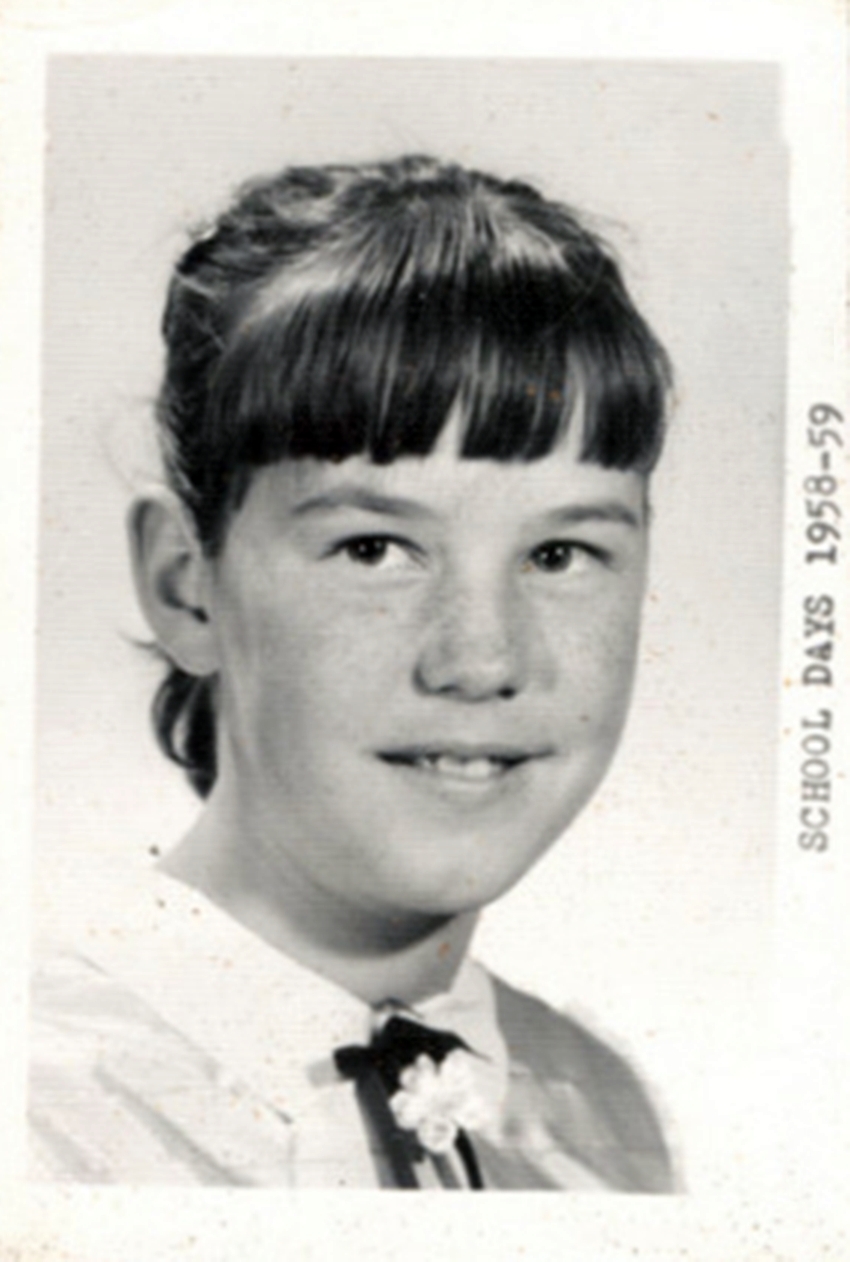 Lexie Ann (Keeney) Hughes
(Daughter of Jack and Pauline Keeney)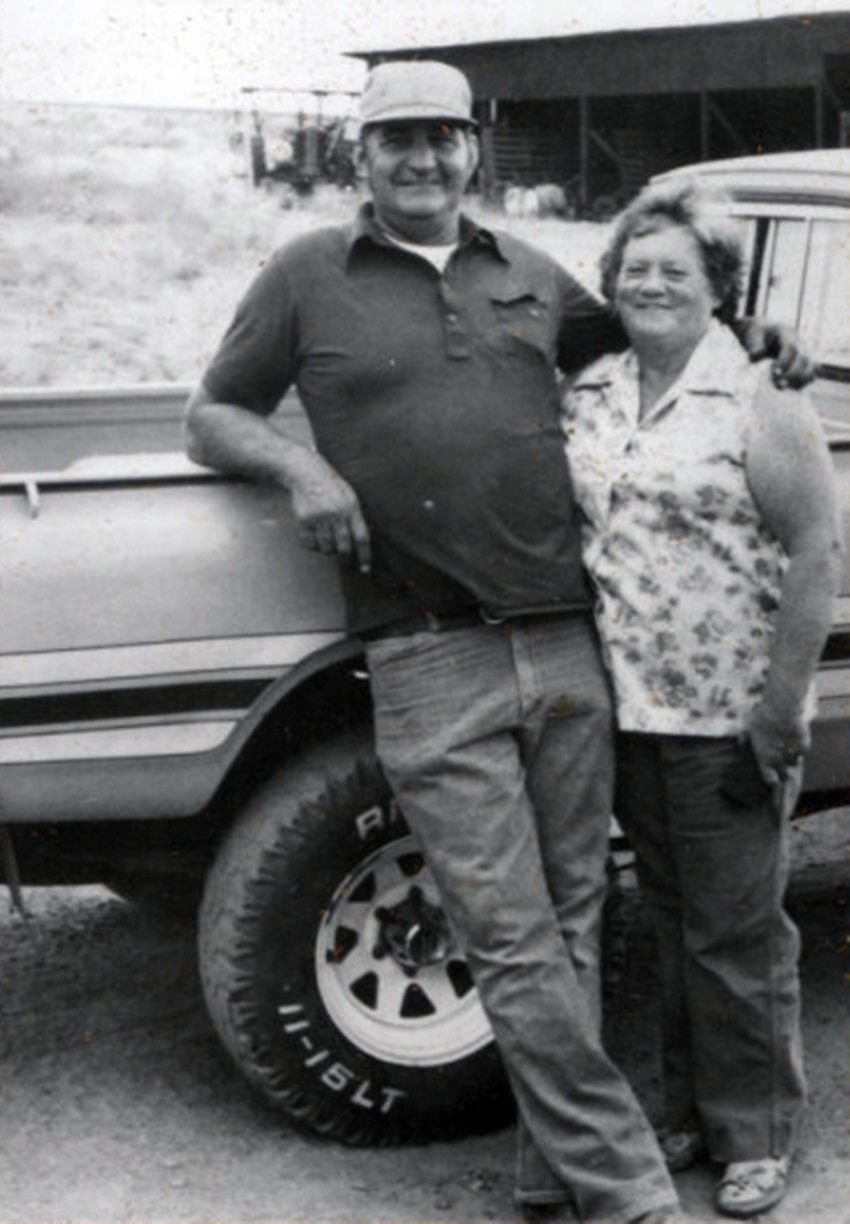 Walt and Billie (Keeney) Lacey
(Daughter of Willard W. Keeney)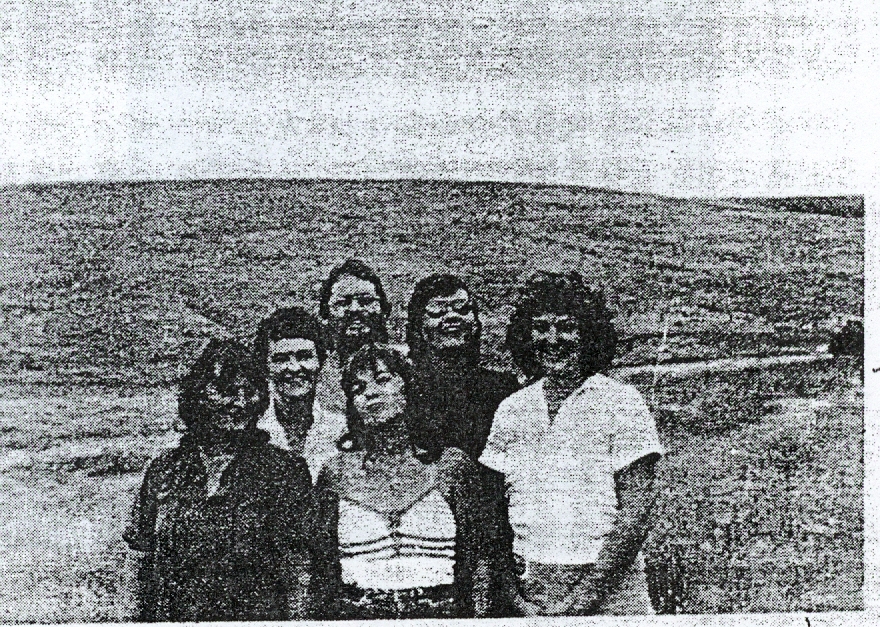 Walt and Billie (Keeney) Lacey Family
Right to left:
Back row - Marthela - David - April
Front row - Dorthea - Kathy - Loa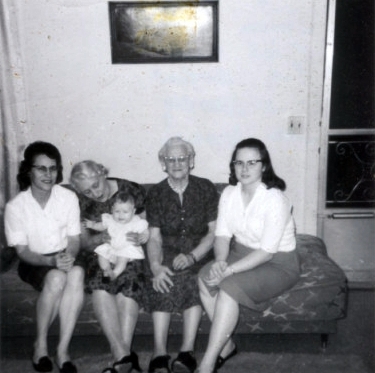 Five Generations
(From right to left)
Alice nee, (Snyder) Califf, Smith - Mother
Ida (Summers) Crall - Great Great Grandmother
Alice (Crall) Keeney - Great Grandmother
Loa (Keeney) Snyder - Grandmother
Donna Califf - Daughter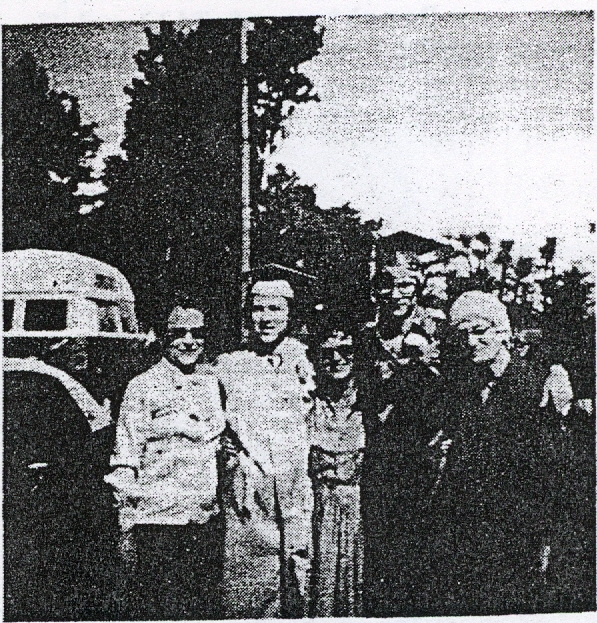 Four Generations
(From right to left)
Alice (Crall) Keeney
Sam Califf
Alice (Snyder) Califf, Smith
Michael Califf Jr.
Loa (keeney) Snyder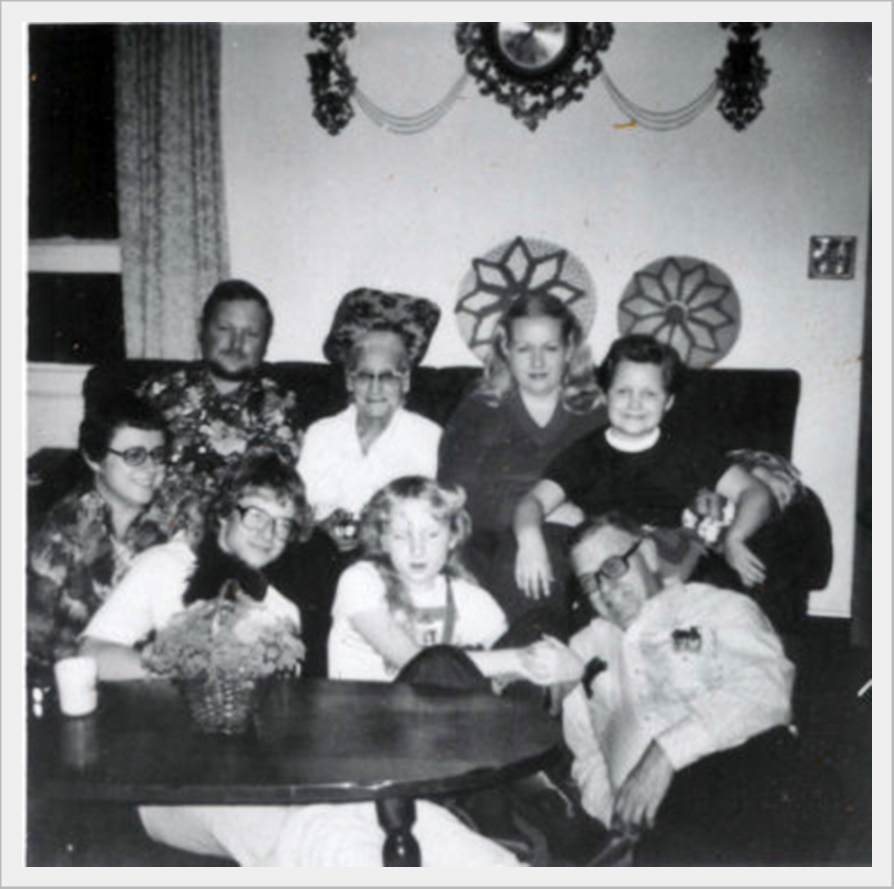 Snyder Family
Back row left to right- Michael Snyder Sr.: Alice (Crall) Keeney:
Darlene (Gollyhord) Snyder: Michael Snyder Jr.:
Front row- Alice (Snyder) Califf, Smith: Sam Califf: Rashell Snyder: Sam Snyder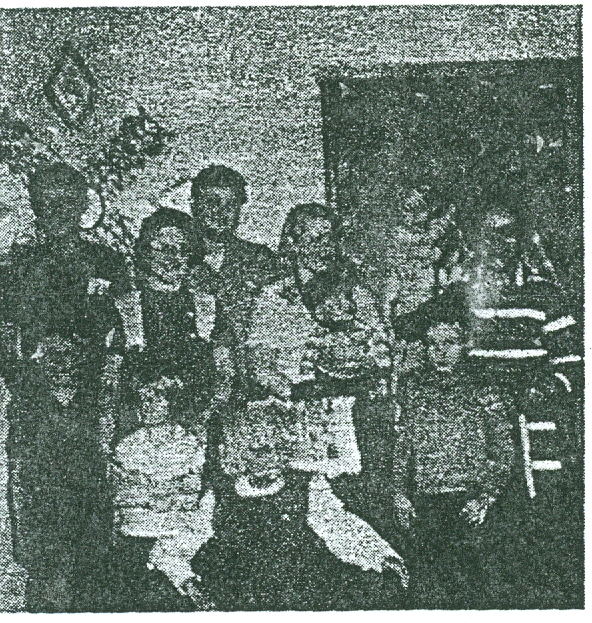 Four Generations
Back row left to right- Michael Califf Sr.: Michael Snyder Sr.:Rashell Snyder: Sam Snyder
Middle row- Michael Califf Jr.: Alice (Snyder) Califf, Smith: Darelene (Gollyhorn) Snydere:
Michael Snyder Jr.: Loa (Keeney) Snyder
Front row- Donna Calif: Grace (Overman) Snyder: Sam Califf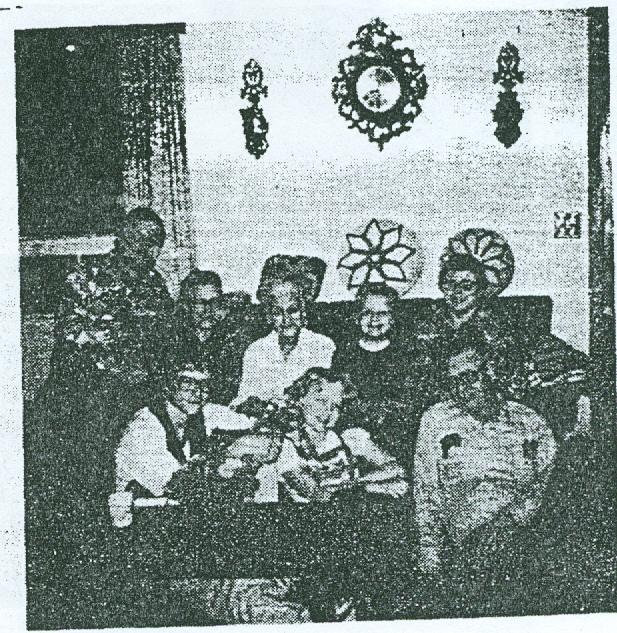 Back row left to right- Michael Califf Sr.: Loa (Keeney) Snyder: Alice (Crall) Keeney: Michael Snyder JR.:Alice (Snyder) Califf, Smith
Front row- Sam Califf: Rashell Snyder: Sam Snyder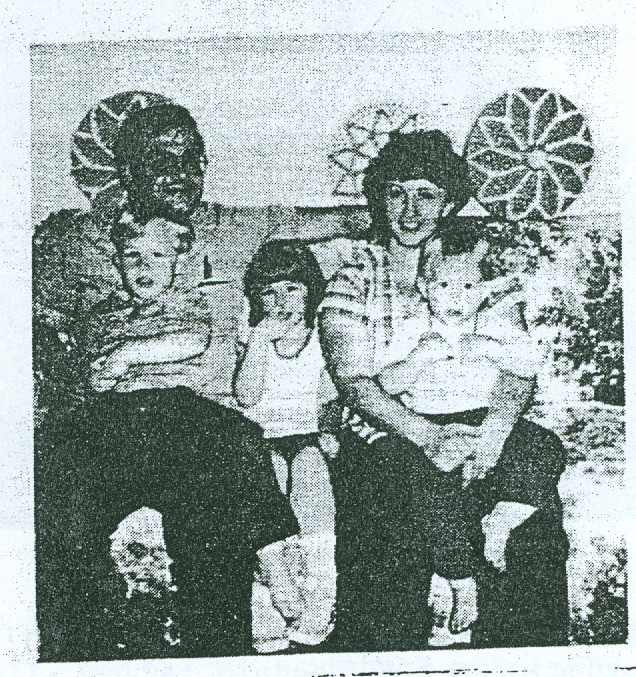 Gary and Francis (MacDonald) Schneider
Children- Robert, Caryn, and Nicole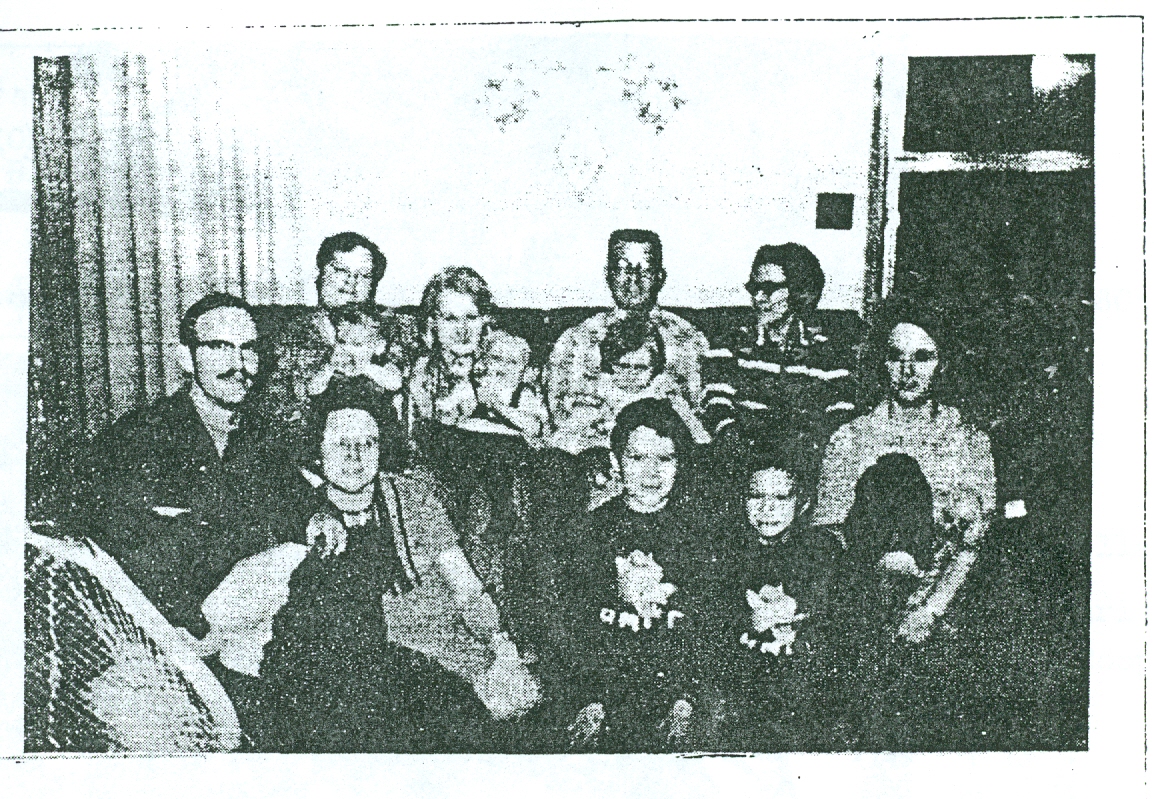 Back row left to righ: Michael Snyder Sr. holding Michael Jr. - Darlene (Gollyhorn) snyder holding Rashell - Sam Snyder holding Donna Califf - Loa (Keeney) Snyder
Front row: Michael Califf Sr. - Alice (Snyder) Califf, Smith - Michael Celiff Jr. - Sam Califf - Francis (McDondald) Schneider.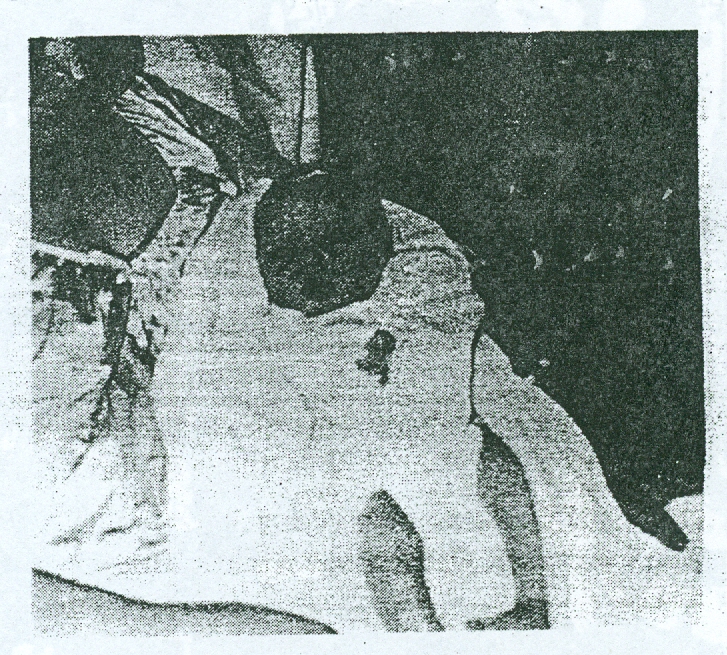 Latest addition: Daniele Nicole Snyder
Born Aug. 11, 1983 - Parents Mike and Darlene (Gollyhorn) Snyder.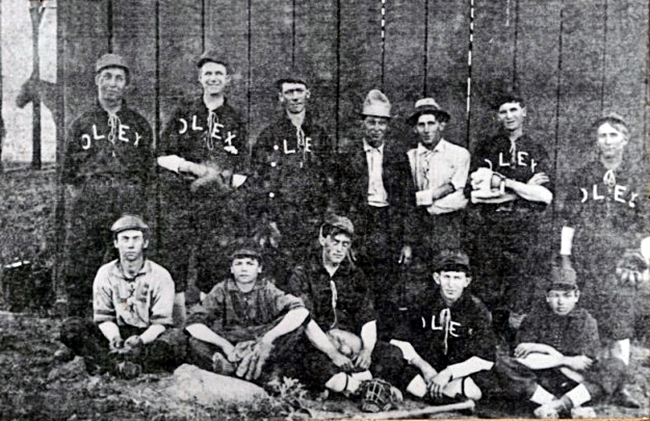 Olex Ball Team in 1910 - left to right;
Standing: McCrum, Ralph Schott, Jack Hurt, unidentified, Leonard Cimmiyotti, Ray Schott, W.E. Wilkins
Sitting middle - Willard Keeney.