Wagon Ruts West
JOHN KEENEY, JR. FAMILY
By Ralph Ray Keeney
Published in 1983
---
The following selection is taken from "Wagon Ruts West" written & published by Ralph Ray Keeney in 1983. The book is currently out of print. This section is published with the kind permission of Ralph Ray Keeney. The book this selection is drawn from is under copyright and permission has been granted for educational purposes and it is not to be used in any way for any profit or commercial venture.
Click here to read letter of permission.
---
---
The following is Section 4
SECTION 4

Andrew Jackson Keeney ←

KEENEY FAMILY TREE

___John, Sr. (1750? - 1845?) Married Martha -
|
Jonathan Anthony (1778 - 1850)
|
___
John Jr. (1780 - 1845) Married Mary Ramsey Buckhalter, 1805
|
|
Mary (1806 - 1850-)
|
|
Thomas (1808 - 1842)
|
|
Isley (1811 - 1842)
|
|
Jonathan (1813 - 1878)
|
|
James (1816 - 1885)
|
|
Abraham (1818 - 1843)
|
|

____Andrew Jackson (1819 - 1898) Married Elizabeth Mulholland, 1841

←

|
|
|
Frances Ann - drowned with Mother in the Missouri Riv.
|
|
|
2.
Married Hannah Daniels Cooper (daughter, Anna Cooper)
|
|
|
Elias P. (1852 - 1857)
|
|
|
James Madison ( 1853 - 1913)
|
|
|
George R. (1856 - 1859)
|
|
|
William Daniel (1857 - 1930)
|
|
|
____John Blanden (1859 - 1942) Married Ella Hurt, 1881
|
|
|
|
Maude (1882 - 1958)
|
|
|
|
Rhoda C. (1884 - 1884)
|
|
|
|
Ira Marvin (1885 - 1945)
|
|
|
|
___ Willard Warren (1888 - 1958) Married Alice L. Crall, 1920
|
|
|
|
|
Jack LeRoy, 1921
|
|
|
|
|
Ralph Ray, 1923
|
|
|
|
|
Harold Blanding, (1925 - 1925)
|
|
|
|
|
Loa May, 1926
|
|
|
|
|
Ida Dee, 1929
|
|
|
|
|
Billie Fae, 1932
|
|
|
|
|
William Warren, 1933
|
|
|
|
|____Bessie Jo, 1935
|
|
|
|______Glenn (1894 - 1954)
|
|
|
3
Married Amanda Jane Morse Matthews, 1861 (daughter, Rebecca)
|
|
|
Martha Ellen "Matty" (1862 - 1911)
|
|
|
Benjamin Franklin (1865 - 1935)
|
|
|
Andrew Alva (1866 - 1954)
|
|
|________Thomas Paine (1869 - 1947)
|
|
Rebecca (1821 - 1895)
|
|
Eli (twin) (1828 - 1878)
|
|___________ Elias (twin) (1828 - 1910)
|
Thomas (1782 - 1846)
|
Nancy ( 1786 - -- )
|
James (- - - )
|
Hiram (-- - )
|_________Others -
---
---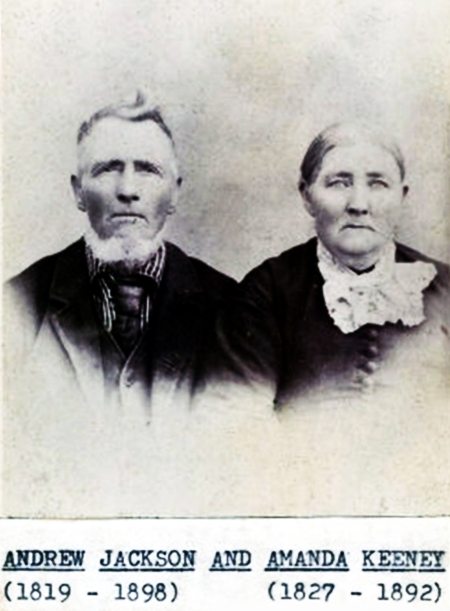 Andrew Jackson was the son of John, Jr. and Mary Ramsey Buckhalter; brother of Mary, Thomas, Isley, Jonathan, James, Abraham, Rebecca, and twins Eli and Elias.
Andrew Jackson Keeney, known as "Jackson", or "Blackjack", or just "Jack", was born on his Father's farm in Fayette County, Indiana, on October 7th, 1819. About 1820, his Father moved the family to Ray County, Missouri where young Jackson grew up. Ray County is located 20 miles east of present-day Kansas City. When Andrew Jackson was 21 years old, he struck out for himself, working in southern Missouri. A year later, he bought a farm in Holt County, in north western Missouri, which had been opened up to settlement under the 1837 Platte Purchase. On November 18, 1841, he married 16 year old Elizabeth Mulholland in Clinton, Missouri, and took his bride to his Holt County farm, where he engaged in farming.

A daughter, Frances, was born to the young couple, but, both Mother and child drowned in the Missouri River. The Missouri, which floods regularly, forms the western boundary of Holt County. Jack's farm was near enough to the river to account for this tragedy.

In 1847, the young widower enlisted as a private in the Missouri Mounted Volunteers, to fight in the Mexican War, which had begun the year before. He served 16 months, patrolling the northern border, which then extended from the Oregon Coast into present-day Wyoming. It is believed that they never saw any of the enemy. The National Archives has his application for a pension.

Returning home to Holt County, he married Hannah Daniels Cooper, on June 3rd, 1849; a widow, with a year-old daughter, Anna. Soon after, he went to California, by way of Nicaragua. It is not known for sure if he took his new bride with him or not. They were on a small river steamer carrying passengers over the mountains from the Atlantic Ocean to the Pacific, when the boat was carried over some rapids, due to a drunken Captain trying to land above them. Many passengers jumped overboard and were drowned, while those who remained aboard were not injured. Finally, they crossed the Isthmus of Nicaragua and sailed up the coast to land in San Francisco. This year was recorded as 1849.

It is possible that he prospected for gold in California, and perhaps joined his two brothers, Jonathan and Elias on the American River. Later, he may have visited his brother Jonathan and family, and Elias, who lived with them, in the Calapooya River Valley, as he is recorded as a resident of Oregon in the 1850 United States Census. The same year, he returned to Missouri by ox team and wagon and farmed in Holt County for the next few years. Jackson and Hannah had..five children, besides her daughter Anna. Four of the children were born in Missouri and one was born in Oregon.

Anna Isabella Cooper, Step-daughter (18 Nov 1847 - 30 Nov 1919)
Elias P. (27 June 1852 - 31 July 1857)
James Madison (15 December 1853 - 8 February 1913)
George R. (22 January 1856 - 18 June 1859)
William Daniel (1857 - 11 April 1930)

It is possible that the tension of slavery which soon would erupt into the Civil War, along with the availability of land in the West, or the fact that most of his family had already moved West in 1851, may be what prompted Jackson and Hannah to leave Missouri and join the immigration to Oregon. Whatever the reason, early in 1857, Jack sold his farm in Holt County, bought an ox team, and headed west to California.

It is doubtful that Andrew Jackson traveled alone, as another Jonathan H. Keeney, whose relationship to Andrew we have not yet determined, also went to California in 1857 and seemed to take the same route to Oregon as did Andrew Jackson.

Jackson sold his outfit in San Francisco and boarded a steamer with his family and sailed up the coast to Portland, Oregon, landing in October. Jackson purchased another outfit and headed down the Willamette Valley to visit his Mother, brothers and sister. (In 1851, all the family, except him and his oldest sister, Mary, had come west on the Keeney Wagon Train and taken advantage of free land in Oregon under the Donation Land Act of 1850.)

A short time later, Jackson bought the Milton Riggs Donation Land Claim of 640 acres, seven miles south of Eugene, near Goshen, where he and Hannah set up housekeeping in a little log cabin near a spring. In June, 1859, their three year-old son, George died, and another son, John Blanden was born in October.

John Blanden (20 October 1859 - 1 September 1942)

Five months after John's birth, his Mother died of a heart disease and was buried in Keeney Cemetery out on Cloverdale Road in Lane County, Oregon.

On December 22, 1861, at 42 years of age, Jackson married for a third time to Amanda Jane Morse Matthews, a 34 year old widow with a 14 year old daughter, Rebecca Ann. Amanda raised Jackson's three surviving sons and his step-daughter, Anna Cooper, and gave birth to four more children.

Martha Ellen "Mattie" (1 December, 1862 - 6 December, 1911)
Benjamin Franklin (14 October, 1865 - 14 August, 193 5
Andrew Ava "A1" (14 December, 1866 - 4 February 1954
Thomas Paine (19 December, 1869 - 28 June, 1947]

Later, Jackson added two hundred and two acres to his holdings, making his estate a compact tract of eight hundred and forty-two acres. The Keeney residence was situated about a half-mile southeast of Goshen, on the Central Military Road, where he was engaged in farming and general stock raising. (The house is still standing) Jackson was a rancher of the pioneer type; he raised cattle, hogs. and horses, and feed for the stock, vegetables and fruits for his own family and guests, which were numerous.

He always seemed to have time to visit friends and the growing families of his brothers. Wherever he went, he made himself so useful that he was always welcome. He was good-natured and very well-liked, but he did have a temper and would not refuse a fist fight. He was never known to nurse a grudge, however he was generous to a fault.

When Hoff, the Swiss cheese-maker, wanted to set up a cheese factory, it was "Uncle Jack" who furnished the site, the building, the money and gave free board until the enterprise could pay its own way.

He despised stinginess. At one friend's home, the home-churned butter came to the table molded into spheres, so slippery that most visitors gave up the attempt to get any butter. Jack fixed that! He stuck in his fork and sliced the butter-ball in half. Butter was so plentiful on a farm, that it was thought especially mean to heard it.

There was frequent visitor who regularly used Jackson's home as if it were a "Wayside Inn". He would always ask on leaving,
"Well Jack, how much do I owe you-" and Jack always replied that he never heard of such nonsense. But, on this day, Amanda had given Jack a curtain lecture about the extra work that his hospitality was causing her. So, reluctantly, he said,
"Well, two nights' bed, board two days, and feed for the team --Oh, call it fifty cents."

The visitor went away telling all he met on the road,
"I don't know what got into that Keeney. He's so all-fired stingy, all at once."

A letter will, sometimes, open a door on a scene of the past. Although Jackson was not much. of a letter writer, here is one very interesting letter written to his daughter Martha Ellen and son-inlaw Nelson E. Handsaker.
Goshen, Oregon - May the 24, '87
Dear Son and Daughter; I take this morning to answer your kind letter. We are all well as common and hope this will find you all well. I have got my hops in good fix and our garden all in but the cabbage, cauliflower and the tomatoes set out; we are waiting for a rain to set them.
I have sold Jo and Jerry (horses) for three hundred dollars, and I will pay off the Larkin debt tomorrow. It will be something over nine hundred dollars, though I have to borrow eight hundred dollars to pay the debt off, I think I can meet and pay it all off in one year. I have 23 cows and calves, and 4 more to have calves, and 17 two-year-old steers and 15 yearlings.

Your Grandpa (Martha's Grandpa Morse is going to start on a visit the first of June to Wm. Russel's and your Mother got a fine birthday present, a tolet set from Ben, and Mat (Ben's wife, Mattie) fetched her down a nice frosted cake on her 60th birthday.
I have not heard anything of my pension (for service in the Mexican War) since I made application; I think it will be all right in due time. James Matlock, wife, and Ida has gone on a visit to eastern Oregon two weeks, and we are looking for them home tonight. The cars pass herein the night now, all the time. Everything looks lovely now. The strawberries is getting ripe. Old Andy is dead, and I met Old George in the road yesterday (dogs) and he looked very poor and bad. Old Fido is well and hearty and is always glad to see his friends. James is well and still in the store business. Baker is on the road again, telegraphing. I was at a sale yesterday, and your Uncle Sam (Nelson's Brother, Sam Handsaker) cried the sale, and they was all well. Stock did not sell high. I bought two cows and calves for 825 apiece. I saw Marcus at the sale and they was all well.

Old Betty has made a failure this year raising birds; she has laid two litters and hatched none, so we have about given up the idle of making a fortune raising birds this summer. Your Mother has took her China lily out of the pot today for next winter. Lane Matlock has come down and tells me his Father and Mother and Ifs got home last night and all are well and had a fine visit, and was well satisfied.

I have been working the road two days and this is the 25th. I have I have been working the road two days and this is the 25th. I have settled up with Larkin estate and deposited the money in the bank, and he is in Denver today on a gambling spree.

We have a pretty hard time, Tom is going to school and I have all the work to do, so I have John Kitchen hired to help me and we have got the hops in good fix. And I don't know whether I will make anything or not.. I am working Maud and Old Jude (horses) together and they make a nice team. I have got two young horses to break before harvest, and I have got to buy a set of harness before I can start to break them. Seems like there is always something lacking, and I am about five years behind the times, though maybe it is all right. I have been hauling wood today and will haul tomorrow, and then I think I will have enough to last until hay harvest; and next week I will have to help your mother make soap, and then I will have to go in my hops again; I want to have them in good order all the time.

My eyes is very poor and I can't keep the lines very well; you must excuse me for writing so poor and putting it off for so long. I must-Dome to a close, for Tom has got the cows into the calves and I must go and help him. We have mighty nice calves; we give them all the milk they can suck, and just milk what they can't suck. So write soon; we are glad to hear from you--so goodbye.
-- A. J. Keeney.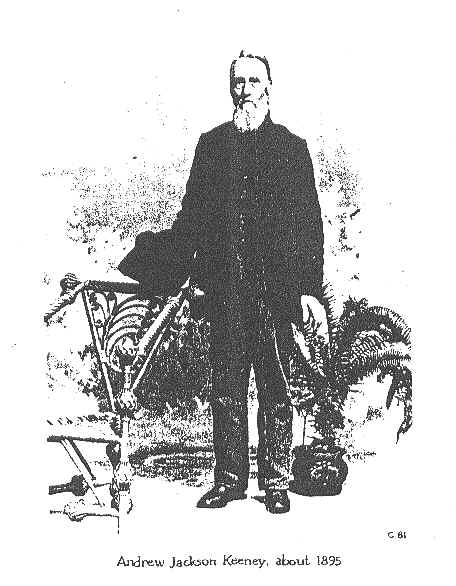 Andrew Jackson's wife, Amanda, born in 1827, had come to Oregon with her family, the Morses, when she was quite young. She was a stoutish, pleasant woman, but not tall, who could be found in the kitchen most of the time. She was quiet and thoughtful, but of strong character and has a lasting influence for good on her children and step-children.

She was brought up in a church which emphasized the goodness and love of God, and she took no part in churches around Goshen where Hell, fire and brimstone were preached and emotional conversations took place. Amanda was famous for her home remedies.

She was ill for a long time in 1892. The symptoms included stomach trouble, coughing up blood, and dropsy (edema - retention of fluids), which began in her lower legs and progressed to her body. As long as she could possibly get up, she insisted on trying to help with the housework. Towards the end, she suffered much, though ever so patiently. She died on October 2, 1892 and was buried in the Keeney Cemetery on a hill not far from Creswell.}

Jackson was also in failing health with bladder or prostrate problems, and becoming forgetful. While Amanda was on her deathbed, Jackson had a severe attach and nearly died. After her funeral, he made a good physical recovery, but he was in a poor mental state which made it impossible to care for him at home. He was placed in the State Hospital at Salem for a number of months, being discharged in August of 1894 following a complete recovery. His daughter, Martha, and son-in-law, Nelson E. Handsaker, cared for him in their Tacoma home for about six months.

He took long walks with his grandsons, and his strength began to return. He took over the chore of keeping firewood cut for use in the house. There was an unlimited quantity of fir logs laying around in the woods within a half mile of the Handsaker home, which he sawed and split.

He returned to his farm, near Goshen, in February of 1895, where his son, John B. and wife Ella, and their children were living and they cared for him the rest of his life.

In January, 1898, he joined a church in Goshen. Previously, it was believed that he had been a friend to all ministers, but not a religious man himself. Soon after, he became very ill with Bright's Disease, and died three weeks later-at his home March 4, 1898 His sons, John, Ben and Tom were with him. Al was on his way, and Martha and Nelson were stepping off the train in Goshen, when he passed away. He is buried beside his wife, Amanda, in the Keeney Cemetary.
---
Other Pictures in this section:
About 1900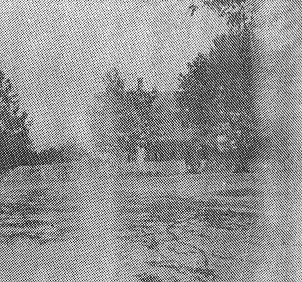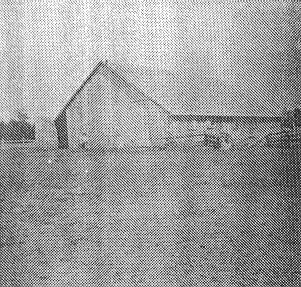 ---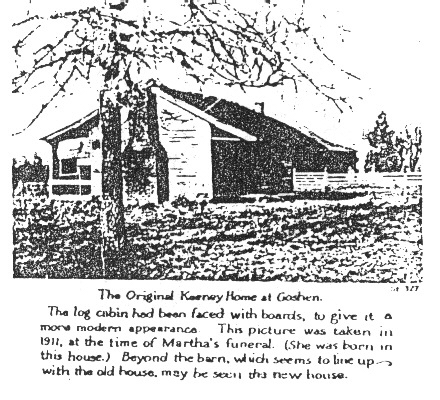 ---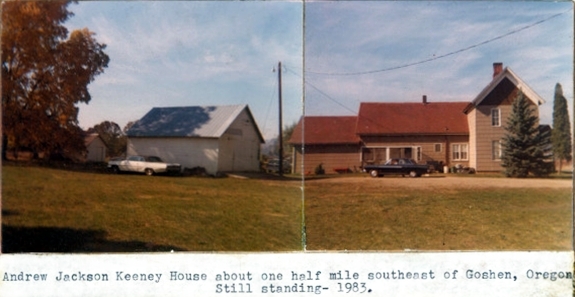 ---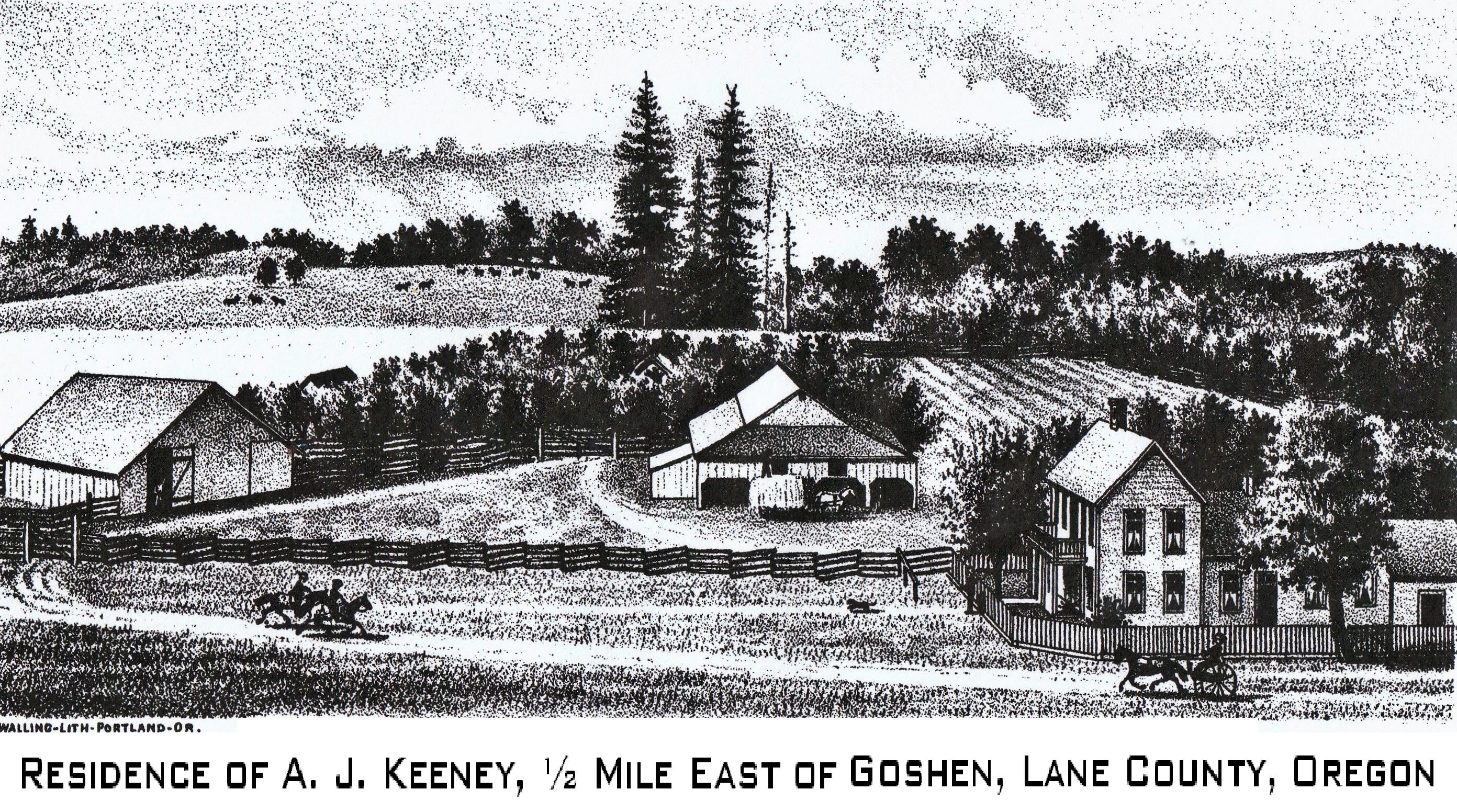 ---