The following selection is taken from "Wagon Ruts West" written & published by Ralph Ray Keeney in 1983. The book is currently out of print. This section is published with the kind permission of Ralph Ray Keeney. The book this selection is drawn from is under copyright and permission has been granted for educational purposes and it is not to be used in any way for any profit or commercial venture.
ELIAS KEENEY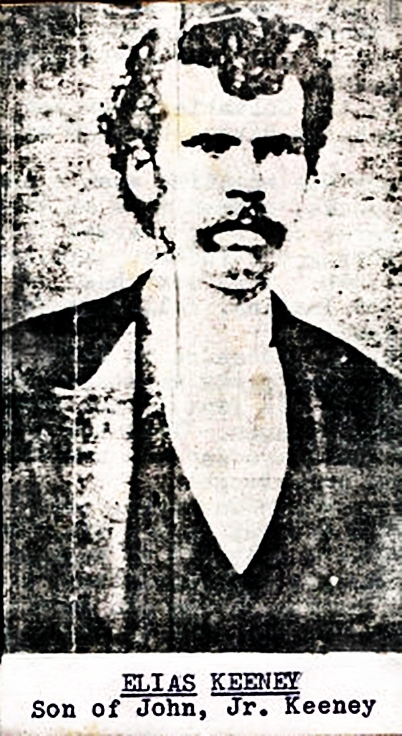 Elias was born Dec. 18, 1828, one of a set of twins, in Ray Co., Missouri. Sons of John, Jr. and Mary Ramsey Buckhalter Keeney. He was the smaller twin, but grew to be the biggest son in the family.
When Jonathan came west in 1846, he brought his wife and two young sons, and his 18 year old brother, Elias. They arrived in the lower Willamette Valley in the fall of 1846. As frequently was the case with the early emigrants, the Keeney brothers remained in the lower Valley through the winter for a period of rest and recuperation and to await more favorable weather before proceeding on up the Willamette Valley. They, eventually, reached their homes. Elias filed a homstead entry on public domain lands near Jonathan's claim. After title was obtained to the claim, he sold it to John Findley, and forthwith purchased another tract in the farming area west of Brownsville. So far, as known, it is still (1983) in the ownership of the Keeney estate.
In the spring of 1848, Elias and Jonathan joined a Company of Volunteers which was being organized at East Portland under Colonel Gilliam and Capt. Maxwell, to quell an Indian uprising in the Columbia River Country and Eastern Oregon. He furnished his own horse, saddle and rifle. The Government furnished ammunition, blanket, and povisions.
They marched up the Columbia River and first encountered the hostiles on the Deschutes River, about 20 miles southeast of the Dalles.
Keeney's company was scouting when a band of Indians, who were skulking amoung the rocks, opened fire on them from their hiding place. The Volunteers, on foot, charged them down a canyon and then up a slope, routing the Indians, killing one, without any casualties of their own. They went back to their horses, mounted and gave chase to the Indians, following for 15 miles, but could not get near them again.
The Company then proceeded to Walla Walla, where they found the bodies of the Whitman party scattered over the Mission grounds. The dead were buried at the foot of the steep hill where the Whitman monument now stands. Then the party went in search of the Indians and on the third day, the hostiles were found and then several hard battles were fought.
In the battle of Tucannon River, about 30 miles north of Walla Walla, Keeney escaped without injory after both the front and back horns of his saddle were shot off by Indians. After the battle of Umatilla, when the Indians were decisively beaten, the volunteers returned to the Willamette Valley and were mustered out.
Both Elias and Jonathan went to the California goldfields in 1848-1849, and returned with a good share of gold.
In 1850, they returned to Missouri, on horseback, and claimed to have made the trip in 66 days, averaging 30 miles per day. and believed to be the record for those days. Elias returned to marry (Margaret Hyatt), his hometown sweetheart, who was awaiting his return.
"When The Grass Was Up!", in the spring of 1851, they were on the trail again, back to Oregon. They brought with them most all of their Fathers' family, and Elias' new wife.
After great hardship and much weariness, the Keeney Train arrived, in the early fall, in the Willamette Valley.
The Keeney Train is mentioned in the PIONEER DIARY of J. L. Johnson, and was published in The Woodburn Independent in 1964. The following are excerpts from that publication:
ON THE TRAIL TO OREGON
By J. L. Johnson - Pioneer

APRIL 29-
We managed to get a little breakfast, and about ten 'oclock the sky cleared and the men started to hunt the cattle. Keeney's camp was only a short ways. They had a large round tent with a cook stove in the center. The center poles were well secured with guy ropes, so it withstood the storm. As they had a good supply of wood in their wagons, they invited our women and children to spend the day with them in their tent, as their men had gone to hunt oxen. About sundown, the men all came back, they had found all the cattle in the timber, We yoked them and tied them up to the wagons so to have an early start in the morning. About dark, Fos and Green retured to see what the matter was. On their return they had been surrounded by a large band of Indians, who came rushig on them from every direction and surrounded them. The boys were terribly frightened, but soon found the Indians were only jollying.
MAY 15-
Today Keeney's train passed us and went on some miles ahead and camped.
MAY 16-
Continued search for our oxen without success. All heartsick and discouraged. Father and Jones concluded to go on to Keeney's camp and try to get some of his wild steers to break to work. They took lanterns and started after dark. Then came up a terrible storm- wind, thunder and lightening, with rain and hail. We staked our wagon down and then it took all our strength to hold the tent down. Father and Jones returned at daylight. Walked all night with wolves at their heels. They reported that Keeney had lost 150 head of his cattle and was going to send teams to move our camp up to theirs and join us in the search.
May 17-
We layed down again and soon heard the tramping of hoofs and thought the Indians had seen our file and were coming to attack us. But, it was a band of Keeney's heifers running from wolves. We thought they were some of our lost oxen. They came up to us and layed down till it was light. We knew them by the brand (K). Now we turned our course toward the Platte river, drivng the feifers with us.
May19-
Returned to camp and found it deserted. Keeney had sent teams and move our camp to his. We followed on and found his men had fitted out and done down the river to find the cattle, and left work for us boys on our return, to stay and help guard the camp till he and his men got back.
MAY20-
Remained in camp. Heard nothing of the hunters.
MAY 22-
Captain Paurce came along with a train of about 30 wagons and a number of families. Father interviewed him and he proposed if Father would leave one of his wagons they would divide the load up among them and turn out a few yoke of oxen and help him through. I told him that I was opposed to the plan as Keeney's men had nearly all gone to help find the cattle and depended on us to stay until their return. If we left it would take five able-bodied men and weaken the guard to that extent. I told him that I proposed to wait until we heard from the hunters and I was sure we would get some of our oxen. I told him that I felt honor bound to stay till we heard from the hunters. He said, "I feel that this is a provential opportunity to get help and I am bound to accept it. But you can stay today and keep the young mare and come on tomorrow, oxen or no oxen." So we parted and that same evening two men came in with a large band of cattle, among them eight of ours and seven of Jones, and said they found them on the south side of river nearly fifty miles below.
MAY 24-
The last of the hunters came in. Keeney still has about 50 head gone, while we have four yoke of our best oxen gone and Jones and the boys who we started with left their wagons and found places with other wagons.
JUNE 9-
Today traveled about 20 miles and on the North Platte. Our company consist of Charles Keeney and family, Mr. Brown and family, Mr.Foster and family, a Mr. Chillar, who is driving Grandma Keeney's team, Father's family and several young men.
JUNE 11-
Traveled over rocky, dusty, hilly roads. Passed the bridge on North Platte. It is a poor temporary affair and not used very much. Today Silas Keeney killed a porcupine. Found camp on the river.
JUNE 21, 1851-
Started once more in company with Keeney, Brown, Foster, James Gould.
JUNE 29-
Sabbath. We laid by and Father preached in Keeney's tent.
JULY 5-
Keeney's company passed us in the night, but in about two miles we came up with them. They had stopped on account of a horse falling down with one of the boys. We went on together and soon came to a level and sandy sage plain some six miles in extent. A discussion arose as to whether we should guard our cattle at night. Some said it was no use to guard as the Indians would not steal cattle, but some said it was as necessary as it had been, so we agreed to put it to a vote whether we should guard our oxen. The affirmative were Johnson, James Gould, Foster, and all their men. The negative were - R. Keeney, Brown, Huntley and Tates. So Huntley proposed to divide the camp.
JULY 10-
By leaving one wagon and putting horses to the other, Keeney and Brown doubled up and Mr. Gould turned his oxen over to the Huntleys to be delivered to him in Oregon.
JULY 14-
We started early over very rough road to Rock Creek, but Mrs. Keeney was taken very sick and could not go on, and as Keeney wished to wait a few days for his brother to come up, they insisted that we go on and leave them. So we went on and left Keeney and Brown and in about fifteen minutes came to Rock creek.
This was the last entry that mentioned the Keeneys, however, part of the Diary was missing from July 26th to Aug. 16th, 1851. The last entry stated: "A few miles brought us to a long steep hill which we then desended to TYGH VALLEY, a beautiful little valley. Found good camp, with wood, water and grass." It goes on to tell of their journey through the mountains and the arrival at Foster's place, which was the emigrants resting place, but it does not mention the Keeneys in its final recordings.
---
The following is from the
Willamette Record
- Published by Chapman Co. Chicago - 1903.
Elias Keeney on his return to Oregon settled down to stock raising with good success until the year 1856, when on hearing of the Indian hostilities in southern Oregon, he went to join Captain Blakely's Company of Volunteers and they moved out to engage the savages in the field. This was later called the Rogue River Indian War, and he remained at the battlefields for three months of skirmishing with the Indians and in policing the country. In early 1857 the war was at an end and Elias was back on his Brownsville farm.
From a wilderness in the woods, Elias Keeney established a farm, consisting of some six hundred and forty acres. In 1859, his wife Margaret died of T.B., leaving four children. Of these, Eli resided in Phoenix, Arizona and died of T.B. in 1905. Rebecca was also deceased; Emma had an unhappy childhood, having rheumatic fever and was kept home from school to care for the younger children and do the heavier and harder work on in the household. When she was older, she married James McHargue, and lived for many years in Shaniko, Oregon where they operated the Old Shaniko Hotel in the early 1900's. John was a farmer and stockman, and died in albany Oregon in 1940. He never married.
On June 28, 1860, Elias married Lucinda Van Winkle, who was born in Tennessee. Nine children were born; George W., Rhoda, the wife of James Bond; James M. of eastern Oregon, who became the owner of the famous Columbia Southern Hotel in Shaniko, Oregon - 1905 to 1911; Edward Elias, deceased - died of T.B.; Homer J., died at the age of 24 in Portland, Oregon; Phillip Clark, also died of T.B.; LeRoy J.; Ilena "Lena", who was an educator in Shaniko, Oregon; and one child who died in infancy. Elias' wife Lucinda died in 1887.
The third marriage of Elias, which occurered in 1887, was with Mrs. Matilda Noffsinger, who was born in Missouri, as was her father, Hiram Lee, a native of Cape Girardeau Country. Mr. Noffsinger crossed the plains in 1863, locating near Cottage Grove, Lane County where he bought land to farm, and later died there in 1883.
Elias Keeney was a member of the Methodist Episcopal Church, in which he was an officer, and whose support of the Church was very liberal, as he was a frequent contributer. He was unquestionably the friend of education, and during his residence on the farm served for many years as school director. He also served the Republican Party as a road supervisor for many years., but has never sought public office or worked for other interests other than those of his friends.
In 1891, he moved to Eugene to better educate his younger children. In 1900, he went back to the farm, and in 1901 located in Brownsville, purchasing a little property on the south side, where he erected a confortable home. Elias was a resident of the Brownsville area for over 60 years. He died December 20, 1910 at Good Sameritan Hospital in Portland, Oregon, after a prolonged illness, and was buried at McHargue Cemetery, near Brownsville, Oregon.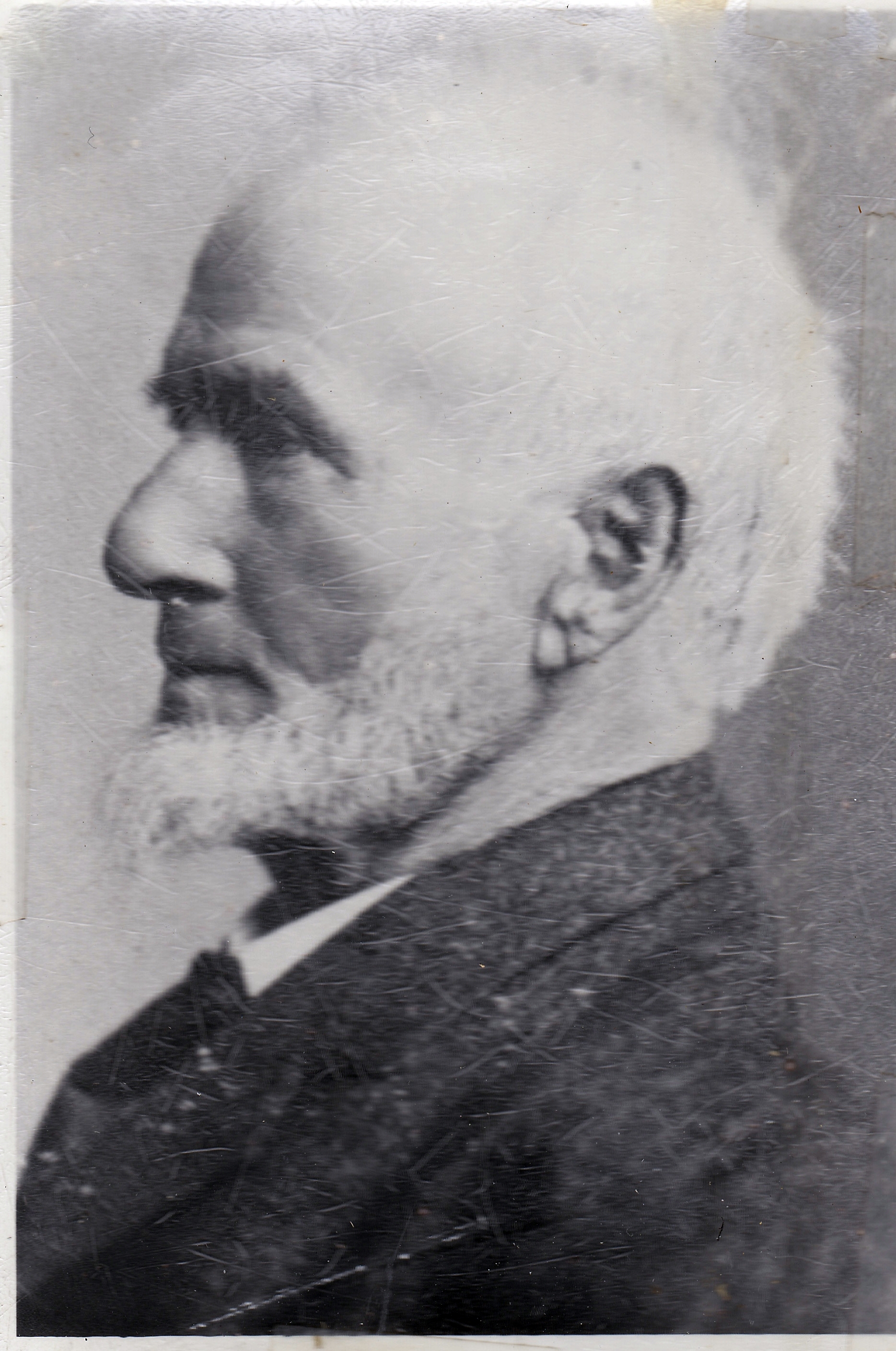 ---