Alice was born February 11, 1905 in Mason City, Iowa. Her only brother, Albert L. Crall, was born on February 15, 1906.
At a very early age, and before she could remember, her Father moved the family to Manchester, Iowa, where Alice and A1 started to school. Her Father, being very handy with carpenter tools, built them a nice home there. It is not known what kind of work he had done in Mason City, but after his arrival in Manchester, he was employed in a plant manufacturing concrete blocks.
Her Father rode a bicycle to and from work, and each evening Albert and Alice would run down the road to meet him. Whoever reached him first got to ride home on the handle bars. Alice was Fathers' "Little Girl", and Albert was Mothers' "Little Boy". A baby Brother, "Loyd" had been born, but died as a infant.
Working in the concrete block plant, Ralph Daniel inhaled the concrete dust in the air. When he would leave the door open to get more ventilation, the boss would come by and close it. His lungs. soon became clouded with dust, and medical problems developed. On May 13, 1914, he passed away at the early age of 35. Alice was very sad because of her Father's passing, but also very brave. When she saw her Mother crying at the funeral, she tried to comfort her by saying; "Don't cry, Mother. Father is in Heaven."
The family remained in Manchester for two more years and Alice and her Brother continued in school. Alice's Mother had taken a job as a cook or waitress in a hotel to help support her children.
Coming or going to school there were some kids who would tease Al, and Alice, being the older, stood up for him. Once a kid got into a fight with Albert, and the boy was getting the better of him. Alice noticed that this kid fought with his tongue sticking out. "Hit him under the chin!" cried Alice, and A1 did. This caused the boy to bite his tongue, and he ran off for home crying that he had been murdered. Another time, three boys were picking on A1, and Alice pitched in to help. One big boy was then wrestled to the ground and she started kicking him. When he got up, he and the other two boys had had enough of those Crall kids. They took off on the run and never bothered them again.
While Alice's Mother was working at the hotel, she met Cecil Self. Then he left Manchester, Iowa and went to Townsend, Montana to work on a ranch. After becoming settled, he sent for Alice's Mother and family to come and join him. After they arrived, he and her Mother were married.
Alice was now about 12 years old, and tall for her age, nearly a young woman. She had a nice voice and loved to sing. A miner in Townsend had heard her singing and became very enthusiastic, even to the point of going to her Mother and Stepfather, and asking if he might marry her. It was rumored that the miner was nearly a true millionaire, however he was told that Alice was too young to marry and the romance was ended for him.
In Townsend, Montana, they lived in a log house that was erected on the banks of a branch of the Missouri River. One spring, at flood time, the river became jammed some miles above, and word was sent down to them to prepare for a flood if the gorge broke. 2 x 4 lunber was used to build stands, and all the household furnishings were placed up on these. The family moved upstairs and out onto a balcony over the porch. The gorge did break, and the water came up into the house. Most of the things were safe up on the stands that had been built, but it was too deep to wade out to the higher ground, so the family remained on the porch balcony until some men came by in a canoe and carried them to safety.
Alice said that the flood sure left the house in a mess, mud everywhere. She waded around in high rubber boots helping to clean away the mud and get things dried out so that they could live in the cabin again.
Then came the summer, and you would never have dreamed that there could ever have been a flood there. At the back door of the cabin, a walk had been built by laying down 2 x 4's and nailing slats across them. Going out the back door one day, with a basket of laundry to hang on the drying lines, Alice found a large rattlesnake laying in the shade of the walk. She ran to tell her Mother, and her Mother grabbed the rifle to shoot that rattler. She fired and missed the snake, which crawled back under the walkway. Later in the day, Self's sister came over to visit and learned about the snake. She took the rifle and went out to look, and there it was again. Another shot was fired, and another miss, and the snake retreated to its hole under the walk. When Self arrived home that evening, he was told about the snake, so he went to investigate. It was laying back in its favorite spot beside the walk. Self did not bother to get the rifle, he simply took the garden hoe, which was leaning against the side of the cabin, and in one whack, cut off Mr. rattler's head. Alice said she and Al watched that snake's tail, still wiggling, until the sun went down. No other rattlers were to appear, so that must have been the only one.
This old cabin is still standing on the river bank, and has now been made a Historical Landmark. Albert, in his later years, was to return to visit it and brought back a picture to give to his sister Alice.
When Alice was 13 years old, the family moved to Woodburn, Oregon. Her Mother and Self operated the Old Commercial Hotel there. Alice began working as a waitress in the hotel dining room. She also loved horses, and her stepfather taught her to ride.
The United States had entered the War against Germany, and there was a big Patriotic Rally given in Woodburn to raise money for War Bonds and The Red Cross. Alice was chosen from the school children to be in a pageant representing one of the 48 States.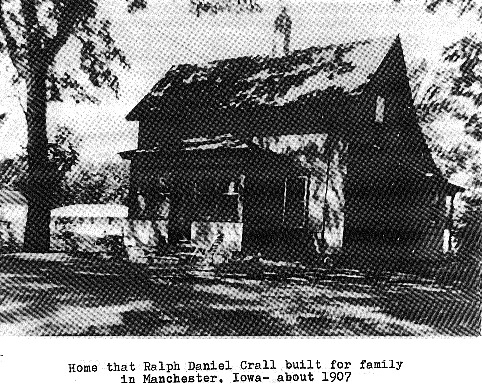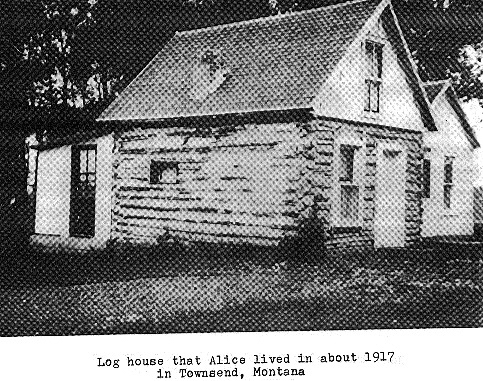 Dressed in a long, white dress, flowers in her hair, and a red, white and blue banner across her shoulder, she took her place. They sang such songs as; "Oh, Liberty Bell, It's Time To Ring Again." As they sang "Dixie Land", young boys, dressed as soldiers, marched onto the stage in front of them. That evening, there was a performance given of the play, "Freckles", and the Bond Rally in the town of Woodburn was a great success!
Alice was nearly 14 when her parents sold the hotel and went to Portland and started up the Colombia River Road to Condon, Oregon, traveling by wagon and team. Alice had her own pony, and rode horseback most of the way. They were one of the first to travel over the new highway that was being opened up through the Columbia Gorge from Portland. They were told to drive between the survey stakes, and to be careful not to knock any down. They came up the river, camping along the way. Their final camp was at Rock Creek between Arlington and Condon. In Condon, they found work; her Mother cooked for Charley Richmond and Alice's Stepfather, Self, worked for Paul Oscar Maley.
Alice and brother Albert started to school in the Old Condon Grade School. It was a large wooden building that was later torn down. Mrs. Lulu Searcy was her teacher in the 6th grade, and later was to teach Alice's older children when they were in grade school. Mrs. Searcy taught school for many years in Gilliam and Wheeler Counties. In the early 40's, she was still teaching in Kinzua, Oregon, and taught Ralph Keeney's wife, Roberta, when she was going to school there.
One day Alice was in class and had finished studying her lesson, so she took off a ring which she had found when they were living in Woodburn. Inside the ring was inscribed some dates, and Alice was writing them down on a piece of paper. Mrs. Searcy saw her and asked for the note that she was writing. Alice refused to do so, or to explain to the teacher what the dates were about, so Mrs. Searcy brought out her leather rawhide strap and gave her a good thrashing with it. This was the only whipping that Alice ever got in school, and it indicated, to a great extent, the 'Dutch' stubborness that is still with her to this day.
While in Condon Public School, she tried out for the Girl's Track Team, and was chosen to represent her school at a District Meet to be held at The Gilliam County Fair in 1919. Schools were competing from - Morrow, Wheeler, and Gilliam Counties. Alice took off her shoes to run the 50 yard dash and won! She was a member of the relay team which also won. When it came to the basketball throw, she took second place. Condon had enough points to win the Track Meet for that year, and the Gold Cup is now in the Condon Public School trophy case.
Her Stepfather, Self, had rounded up a herd of horses and was going to drive them from Gilliam County across the John Day and Deshutes Rivers into Wasco County and sell them. Alice went along to help drive the horses and do the cooking. She had a fine saddle and saddle horse, that her Stepfather had given her, and she enjoyed the drive very much. When they were near Wasco, they went into camp and corraled the horses. Alice was left to watch the horses. Self and another man went into The Dalles to bring out a prospective buyer. The following day they arrived and the sale was made, so they returned to Condon. Alice said that it was sometime later when she learned that the horses they had sold had been stolen!
Her mother and Self were soon divorced and he was arrested and convicted of being a horse thief and sentenced to a term in the State prison. Alice jokingly said that if they had been cought while she was helping herd those horses, she might have been strung up as a 'Horse Thief'.
She graduated from the 7th grade at the age of 14 in 1919, and met Willard at an Armistice Day dance that year in Condon. Later she married Willard at Walla Walla, Washington on August 23rd, 1920. Her two oldest sons were born in Walla Walla, but Alice and Willard returned to live in Condon in 1924.
Alice had received a few hundred dollars from the settlement of her Father's estate, in Manchester, Iowa, so she purchased a small house in the southeastern section of Condon. It was there that the family lived for a time, until Ida Dee was born in 1929.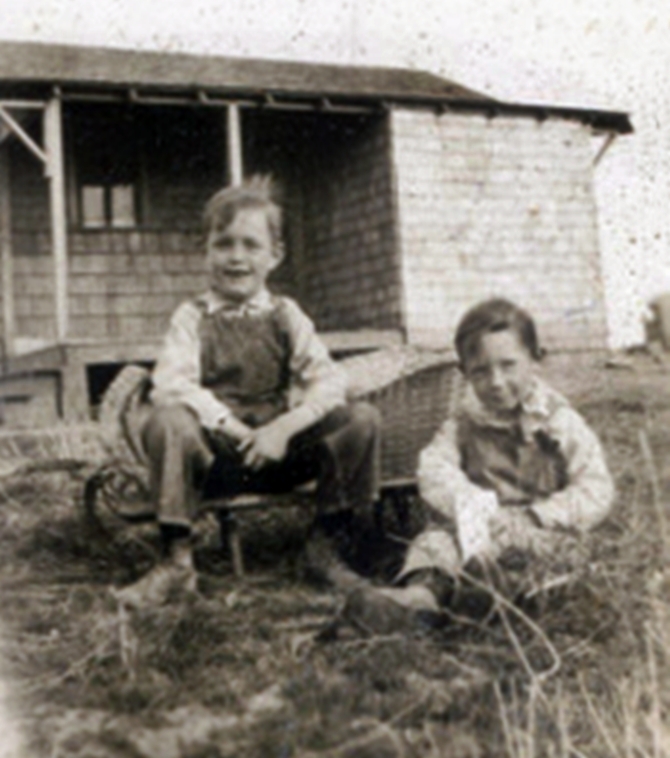 Jack and Ralph Keeney
Condon, Oregon
About 1928
(NOTE: This is a replacement photo not the exact one that was in the book though the caption in the book is exactly as above and this photo is of Jack and Ralph in Condon in 1928)
The country was now in a depression, and work was hard to find, so Alice and Willard moved to a small farm about five miles southwest of Condon, located in Snipshone Canyon.
Alice was a hard-working, devoted wife, and a very loving mother. Work on the ranch was hard, especially with the care of four children and the daily household chores. There was no electric power on the farm and running water in the kitchen only when the hand pump was in working order. It was frozen in the winter, or the washers were to dry in the summer, so all water had to be carried in a basket from the spring then. The wood she burned in the kitchen stove was mostly sagebrush, and it did not make a very hot fire. She had to stand over this hot stove to cook all the meals, or to heat the irons to do the ironing. The lighting in the house was furnished by kerosene lamps, and we carried a hand lantern to the barn or outhouse. Hot water for the laundry had to be heated on the cook stove in a large copper boiler, and we heated water the same way for baths that were taken, at least on every Saturday night in the largest washtub. Mother did own a gas-operated Maytag washing machine, but if it was out of gas or oil, or refused to start, she went ahead and scrubbed the clothes on a washboard and then put them through the old hand crank wringer. Of course, with no modern dryer, they all had to be taken out and hung on the clothes lines to dry. In the winter time, when it was too cold or damp out, they were hung on lines on the back porch or in the kitchen.
Alice had Willard and the boys plant a vegetable garden, and from this, she supplied the family table with most of their vegetables. The farm had a good orchard, so apples, prunes and pears were served fresh, when ripe, and canned for winter use. Wild berries were picked from the hillside and along the creek, and made into jellies and jams.
Most of the outside chores were done by Willard or the boys, but if the woodbox ran out of wood, she could swing an axe about as well as anyone to keep her kitchen stove burning. She did a lot of patching and mending of clothes for the family, but did not make much of their clothing, except such things as ear muffs and mittens. For her daughter, Loa, she did make several bib type overalls to keep the child warm and clean when she was out playing.
It seemed that Mother's work on the farm was never done, yet nearly every evening, when the supper was over and the last dish washed and dried and in its place in the cupboard, the family would gather around her chair in the living room. The Kerosene lamp would be turned up a little and she would read a chapter or two from a favorite book. Some of the books which she read were: "The Rover Boys", "Tom Swift", or a story by "Horatio Alger". If no hardback books were available, stories from Wild West Weekly Magazine or the Oregon Farmer would be read. We all went to bed thrilled over what had been read, and wondering what would unfold in the chapters to be read in the coming evenings. There was no radio in the Keeney household, although some of the neighbors did have battery-operated sets. Willard and Alice owned a small hand-cranked phonograph and a good number of records, and these could be played for a good evening of entertainment. Both Willard and Alice had little time to spend outside playing with their children, but they did find some time to play such games as checkers, dominoes or other parlor games with them. In 1932, when the family moved back into Condon, things were a little easier for Alice, even if the family had now increased in size, because now she had running water and electricity in the house.
Willard was working as a cook at the C.C.C. camp in Condon, and Alice was taking in an occasional laundry to earn extra money to subsidize his low income. On many occasions, she would still be at her ironing board late in the evenings. No matter how tired she must have been, or sad or discuraged, she would always say; "Come tomorrow, things will be better". She went about her work with a song to us all and things did get better.
She said that Willard's drinking habits did bother her, but she had known that he drank before she married him, and more or less grew to accept it; except for the one time when he indulged far too much. She told him if he continued she would take a long walk down the road and never come back. He heeded her warning and moderated his drinking.
World War II came along, and most of the children married and left home. After the war, William and Bessie Jo finished school and went off on their own. Willard and Alice were left alone. The children visited them often and they were settling down to enjoy their grandchildren when Willard became very ill with bleeding ulcer attacks. Alice nursed and cared for him until it was finally determined that it was necessary for him to have surgery on his stomach. He was at the Veteran's Hospital in Portland, scheduled for the operation, the day he died. Alice was on her way to the hospital that morning when he passed away. Cause of death was given as "hardening of the arteries, or heart attack."
Alice remained in Condon for a time until her mother passed away in Walla Walla, Washington in 1969. and willed her apartment house to Alice in that city. She went there to look after her interests, with the intentions of returning to live in Condon later.
In the spring of 1980, Alice developed stomach problems, and entered St. Mary's Hospital in Walla Walla, for an examination. It was determined that she had gall stones or bladder trouble and so surgery was needed. After the operation, test showed that she was still losing blood, and had developed stress ulcers. They operated again, and after this surgery, the platelets were too low and she continued to bleed. Her condition became very grave, and at one time, she was very near death. The doctor said that he had done all that could be done for her. Her children all arrived to be near her, she was not expected to live through the night. In the morning, she was still alive, and a true miracle occurred. Her platelets started to function and the bleeding subsided. She was past the crisis! Later, she said that even at the lowest time, she knew that she would not die. The doctors and nurses had done so much to keep her alive, she just wasn't going to let them down! I don't think that was so much of a miracle as some thought, but just another show of Alice's 'Dutch Stubborness'. She had an amazing recovery, and was soon back in her home again. For awhile she was using a walker, later a cane, and now has abandoned that for use only when it is wet or slick weather. She has never returned to live in Condon, but goes there several times a year to look after her property. She still needs medical care from time to time, and her doctors are in Walla Walla. Alice frequently goes to visit her daughter Loa, in Irrigon, her daughter and son, Ida and Ralph, in The Dalles, Oregon, and she gets frequent visits from the other children who come to Walla Walla to see her.