K
eeney
F
amily
G
enealogy
online
newsletter
---
---
Welcome to the KFG online newsletter. The purpose of these pages are to get Keeney Researchers together & share information on our surname. I would like to fashion this after The Keeney UpDate, that Roscoe C. Keeney, Jr., puts out about 4 times a year. So in that reverence, I hereby ask Keeney researchers for donations of information, in order to accomplish this.
---
---
Merry Christmas & Happy New Year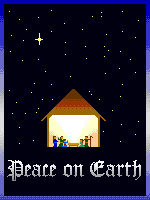 ---
Looking for.....
Donald Lee Keeney is looking for information on his ancestors.
I'm looking for information on Frank Jesse Keeney.
The my line runs this way.
Great-grandfather-Frank Keeney, Grandfather Cecil C. Keeney, Fathers name-Myrle Jesse Keeney
All lived in Oklahoma.
Frank was a brick and stone mason in the Honeywell Kansas area in 1894-95
---
The following items were found online :
The minutes of the Big Pigeon Baptist Church, giving reference to Jonathan Anthony Keeney being given liberty to preach on 01 august 1812. Other Keeney's also listed in the index. This was found by Dr. Gregory L. Watkins (a third great-grandson of J. A. Keeney).
In checking out the above I also found;
History of Greenbrier County West Virginia
....It is principally drained by Greenbrier river, and its tributaries; but from its western border numerous creeks flow northwestwardly into Gauley river, the principal of which is Sewell's creek. The mountains are covered with a growth of large timber of various kinds, and are infested with reptiles, such as the rattlesnake, copperhead, blacksnake, &c.
---
Volume XV, Number 4 December 1998
BLANCHE KEENEY STEPHENS INJURED
Blanche Keeney Stephens, family genealogist and authority on the PETER KEENEY family, was seriously injured last month when a town drunk ran a red light and plowed into her car, as well as another car. She suffered fractured ribs, whiplash, shoulder & back sprains and other pains. All of the cars were demolished.
Blanche has past away
An updated printing of the book Rev. Jonathan Anthony Keeney and His Descendants is now being prepared. If you have material which she could include, or pictures of early Keeneys of this family, or wish to reserve a copy, please notify Patricia Foulke Kaufman (a third great-granddaughter of J. A. Keeney).
Patricia has passed away
---
As some of you may know Bill & Carol Keeney moved to Ireland at the end of September the new e-mail address to reach them is ckeeney@tinet.ie (Bill wrote the Pre-American History on the Keeney surname)
---
01 December 1998 22:51:46 -0800