Betty
C. Richards
Daniell:

I am forwarding you two pieces of information regarding Keeneys that I've acquired in the past couple weeks. I hope it will be of interest to you and may be something you can use in the Keeney Family Newsletter.

A grandson of mine loves to browse books at Barnes & Noble. He came across this information regarding John R. Keeney in the book "High Country Communities" by Bob Powers (1999). I looked in several other books for further information regarding this area during the gold rush era and have not been able to get anything more at this time.

Do you have any information on a John R. Keeney? If settled Keeneysburg around 1859, he may have been born anywhere from 1814 to 1838; which would place his age at approximately 21 to 45 when he founded the town. On page 121, it mentions a wagon train that came from Missouri to this area in 1844; but it does not say if he was in this group.

The second Keeney I'm sending information on was mentioned in a concert I attended last week! The concert was "Funny Girl", which was based on the life story of Fanny Brice. Some of her acts were performed in the Keeney Music Hall. I looked in the library for a list of vaudeville theaters in New York City during that era, with no success. However, in the book " The Fabulous Fanny" by Norman Katkov (1952/53), I was able to get the information I'm sending to you. It mentions that the Keeney Music Hall in Brooklyn was owned by Frank Keeney and that he owned two other theaters. I have not been able to find out the names of those or where they were located.
---
Note both of these books should be available at local libraries for those who do not want to purchase them or would like to review them before making a purchase.
---
High Country Communities by Bob Powers (1999)
Format: Hardcover ISBN: 0870622943 Pub. Date: May 1999 Price: $25.00 @ Barnes & Noble
The map was on 2 pages (#s not known ~D) and they don't match up exactly but at least you can see where Keeneysburg was located.
(Click map to see a larger one).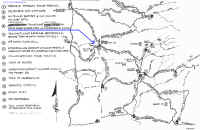 The following excerpts are from pages 119 - 120 entitled "WHITE RIVER"
The early history of the White River Mining District, which is sixty miles east of Visalia, is very sketchy because all there is to refer to is newspaper accounts and a few stories handed down by descendants of the mining families that lived there from the 1850s to the 1970s.
The town that sprang up there was first called Keeneysburg after John K. Keeney who had the first claim there. On November 26, 1859, it was reported in the Delta newspaper printed in Visalia, that the post office at Keeneysburg was being run by Mr. A. Reid. There were two stores, one known as Reed & Company, and the other, Reinstein and Company. There were two boarding houses, which were probably just tents, where miners could find food and lodging.

One of the, two "boarding houses" at Keeneysburg possibly belonged to the Cummings family.
By November of 1860 most of the mining activity and the town of Keeneysburg had moved from Course Gold Gulch to Tailholt (later called Sextonville and after that called White River), which was one mile away on White River. After Keeneysburg was abandoned for better strikes on White River it was known by several other names including "Chinese Camp" because the Chinese moved there when the miners left. It was also called "Dog Town" or "Prairie Dog Town," because there where so many ground squirrels around.
In 1999 there are few visible signs left of the old town of White River. The last building that stood on the site was the Mitchell Hotel and that burned in 1935. You can still find the water tank above the town and the water well that supplied Mitchell's hotel. Northeast of the old town site you can see the remains of the community cemetery with a few headstones.
---
The following are excerpts from chapter 1 LEW BRICE "I'm the People's Choice." of:
THE FABULOUS FANNY: THE STORY OF FANNY BRICE.
Author: Katkov, Norman. Condition: 1953 HC G/G G/G. Format: Hardcover / Dust Jacket Barnes & Noble Price: $67.60
Associated Dealer: Pondview Books
Keeney's Theatre in Brooklyn, "said Lew Brice.," that's where Fanny started. Fourteen years old. I'm a year younger. She out front singing in amateur night and me back behind the curtain, fighting the stage hands for pennies.
Lew lit a half smoked cigar as though the match were a dollar bill. "One night the kids show up around our stoop and everybody's going to Keeney's Theatre for the amateur night. Fanny and I never even heard of it. They tell us it costs a quarter to get in, so Fanny takes me and the flashlight and we make a couple of back yards, her singing and me collecting. In an hour we got the price for both of us."
"Next thing I know," Lew said, "we're in the wings behind Frank Keeney, and we're watching those amateurs. He's got our names, but I'm fast on my feet. Then I see that the curtain is up about six inches from the floor and I spot those stagehands picking up the coins.
"Next thing I know," Lew continued, "Keeney announces some guy, but nobody makes a move. The audience is clapping their hands and stamping feet and Keeney grabs Fanny by the arm and shoves her out there."
"You should have heard her that night," Lew said. "She never had to learn a thing about singing a ballad, she had that from the beginning. That theater quieted down like somebody had hung a smallpox sign over the door.
"They started with the money. I hear it falling and take a deep breath and go past Frank Keeney and I'm behind there with the stagehands."
After the show Frank Keeney learned that Fanny had never been in an amateur night before. He told her he owned two other theaters and wanted her to appear there the following Wednesday and Thursday nights.
---
NOTE none of the items below came from Betty. But since she was the first one to bring this subject to my attention I thought it would be the best place to put the information.
Frank Abner Keeney 1868 - 1958
The first time I heard about the Keeney Music Hall was on November 20, 2001 by way of Betty C. Richards at the time I tried looking it up online and didn't really find much on it. I then got busy doing other things and it slipped to the side of things to do.
Then in the 2009 issue of KFG I was asked if I knew anything about Frank Keeney who owned the Keeney Theater in Brooklyn, NY. I looked online again and found a little bit about the theater and it's owner. It got pushed aside yet again and then at the beginning of the summer 2014 I dug up quite a bit about Frank Keeney and his several theaters. As far as I can tell all were vaudeville theaters when established and then movie screens were eventually added and both types of entertainment were offered.
In attempting to research the Keeney Theaters it looks like that around 1926 Loews bought out 3 of the theaters that Frank had, as near as I can figure out the names appear to be this way.
Keeney Music Hall (Keeney's Theater) 1915 - 1926 was located at
300 Livingston Street, Brooklyn, NY 11217
when sold 9 June 1926 it became Loews Livingston Theater then was renamed in 1928 to Loews Melba Theater which was demolished in 1954 and is now is a four level parking & commercial building.

Keeney's Bay Ridge 1921 - 1926 was located at
7120 Third Avenue, Brooklyn, NY 11209
became Loews Bay Ridge Theater now it's a McDonalds and Rite Aid

Keeney's Bedford Theater 1924 - 1926 was located at
1372 Bedford Avenue at Bergen Street Brooklyn, N.Y. 11216
became Loews Bedford Theater is now a church.
I keep finding more theatres that he owned and will just add them to the PDF below. Newspaper advertisements from 1909 also found a Keeney's Theatre at 323 Wall Street, Kingston, New York that was built in 1918/19
Mentions of Keeney Music Hall and Keeney theaters