Keeney Family Genealogy
Online Newsletter
---
---
---
Welcome to the newest newsletter members:
---
Hi Everyone ,
It's almost January & time for the New Year, I hope everyone gets through the Y2K bull all right. I think rather then add (Editors note: to my comments in items below that this months I'll just use GREEN text instead).
I'm posting this on Christmas eve & will send out the notification that its up on Christmas morning, I hope everyone has a great day.
~Dan
---
---
From the inbox.....
From: Carolyn J. McQuaid Thomas Western37@aol.com
Date: Thursday, November 25, 1999 10:18 AM
Subject: Keeney Family Newsletter - Vol. 2, #1; December 1999
Hi Daniell,
What a Thanksgiving delight! Thank you for sending the link to me, so I could see your treatment of "A Genealogist's Christmas". Your newsletter is arguably the best family newletter I've seen online and I'm proud to have been a part of this issue.
Best wishes to you and all the Keeney Klan. Happy Holidays!
Sincerely,
Carolyn J. McQuaid Thomas

ps. May I put in a word for my own Super Eight Surnames? I'm researching: McQUAID, SHOOP, HEYD, RICHMOND, FISCHER, GERHARDS, BAUER, LANGHEINRICH, THOMAS, AND TIPTON. Thanks! One never knows where one might strike gold!
-Cari
&&&&&&&&&&&&&&&&&&&&&&&&&&&&&&&&&&&&&&&&&&&&&&
From: R. Max Keeney <maxkeeney@erols.com>
Date: Sunday, December 19, 1999 19:20
Subject: Signup for KFG newsletter
I'd like to sign up for your newsletter! Richmond M. (Max) Keeney. Interestingly I came across this web site as a result of Carolyn McQuaid Thomas' dad (a long time friend) sending me a copy of your e-mail letter re: her "A genealogists Christmas". What a new and connected world! But it's nice to find you.
---
Some corrections & updates have come in;
Name: John K Dair <j.dair@worldnet.att.net>
Date:: Sunday, December 12, 1999 07:42
Subject: boy/girl Battey
Hi Dan--I show in the Samson Battey & his descendents book that it is Edison Temple Battey that m. Marie McGlothlen. They had two children: Frances b. ---------- & Helen b. ----------, also show that Helen m. ---------- Warren Wilson Jr. b. ----------.
I also have been informed by my Aunt (who's 82 yrs. old) that when the name is spelled as Frances it is a girl, the spelling for a boy is Francis! (She had to tell me that quite a few times, so the last time she REALLY used !!!! marks.)
Hope this may help you--Su
---
Bridget is a gg granddaughter of Samuel Thomas Keeney
Name: Bridget Kiefer <bkiefer1@earthlink.net>
Date: Sunday, December 12, 1999 11:22
Subject: Re: Keeney
The following is the Keeney history that was presented to me by my gr. Aunt Leona. It came to her through a cousin's bible.
1 Keeney m. ? children = Jonathan, (Herana – must be mis-spell as all other sources refer to this child as Hiram), John, Nancy
"Many years ago a man by the name of 'Keeney' came to America from Germany. It is presumed his children were most, if not all, of American birth, since they talked the English language. His children were first located in East Tennessee. The only names of children remembered are those above. There were others."
2 Jonathan Keeney m. Mary McGlothlin in Tennessee children = John H. (m. Mary Krugand) Charles (m. Mary Black) Jonathan (m. Matilda Walker) Elizabeth (m. Lancing Harrison) Samuel T. (m. Elizabeth Kessler) Nancy Ann (m. Samuel McCoy) Peter (m. Dulcina Shirley) Mary H. (m. Abel Harrison/William Edwards)
3 Samuel T. Keeney b. 2/21/1818 d. 12/11/1900 m. 2/2/1848 to Elizabeth Kessler b. 7/6/1828 d. 7/29/1912 children = Benjamin Kessler b. 11/28/1848 d. 12/3/1912 John Franklin b. 12/29/1850 d. 1/26/1851 George Krysher b.2/19/1852 d. 10/8/1935 Charles William b.10/10/1854 d. 5/25/1857 Joseph Albert b. 5/16/1858 d. 8/28/1902 Nathaniel Francis b. 12/21/1860 d. 1/13/1932 Edman Marion b.12/18/1862 d. 1927 Samuel Perry b. 1/2/1866 d. ? Elmer Ashley b. 9/10/1868 d. 6/10/1941
4 Edman Marion m. Elizabeth Ida Shuler b. 8/1/1865 d. 3/4/1954 children = Jesse Francis b. 8/19/1885 d. 3/3/1964 Gertie Bells (m. Earl Campbell) b.8/18/1887 d. ? Everett Marion b. 2/4/1889 d. 12/9/1918 ("died of black lung, did have one child who disappeared with mother after Everett's death") Fred Milfred b. 6/15/1892 d. 6/24/1971 (family legend has it that Fred went to the S.W., started his own religion and married 5 times – no idea if this is all fact) Minta Elizabeth b. 5/31/1894 d. 9/10/1974 Cora Olive b. 5/13/1900 d. ? (m. Earl Byers) Leona Ida b. 9/4/1903 d. ? (m. Paul Reed/?/? "first husband died from gunshot by moonshiner – 1931 or 1932 , while being taken up court house steps by Paul…he was a revenuer during prohibition") Irvin Lloyd b. 3/31/1907 d. 5/30/1926 –"drowned"
5 Minta Elizabeth Keeney m. Thomas Arthur Tracey b. 3/17/1884 d.11/10/1953 children = John Edmund (m. Margaret Ann McPhee) b. 1/24/1919 d. 10/19/1998 Thomas Keeney (m. LaDonna Mae Vondell) b. 3/6/1921 d. 1992 Richard Dale (m. Helen Rothwell) b. 2/13/1923 d. 7/8/1996 Robert James (Ruth Mae Rothwell –sister of Helen) b. 5/4/1925 d.5/1990 Martin Francis (m. Joan – she is native of Japan and took the name Joan when she married Martin, her birth name is not known to this writer) b. ---------- still living Arthur Ambrose (m. Carol Bradbury) b. 6/3/1929 d. 7/1990 Patrick Alphonse (m. LeEtta Hill) b.---------- still living
6 John Edmund Tracey m. 7/26/1947 to Margaret Ann McPhee b. 9/7/1920 d. 6/22/1983 children = Margaret Susan (m. Bruce Tiffany ) b. ---------- Maureen Elizabeth ( m. Kenneth Snyder) b. ---------- Mary Ann b. --------- Bridget Katherine (m. David Scott Kiefer – divorced) b. ---------- Thomas James (m. Ting Abnon – native of Thailand) b.---------- Michael Joseph b. ---------- (there was a stillborn boy born in 1953)
7 Bridget Katherine Tracey m. ---------- to David Scott Kiefer b.---------- divorced ---------- children = Kevan Patrick b.----------
There is some further information regarding my grandmothers siblings i.e. their children. If you are interested let me know. I also have some information regarding Elizabeth Kessler's ancestry. If any of this is factually incorrect please let me know as this was given to me after being copied at least twice, once out of bible to my gr. Aunt and again when she copied it and gave it to me. Anything in quotes is either directly out of her text or told to me by my uncles. Again, it was wonderful reading all the information you have gathered and it is nice to be in touch with you 3rd 'half' cousin or not. Bridget
---
6 Generations of the
Descendants of Samuel Thomas Keeney (1818 - 1900)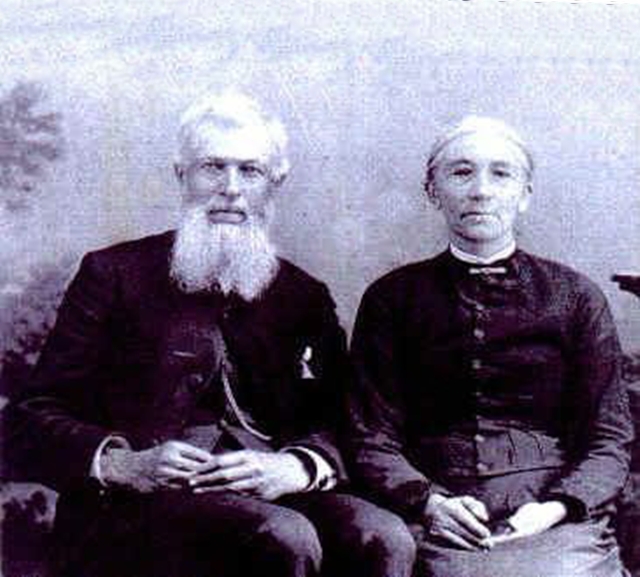 Generation No. 1
1. REV. SAMUEL THOMAS1 KEENEY1 was born 21 February 1818 in Crawfordsville, Montgomery Co., Indiana1, and died 11 December 1900 in Carlisle, Warren Co., Iowa1. He married Elizabeth ETHEL KESSLER1 02 February 18481. She was born 04 July 1828 in Carlisle, Warren Co., Iowa1, and died 29 July 1912 in Anthony, Marion Co., Florida1.
Notes for REV. SAMUEL THOMAS KEENEY:
!Sources
1. Keeney Update - January 1994
THERE IS SOME CONTROVERSY ON ELIZABETH MARTHA'S BIRTHDATE ONE SOURCE SAYS
28 FEB 1811
Reprinted from & published in the Keeney UpDate Volume VI, Number 2 May 1989
HISTORY OF WARREN C0. , IA 1987, p. 713, 718
Rev. Samuel Thomas Keeney
The Rev. Samuel Thomas Keeney was born February 21, 1818 near Crawfordsville, IN. He was married to Elizabeth Ethel Kessler February 2, 1848. Soon after their marriage, they came to Iowa in a wagon. It took them three weeks. They settled on some land near Carlisle. Like his father and grandfather, he was a minister in the Regular Baptist Church. His grandfather, the Rev. John Jonathan Keeney, was born at Keeney Knob, WV. His father the Rev. John Anthony Keeney was born at Jefferson City, TN. His mother, Mary Hannah McGloathlin, was born in Greenbrier Co., WV. They were known to be a religious family. Both parents are buried in the Avon Cemetery.
Not much is known of Rev. Samuel's early life to the writer, except for his ministry, visiting the sick, comforting the bereaved and performing marriages, as he traveled by horseback or buggy.
The first tax he paid was for $.40 in 1850 for taxes in 1849. The writer has most of his paid tax receipts up until the time of his death December 11, 1900. Also the family Bible bought in 1856.
Soon after his death, Elizabeth went to live with her son, Elmer and family. She told of the time, when Rev. Samuel was gone, two Indians came. They opened the door, came in and sat down on chairs. The oldest son, Benjamin, was a tiny baby. She was sure they had come for him. She took a tea towel, wrapped up some freshly baked bread and other food and offered it to them. They accepted it, said "Ugh" and left.
Elizabeth was a devoted Christian. A custom of the Baptist Church was the "Washing of the Feet" at their June meetings. This was a very meaningful way of worship for her. She passed away July 29, 1912 while visiting her son George in Anthony, FL and is buried there. The Rev. Samuel and Elizabeth Keeney were the parents of nine boys.
(This was written by Ethel M. Keeney)
In that this came to several pages I cut it short & made a separate page containing the entire text to see the rest of it click here
---
Keeney Forums (Message boards)
2. Family Tree Maker 3. Family History (Ancestry)
If you would like to sign up for a Keeney mailing list for posting research questions click on this link KEENEY-L-request@rootsweb.com and put only the word subscribe in the message body nothing else
---

As a reminder if your interested in attending this reunion you need to contact
Carol Keeney no later then 15 January 2000.
I believe a good estimated cost for this trip including the three days for the reunion is about $1600 per person. This does not included extra spending money for shopping or airfare to NY. All arrangements for airfare to NY must be made by the individual.

To finalize these plans I will need a definitive response by January 15, 2000 and a deposit of $150 per person by February 6, 2000.

I also need some suggestions on what you would like to do on our reunion days such as, a formal dinner, picnic, etc....

As I get more details I will post them. I look forward to hearing from everyone. Should you have any questions or want to confirm your trip you can email me at ckeeney@eircom.net. If you are confirming your trip I will need the names of everyone in your party.

Send deposit to Carol Keeney:
16 Alderbrook
Frankfield, Douglas Co. Cork, Ireland

That's it no zip code.

Eireann go brath!



(Ireland Forever)

Carol Keeney
Please note it takes approximately 10 days for airmail to arrive in Ireland so you'd need to send the deposit no later then 26 January 2000. Airmail cost is $ .60 Express mail takes 3-4 days. Express mail cost is $ 18.95
---
Does anybody know of any family Reunions? If so send information & I'll include it here.
---
Find a family reunion @ FamilyReunion.com ®
get Reunion Calendar search for your site FREE!
---
Our Divine Constitution
Welcome to the U.S. Constitution page. I hope to make this a page where our Divinely Inspired Constitution might be studied and understood. I also hope to be able to point out some of the threats to our Constitution, ...
Found by: Infoseek
http://www.vii.com/~mkeeney/

GoToCity.com - Wa Keeney, Kansas
Wa Keeney, Kansas City net - Wa Keeney, Kansas, Metro, Careers, Jobs, Shopping, Apartments, Real Estate, Weather
Found by: Yahoo!
http://db.gotocity.com/local/2/us/KS/67437/67672

New Albany "On The Net" - New Albany's Elected Officials This page has a listing of all the elected officials of New Albany, Pennsylvania.
Found by: EuroSeek
http://www.d3web.com/newalbany/elected/elected.html
---
Keeney's listed in an online search in.....
In an online address / phone search I came across;
19 Keeney's in Nevada 185 Keeney's in Texas
---
Looking for.....
An Italian line of Keeney's
Derivation of Keeney name: Chini
Posted by Jennifer L. Keeney on December 02, 1999 at 18:08:45:
While I am proud to have my named spelled "Keeney", I want to you know that it is anglicized from the Italian name of Chini, which is pronounded the same as Keeney. Do you know any other Keeney's who have had their name anglicized from Chini? The origin of our family is in northern Italy, Segno.
---
Re: Derivation of Keeney name: Chini
Posted by james p. keeney on December 03, 1999 at 11:14:44:
In Reply to: Derivation of Keeney name: Chini posted by Jennifer L. Keeney on December 02, 1999 at 18:08:45:
My coincidence, my name also comes from Chini, and we live in Dover, MA.


---
(A) History of the Keeney Family From 1630
I'm currently creating new Directories for what people have sent in, these pages are links to what each person has sent, so far I've added;
---
Updated & new e-mail addresses
---
Mike Vincent sent in the following and asked that it be spread out over a few issues of the newsletter in this section, so herewith is the conclusion in part 3 of 3
History of the
Keeney Family From 1630
Eva Marie (b) May 11, 1924, (d) June 15, 1924.
Dona Pauline (b) Nov.18, 1925.
Children of Harold Nicholas Keeney and Lila:
Valdine (b) Aug.10, 1921.
Karteen (b) June 25, 1924.
Charles Elroy (b) Dec, 21, 1861, (d) April 17, 1862.
Carrie Adel (b) July 25, 1863, (m) Fred Groger.
Children of Carrie Add Groger and Fred:
Edwin Laverne (b) Jan.26, 1880, (m) Lulu Clapp.
Leon Fred (b) Jan.12, 1887, (m) Lulah Lark.
Howard Keeney (b) May 10, 1895, (m) Marie Dart.
Children of Howard Keeney and Marie:
Virginia Elizabeth (b) July 2, 1916.
June Marie (b) Aug. 1, 1918, (d) Nov.29, 1921.
Marshall Heber (b) Feb.. 28, 1865, (d) April 5, 1865.
HISTORY OF THE FORMING OF THE KEENEY REUNION.
On Feb. 22, 1909, twenty relatives of the late Jonathan and Amanda Keeney met at the home of Nancy Keeney Holmes at Ovid, Mich. Ellen Keeney Ferguson was nominated chairman; meeting was called and Nancy Holmes was elected president; Ellen Furgason, secretary, and John D. Holmes, treasurer. The same to hold office for one year. Nicholas Keeney and Alanson Keeney were appointed to draft a set of by-laws. These were drawn up immediately and adopted as follows:
ARTICLE I - NAME
This organization shall be known as the Keeney Reunion.
ARTICLE II - OFFICERS
Section 1. Officers shall be elected for one year and shall hold office until their successors shall be elected.
Sec. 2. The officers shall consist of President, Secretary and Treasurer.
Sec. 3. An executive committee of five, three of which shall. be the President, Secretary and Treasurer, the other two to be appointed by the President.
ARTICLE III- MEMBERSHIP
Section 1. All children of Jonathan and Amanda Keeney with their husbands or wives together with their children and their husbands or wives and their children's children.
Sec. 2. All offices shall he held by direct descendants of Bishop and Amanda Keeney or their husbands or wives.
(9)
ARTICLE IV - DUTIES OF THE OFFICERS
Section 1. The President shall be the chairman of all the meetings, and do what other duties as generally belongs to the office.
Sec. 2. The Secretary shall keep a record of all the meetings and such other duties as belongs to the office.
Sec. 3. The Treasurer shall have the custody of all funds that may belong to the society and pay out such funds on order of the President signed by the Secretary.
ARTICLE V
Section 1. The executive committee shall select the place and decide the time of holding meetings and such other duties that may be necessary.
ARTICLE VI
The by-laws can be amended at any regular meeting.
ARTICLE VII
A quorum to transact business shall be a majority of the executive committee. Committee: N. B. Keeney and A. M. Keeney.
Article III; Section 2. Aug. 5, 1915. Amendments to the constitution adopted as follows: Any office may be held by any eligible member of the Keeney Reunion.
Article II, Section 3. Aug. 1, 1926. Moved and seconded that presiding officers retain such office for life.
Article VIII. At each meeting all present are to sign their names, the same to be kept by the Secretary.
Sister Ellen then read a poem which had been written for the meeting by Mary Davison of DeWitt, Mich.
BROTHERS AND SISTERS:
Thank God once more we meet,
Again with hearts and lips to greet
The dear survivors of our band,
And clasp each one's fraternal hand.
By each life's milestone has been checked,
Our thoughts turn back to retrospect
And call us back to childhood's home,
With boys and girls in youthful bloom.
Once there, our hearts will quickly trace
The lineaments of mother's face.
And father in the picture blending
A thrill of joy these mem'ries sending,
Naught else outsteps those fireside joys,
When we were merry girls and boys,
(10)
And sipped the foam of life care
Sheltered by our own parental tree.
Farther back we see a youthful pair-
He bold and strong; she young and fair,
To build a home they settle down
As pioneers in Franklin town.
Not very long they there did stay;
They spread their wings and fly away.
In Cambridge next they stop to rest
And build themselves a household nest,
Here pass the years in toil and care,
As children round them cluster there;
The years giving one by one,
A daughter sweet or darling son.
They came as life's stream o'er them rolled
'Till thirteen numbers had been told.
Not all were left within the nest,
Four precious forms were laid to rest
In tear wet graves beneath the sod.,
Four given souls returned to God.
The work went on, much land was cleared,
And a new house on the farm was reared.
In all the work by parents planned
We children lent a helping hand,
Until we'd from the home nest flown
To gather straws to build our own.
Years rolled on with much of gladness,
Times interspersed with tears and sadness,
The angel death with sickle reaping
Bore loved ones from our care and keeping;
The loving wife of John, our brother,
And death soon claimed our darling mother.
Whom to our band had long been spared,
And all our joys and sorrows shared.
To others came the summons dread,
Three brothers wept above their dead;
Again we see the boatman pale,
Father had passed within the vale
Where many loved ones waiting are
Beyond the gates that stand ajar.
Branching from our parental tree
Three generations now have we.
As now each lineament I trace
(11)
From our band I miss one face,
The manly one of Edward dear,
Whom sickness kept away from here.
But I am glad that Sister Nancy -
For this reunion had a fancy,
And that so many have been able
To form our circle round her table.
If this should our last meeting be
On this side God's eternity;
If broken be our golden band
That binds us with fraternal strand;
If one of our nine should cross the river,
Whose further shore, the long forever
Jewels bright in memory set
These hours when last our dear band met
Through snow drifts deep and winter weather
We've come to hold our tryst together.
We've all had children many or few
And some have children's children too;
If by their ages they were told,
Some might say that we were growing old.
It has oft been said and by poets sung,
We are never old if the heart is young.
May this reunion sacred be
Ever to meet once annually
Until the last one is called home.
Then list! The blest reunion come
To higher realms and better joys,
Where once again as girls and boys,
Will meet to part no more to mourn
Father and mother, all at home.
It was also decided to send out a notice of the meetings to each family a month beforehand. As at this time they were held the second Thursday in August at different homes. The hostess was to prepare dinner for as many as sent a return card, and not only that but perhaps keep quite a few for the night, as at that time automobiles were not as abundant as at present, and it was necessary to come on the train or with horse and buggy. But even at that we met for fifteen years, and after ten years we returned again to the same place where the first meeting had been held, but this time there were forty-five present in the place of the twenty. But the Dear Face was absent as she had been called home June 10, 1902. For five years more we met at the homes. During this time we had also lost:
Brother John W. Keeney, Jan.30, 1910.
Sister Ellen Keeney Furgason, May 13, 1915.
John D. Holmes, Sept.24, 1915.
James Furgason, Oct.27, 1915.
With the death of these it seemed as though we had almost lost all heart to again pick up and go on. But we did get together again Aug.10, 1916, for one more meeting. This time there was only one officer present so no meeting place was named for the following year. Then after a stretch of seven years we again got together. During this time Brother James Keeney had been called home. When we again took up the broken threads, Saturday, Aug. 5, 1922, we met in Lansing, Mich., the Michigan State College grounds. Each family brought provisions enough for their own family. This was then put all on one table and the group ate as one large family, as we are. It proved a great success, and we all were glad to begin anew. We then and there vowed never to let another year go by and not meet somewhere. As to the place and time of this meeting it was decided that each year on the first Sunday in August at Potter's Park, Lansing, Mich., the relatives of the Keeney family would get together. Cards are to be sent out as usual. Now after twenty-five years we have grown from a family of thirteen children to a very large family and hope to continue long after the Brothers and Sisters who first started the Keeney Reunion are long since passed and gone home. At this time, Aug. 1, 1926, there are four sons and one daughter living of the original descendants of the Keeney family: Zalmon, of Ferndale, Washington; Alanson, of Morrice; Nicholas, of Petoskey; Edward, of Homer; and Carrie Groger, of Jackson. Officers: A. M. Keeney, President; Edward Keeney, Vice-president; Edith Lankton, Secretary and Treasurer.
~~~~~~~~~~~~~~~~~~~~~~~~~~~~~~~~~~~~
I've also put this up in it's entirety.
---
25 December 1999 00:24:56 Pacific Standard Time